Prolific playwright Fred Walker Carmichael (1924-2009) visited his brother Thomas M. Carmichael in Ajijic at some point during the latter's residence there with his family from 1966 to 1972. Fred subsequently wrote a play, dedicated to Tom, set in Ajijic entitled Mixed Doubles: A Comedy in Two Acts (Samuel French Inc., 1973). Curiously, despite its close connection to Ajijic, this play has never been performed at the Lakeside Little Theatre.
Fred Carmichael was born in Pelham, New York on 1 February 1924. His love for the theater began when he acted in Peter Pan in his teens with the Clare Tree Major performing group. He performed in many plays and eventually turned to writing. He was the author of more than 50 plays, including: Exit The Body (1962); The Best Laid Plans (1965); Any Number Can Die (1965); All the Better To Kill You With (1968); Victoria's House (1969); Done To Death (1971); Foiled by an Innocent Maid, or The Curse of the Iron Horse (1977); Said the Spider to the Spy (1987); Don't Mention My Name (1993); Coming Apart (1994). Fred Carmichael and his wife Patricia owned and operated the Caravan Theatre at the Dorset Playhouse in Dorset, Vermont, for twenty-seven seasons from 1949 to 1975.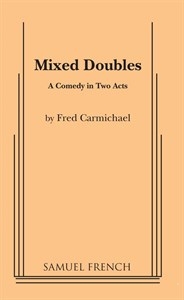 The first performance of Mixed Doubles was at the Dorset Playhouse, and featured Fred Carmichael playing two parts in a production staged by his wife. It has been regularly performed in community theatres (including the Borelians Community Theatre in Port Perry, Ontario, in 1981; the Red Barn Theatre in New Castle, Pennsylvania, in 1986; and Boise Little Theater in Idaho in 1988. It also played to packed houses in New Orleans in 1986, when the Community Theater there put on several performances at the Bayou Barriere Country Club. More recently, in April 2010, the play was put on in Mexico, at Rosarito Beach, in Baja California.
Mixed Doubles: A Comedy in Two Acts, described by Village Voice as "perhaps the funniest of his laugh-a-minute plays", is set in a small hotel in Ajijic called the Casa Pericolo. The first act, about a separated middle-aged couple who occupy connecting suites and have a romantic fling, takes place in October. In the second act, set in the following June, the adjoining suites are respectively occupied by an unmarried golden-age couple and a band of inept drug smugglers.
The Casa Pericolo is fictional, but in the late 1950s, there was a small bed and breakfast establishment in Ajijic called the "Posada del Perico," operated by Bruce Ackland, and, in much more recent years, a "Hotel Perico" on the libramiento.
Lake Chapala Artists & Authors is reader-supported. Purchases made via links on our site may, at no cost to you, earn us an affiliate commission.
Learn more.
Several chapters of Foreign Footprints in Ajijic: Decades of Change in a Mexican Village are about the history of the literary community in Ajijic and the Lakeside Little Theatre.
Note: This is an updated version of a post first published 27 June 2017.
Sources:
Times Picayune. 1986. Review of "Mixed Doubles". Times Picayune, (New Orleans) 19 June 1986, p 167.
Frederick Walker Carmichael (Obituary)
Comments, corrections or additional material related to any of the writers and artists featured in our series of mini-bios are welcomed. Please use the comments feature at the bottom of individual posts, or email us.

Tony Burton's books include "Lake Chapala: A Postcard History" (2022), "Foreign Footprints in Ajijic" (2022), "If Walls Could Talk: Chapala's historic buildings and their former occupants" (2020), (available in translation as "Si Las Paredes Hablaran"), "Mexican Kaleidoscope" (2016), and "Lake Chapala Through the Ages" (2008).