Tom Carmichael was a U.S. Army veteran who lived and wrote in Ajijic for six years in the late 1960s. When he first arrived at Lake Chapala, Carmichael, accompanied by his wife Marcelle and their 10-year-old son, stayed in the Posada Ajijic. The family later made its home on Calle Guadalupe Victoria.
During his time in Ajijic, Carmichael wrote The Ninety Days (Bernard Geis, 1971) which detailed how five battles in a three-month period turned the tide of the second world war. The book was highly acclaimed by historians, became deservedly popular, and remains in print today.
Thomas Nicholas Carmichael was born in about 1920 and grew up in a family where military service was a given. His father had been an officer in the Canadian Grenadier Guards in the first world war and then served in the U.S. Air Corps, reaching the rank of colonel, during the second world war.
Tom Carmichael graduated from Princeton University in 1942, and immediately entered the U.S. Army. He served in North Africa and then Italy. While rescuing a colleague at Anzio, he took machine gun fire in his leg but was unable to be evacuated for another three days. He lost his leg but gained a wife – it was during his rehabilitation in an Atlanta hospital that he first met Marcelle Tessendorf, a hospital nurse.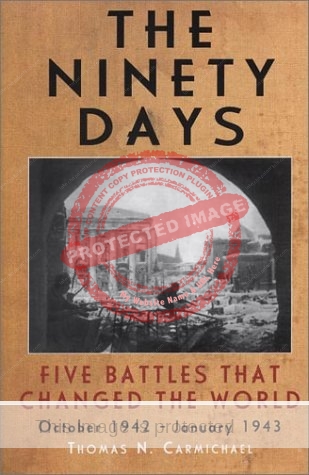 In 1946, after retiring from the Army, Carmichael started work for Life Magazine. He remained 22 years at Life, becoming its military affairs editor during the Korean War and one of the magazine's senior administrators.
Among the pieces he wrote for Life is a feature article in its 11 June 1965 edition commemorating the 150th anniversary of the Battle of Waterloo. The introduction says that,  "Tom had 4,500 toy soldiers by the time he was 10, got tangled up in his father's Napoleon books when he was 12, and that was that… His knowledge of the art and science of war is extensive. He gave us a fine report on Assyrian tactics for our special Bible issue, and he is the co-inventor of a strategic war game in our Civil War series in 1961 (if North plays it wrong, General Lee wins)…"
In Ajijic, Carmichael not only wrote but also pursued his passion for soccer. He loved to watch the local Ajijic "Union" soccer team, and even went so far as to pen a heartfelt tribute to them in the Guadalajara Reporter in October 1967 for their "Cinderella" success. After playing mostly local teams and thrashing them, Union had stepped up into a higher and much more competitive league, and were playing, and often beating, teams from much larger cities, including Zapotlanejo, Cd. Guzmán and Guadalajara.
At the time of his death, from a heart attack at his home in Ajijic on 24 October 1972, Carmichael was writing a definitive biography of Napoleon. His obituary in the Princeton Alumni Weekly described him as a "distinguished scholar, author, wit, soldier, intellect, [and] trenchant observer of the human scene."
Sombrero Books welcomes comments, corrections or additional material related to any of the writers and artists featured in our series of mini-bios. Please email us or use the comments feature at the bottom of individual posts.

Tony Burton's books include "Lake Chapala: A Postcard History" (2022), "Foreign Footprints in Ajijic" (2022), "If Walls Could Talk: Chapala's historic buildings and their former occupants" (2020), (available in translation as "Si Las Paredes Hablaran"), "Mexican Kaleidoscope" (2016), and "Lake Chapala Through the Ages" (2008).