Sculptor Carl Mose (1903-1973) visited Lake Chapala several times in the 1960s, though it is unlikely that he was artistically creative during his visits. Mose in described in the Guadalajara Reporter (6 March 1971) as a "many time visitor to lakeside." Thomas Parham Jr.'s book, "An Affirmation of Faith" (Xulon Press, 2011), suggests that Mose also lived for a time in Mexico City, though the precise details and dates are unclear. Certainly he visited Mexico City on several occasions since he had many of his bronze sculptures cast there.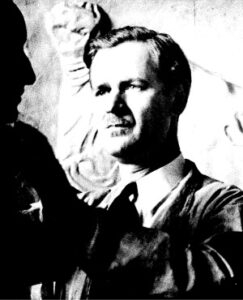 Carl Christian Mose was born in Copenhagen, Denmark on 17 February 1903, became a naturalized U.S. citizen, served in the U.S. Army Air Force during the second world war, and died in New Windsor, Maryland on 21 March 1973.
The family emigrated to Chicago in the U.S. when Mose was seven years old. Carl Mose went on to study sculpture at the Chicago Art Institute, the Student's Art League and Beaux Arts Academy in New York City. Interviewed in his studio in the farmland outside Westminster, Maryland, only a year before his death, Mose recalled that his teacher in fourth grade had urged the sculptor Lorado Taft to let him attend specialist classes. (Morning Herald, 18 September 1972). Mose subsequently worked with Taft for the next 15 years, but was also taught by Albin Polasek and Leo Lentelli.
In his early twenties, Mose and his wife Ruth Helming traveled to Europe on the proceeds of a Goddess of Speed radiator ornament that he had designed on short notice for the Studebaker Corporation. On their return, Mose began teaching at the Corcoran School of Art in Washington D.C. During the next few years, he undertook numerous commissions in the capital, including statues and keystone carvings in the Washington Cathedral and more than a dozen seven-foot low reliefs on the Potomac Electric Power Co. building.
In addition to three years at the Corcoran School of Art, Mose also taught at the Minneapolis Art Institute, Carleton College, and Washington University, St. Louis, where he was the head of the sculpture department for many years. Mose was an acclaimed lecturer. One University of Iowa publicity brochure (date unknown) proclaimed an "Outstanding American Sculptor in a Brilliant Demonstration Program that is Full of Wit and Humor."
During his 25 years in St. Louis, Mose continued to undertake numerous commissions, including one of General John Pershing for the Capitol grounds at Jefferson City. The St. Louis Post-Dispatch for 19 August 1962 says that Mose is leaving St. Louis, after 25 years, to take up a post at the U.S. Army's Institute of Heraldry in Washington D.C., where he will become responsible for designing military and other Government badges, decorations and medals. Prior to taking up his new appointment, Mose is spending several weeks in Mexico City "to supervise the casting of several recently completed works."
Mose's newest work in St. Louis is "a 12-foot bronze of St. Francis of Assisi" in Forest Park, in close proximity to another of his sculptures, "Figure of a Young Boy," a bronze drinking fountain.
Mose's sculptures can be seen in the Smithsonian Institute, and in federal and state buildings in Minnesota, Kansas, Missouri, Maryland and Washington D.C. They include that of Stan Musial outside Busch Stadium in St. Louis and a 21-foot bronze and granite piece, installed in 1958 for the Air Force Academy near Colorado Springs. This particular 21-foot bronze and granite piece, "Eagle and Fledglings", was cast in Mexico, and accidentally dropped from a crane during installation. The minor damage that resulted had to be covered up during its unveiling. Other works by Mose include the carved stone sculptures, "Land" and "Communication" (1940), either side of the entry to the (former) Salina Post Office, and "Family Group" (1942), a wood bas relief in the Post Office of Maplewood, Missouri.
Sources:
Ronald Irwin Bruner. 1979. "New Deal Art Workers in Colorado, Kansas and Nebraska". Thesis. University of Denver.
Susan V. Craig. 2009. Biographical Dictionary of Kansas Artists (active before 1945) (Online resource)
Marlene Park and Gerald E. Markowitz. 1984. Democratic Vistas, Post Offices and Public Art in the New Deal. Temple University Press.
St. Louis Post-Dispatch, St. Louis, Missouri, August 19, 1962, p 19
The Morning Herald, Hagerstown, Maryland, September 18, 1972, Page 18
Sombrero Books welcomes comments, corrections or additional material related to any of the writers and artists featured in our series of mini-bios. Please email us or use the comments feature at the bottom of individual posts.

Tony Burton's books include "Lake Chapala: A Postcard History" (2022), "Foreign Footprints in Ajijic" (2022), "If Walls Could Talk: Chapala's historic buildings and their former occupants" (2020), (available in translation as "Si Las Paredes Hablaran"), "Mexican Kaleidoscope" (2016), and "Lake Chapala Through the Ages" (2008).