James F. Kelly was a writer and novelist who lived in Ajijic for more than twenty years from the early 1960s. More usually referred to as Jim Kelly, James Frederick Kelly was born in 1912 (in Ohio?) and educated at Staunton Military Academy, Swarthmore College and Columbia University School of Journalism. He also studied at the US Merchant Marine Academy in Kings Point, New York, and at the US Maritime Diesel School in Milwaukee, Wisconsin.
During the second world war, he was a member of the Merchant Marine and remained in the US Naval Reserve after the war, reaching the rank of lieutenant commander by the time his service ended. Kelly's naval career took him to ports-of-call ranging from New Zealand, New Guinea and the U.K. to Brazil, Uruguay, Argentina, Ecuador; Peru and Chile.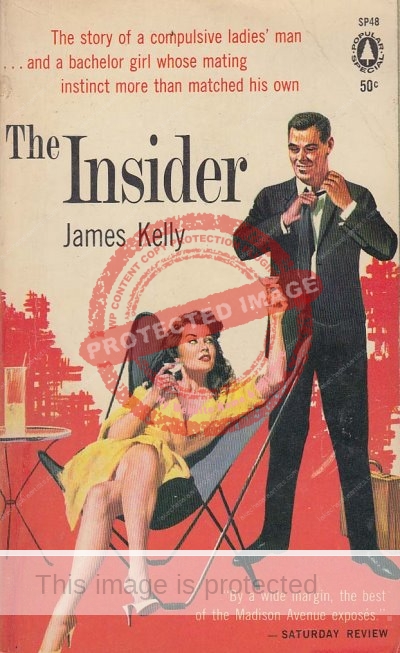 After the war, Kelly and his wife Gerda (a Danish-born model and circus performer) lived in Westport, where Kelly dedicated himself to writing while Gerda worked in the New York fashion industry. Kelly reviewed books regularly for The New York Times Book Review and The Saturday Review, wrote pieces for the New York Times Magazine and other publications and also undertook work, both creative and executive, for Compton and various other New York advertising agencies.
Kelly and Gerda, with their two children (Jill and James Jr.) moved to Ajijic at some point prior to October 1964. After moving to Mexico, he continued to write and to submit articles to U.S. publications. In October 1964, he took photographs of the piñatas at a party given for the 26th birthday of David Michael (son of Ajijic artist and boutique owner Gail Michael), "for an article he is doing for a New York publication."
A few months later, "pretty, blond Jill Kelly", is reported to have given a marionette show at La Quinta (Jocotepec's best known hotel at the time), which "proved that talent runs in the family".
In January 1966, Gerda and Jim Kelly purchased their own home in Ajijic: Casa Los Sueños ("House of Dreams"), the converted remnants of Ajijic's former friary whose origins date back to the sixteenth century). They moved in to their new home, purchased from Ruth and Hunter Martin, the following month.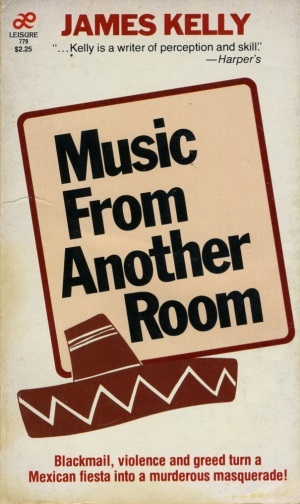 In the spring of 1966, the U.K. edition of Kelly's novel On the Other Hand, Goodbye was published, and he was reported to be working on his next novel, which had a publisher's deadline of August. (It is unclear which novel is being referred to here.)
In 1968 the couple founded and ran an Ajijic real estate venture, Servicios Unlimited. After eight months in temporary premises, the company moved into a building on Calle Independencia, opposite the Posada Ajijic, and next-door to Helen Kirtland's looms (today, this is the store Mí México). In addition, Gerda Kelly worked as a columnist for the Guadalajara Reporter.
James Kelly continued to write the occasional piece for U.S. media into the 1970s, including an article about Dr Marcos Montaña Zavala and his wife Dra Soledad Ascensio de Montaña, who co-founded the Sanatorio de Santa Teresita, a health clinic in Jocotepec. This piece first appeared in Spanish in Selecciones (August 1970) and then in Reader's Digest later that year.
James Kelly was the author of at least six novels: From A Hilltop (1941); The Insider (1958); On the Other Hand, Goodbye (1965); No Rest For The Dying (New York: Nordon Publications 1980); Music From Another Room (Dorchester Publishing, 1980) and Blind Passage (date unknown).
Music From Another Room is a murder mystery set in Michoacán, Mexico at the fictional hotel Hacienda de las Golondrinas. The characters and plot are eminently believable, testament to Kelly's keen powers of observation and good knowledge of Mexico.
James Kelly passed away in December 1993; Gerda died five months later.
Acknowledgment:
My sincere thanks to Jill Kelly Velasco for her help in compiling this profile of her father.
Sources:
Guadalajara Reporter: 8 October 1964; 7 January 1965; 9 September 1965; 20 January 1966; 26 February 1966; 2 April 1966; 29 July 1967;  21 June 1969; 8 August 1970; 20 April 1974; 6 September 1975;
Michael Hargraves. 1992. Lake Chapala: A Literary Survey (Los Angeles: Michael Hargraves).
Sombrero Books welcomes comments, corrections or additional material related to any of the writers and artists featured in our series of mini-bios. Please email us or use the comments feature at the bottom of individual posts.

Tony Burton's books include "Lake Chapala: A Postcard History" (2022), "Foreign Footprints in Ajijic" (2022), "If Walls Could Talk: Chapala's historic buildings and their former occupants" (2020), (available in translation as "Si Las Paredes Hablaran"), "Mexican Kaleidoscope" (2016), and "Lake Chapala Through the Ages" (2008).