Fredric Orval Alseth, also known as Fred Alseth, Fred O. Alseth and Fritz Alseth, was an illustrator who resided at Lake Chapala in the late 1980s. His father was Orval Alseth (1901-1972).
Fred Alseth was born in Billings, Montana, on 26 February 1924 and died at the age of 82 on 29 November 2006 in Meadow Vista, Placer, California. The family moved to Menomonie in Wisconsin in about 1940. Interviewed by Tod Jonson for El Ojo del Lago, Alseth recalled that his high school teachers thought he had no talent whatsoever. However, he majored in art at college and gained a degree in elementary education.
When the U.S. entered the second world war, Alseth served as an engineer, but did not enjoy the experience. After the war, Alseth, of Swiss ancestry, married and lived in Oakland, California, for several years in the early 1950s. (Alseth had at least two marriages, both of which ended in divorce. His first marriage, to Donna M Leishman, ended in September 1974 (with the divorce granted at Placer in California), and his second marriage, to Nancy J Alseth ended in divorce on 24 April 1980 in Shasta, California.)
Alseth loved Berkeley (Oakland) and became a successful commercial illustrator during almost two decades of living in the San Francisco Bay area.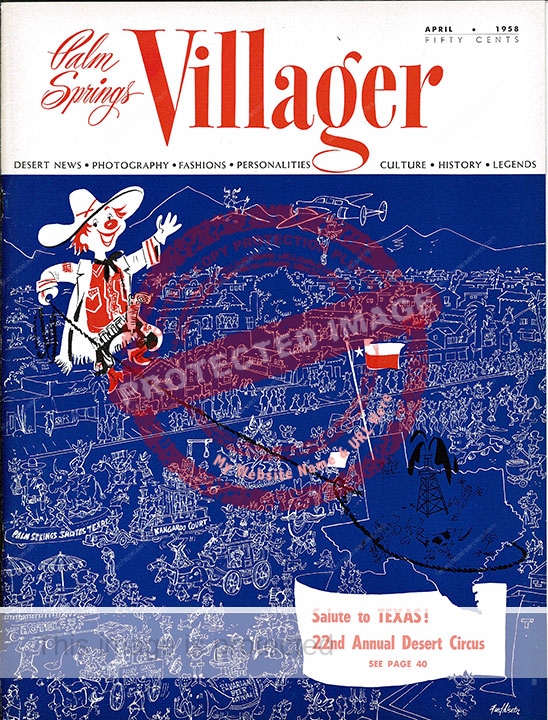 In 1958 Alseth drew the cover illustration for the April 1958 edition of Palm Springs Villager captioned "Salute to Texas! 22nd Annual Desert Circus." Apologizing to the magazine's readers for the relatively unsophisticated cover art, the editor explained that "Because of a close publishing date, the drawing was done in a rush overnight assignment."
The following year, Alseth illustrated California Wonder World (1959) by Katherine Peter, published by the California State Department of Education. Changing genres, Alseth also illustrated Virginia Zoros Barth's book There Is an Art to Breathing: A Training Course in Conscious Rhythmic Breathing, first published by Llewellyn, Los Angeles in 1960 and reissued in 2011.
In 1963, Alseth teamed up with Milton Rich and his wife Mikell to illustrate and publish (as Fritz 'n Rich Publishers) two books related to Mormonism: A New Look at Mormonism, by John W. Rich, and The Book of Mormon on trial, by Jack West.
Later in the 1960s and into the 1970s Alseth worked primarily as a children's book illustrator. The works he illustrated include Two Nations – United States and Canada: Faces and Places of the New World (1965) by Robert K. Buell and Irene Tamony, and Operation Phoenix (1968) by Irene Tamony. He also illustrated at least three books in the "Learning to Read while Reading to Learn" series published initially by Century Communications: Chilling Escape (1968), Deadline for Tim (1968) and The Farmer and the Skunk (1973). Alseth went on to illustrate several books in the "Tiger Cub Reader" series written by Robert A. McCracken & Marlene J. McCracken: This is the House that Bjorn Built (1973), What Can You See? (1976), Should you ever? (1976) and The Little Boy And The Balloon Man (1976).
Alseth undertook missionary work on behalf of the Seventh-day Adventist Church in Australia, Guatemala and Hawaii (1980) before returning to the mainland to live in Lodi, San Joaquin, California, in 1981. Back in California, he worked on a TV show about California artifacts called "Gold Rush Days". He also allowed himself to be filmed drawing caricatures of VIPs. Alseth's cheery pen and ink drawings were used to illustrate a series of anti-evolution textbooks entitled "Evolution Encyclopedia", produced in California in about 1990.
In the late-1980s, he moved to Lake Chapala, Mexico, where he created and sold "lively fun posters" of Ajijic, Chapala and Jocotepec. This pen and ink drawing of Hotel Nido appeared in El Ojo del Lago in September 1988.
Acknowledgment
My thanks to Warren Stevens for helping improve this post.
Reference:
Tod Jonson. 1988. "Portrait of the Artist: Fritz Alseth", Ojo del Lago, September 1988, Vol V, #1.
Sombrero Books welcomes comments, corrections or additional material related to any of the writers and artists featured in our series of mini-bios. Please use the comments feature at the bottom of individual posts, or email us.

Tony Burton's books include "Lake Chapala: A Postcard History" (2022), "Foreign Footprints in Ajijic" (2022), "If Walls Could Talk: Chapala's historic buildings and their former occupants" (2020), (available in translation as "Si Las Paredes Hablaran"), "Mexican Kaleidoscope" (2016), and "Lake Chapala Through the Ages" (2008).