The American photographer-architect Esther Baum Born is known to have visited Chapala in the mid-1930s in order to photograph the modernist architecture of Villa Ferrara.
Esther Baum was born in Palo Alto, California, in 1902. She attended the Oakland Technical High School before entering the University of California, Berkeley, in 1920 to study architecture under John Galen Howard. After graduating in 1924, she began graduate studies, spent a year in Europe studying languages and art history, and then (in 1926) married fellow architect Ernest Born. The couple visited Europe before settling in New York City.
During the Great Depression, Esther Born studied photography. She took an intensive course in architectural photography with photographer Ben Rabinovitch in 1933 and later showed her work in a group exhibition and solo shows at the Rabinovitch Gallery.
While living in New York, Born and her husband had become friends of Diego Rivera and Frida Kahlo. This friendship piqued their curiosity about Mexican art and architecture and Esther Born traveled to Mexico for about ten months in 1935-1936, primarily in order to compile a portfolio of photographs related to Mexico's modernist architecture. Rivera and Kahlo accompanied her on many of her visits to see the latest examples of buildings designed by Mexico's cutting-edge architects: Juan O'Gorman, Luis Barragán Morfín, José Villagrán García and others.
Born's archives related to this trip now reside in the Center for Creative Photography at The University of Arizona. They include a photograph entitled "Castellanos and Negreste–House at Lake Chapala". This picture shows the Villa Ferrara at Hidalgo 240 in Chapala. The villa's architect was Pedro Castellanos Lambley (1901-1961), whose career and links to Lake Chapala we will consider in a future post. Castellanos formed an architectural partnership in the early 1930s with Enrique Martinez Negrete. Born's portfolio from Mexico includes two photographs of Enrique's brothers—Luis and Francisco Martinez Negrete—and the 'Negreste' in the title of the Chapala photo in her archives is clearly a typo for Negrete.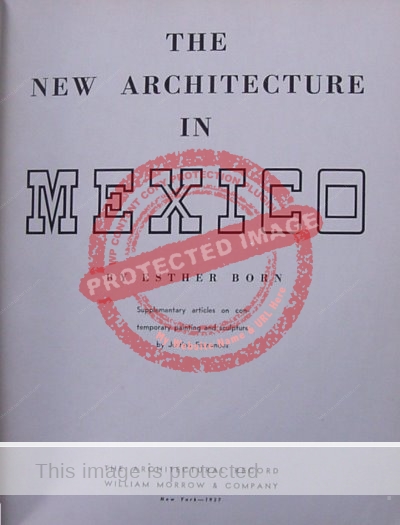 Following the trip, and now living in San Francisco, Born (with help from her husband and the Mexican art critic Justino Fernández) wrote The New Architecture in Mexico. This was initially published in Architectural Record in April 1937 before being expanded and turned into a book of the same name. This book is now a highly-prized collectible volume about Mexico's modernist art and architecture. It helped draw global attention to developments in Mexican design and architecture.
In the late 1930s and early 1940s, Born documented the Golden Gate International Exposition (1939-1940), which was held on Treasure Island near San Francisco, and photographed homes designed by Frank Lloyd Wright and other famous architects.
Note that other artists associated with both the Golden Gate International Exposition (1939-1940) and Lake Chapala include Orville Goldner (of "King Kong" fame); John Langley Howard; painter and muralist Louis Ernest Lenshaw (1892-1988); abstract painter Robert Pearson McChesney (1913-2008); painter and muralist Ann Sonia Medalie (1896-1991); etcher Max Pollak (1886-1970); and print maker Charles Frederick Surendorf (1906-1979).
During the second world war, Esther Born worked for the San Francisco Housing Authority on the acquisition of properties for housing war industry workers. She continued to have photographs published in several architectural journals throughout her career.
In 1945, immediately after the war, Ernest Born founded his own architecture practice in San Francisco. Esther helped run this firm for almost thirty years until her health began to deteriorate in 1971. Among the firm's major projects were a plan for Fisherman's Wharf, housing in North Beach, signage for the Bay Area Rapid Transit (BART) system and the couple's own oceanfront house at 2020 Great Highway.
In the mid-1980s, they moved to San Diego to live closer to their daughter. Esther Baum Born died in that city in 1987.
Sources:
Esther Born and Justino Fernandez. 1937. "The New Architecture in Mexico," in Architectural Record, April 1937, V. 81, pp. 1–86.
Esther Born and Justino Fernandez. 1937. The New Architecture in Mexico. New York: W. Morrow and Co.
Center for Creative Photography, The University of Arizona, Tucson. Finding aid for the Esther Born collection, 1935-1937.
Nicholas Olsberg. 2015. Architects and artists: the work of Ernest and Esther Born. San Francisco: Book Club of California.
Kathryn E. O'Rourke. 2012. "Guardians of Their Own Health: Tuberculosis, Rationalism, and Reform in Modern Mexico", in Journal of the Society of Architectural Historians, Vol. 71 No. 1, March 2012; (pp. 60-77)
Sombrero Books welcomes comments, corrections or additional material related to any of the writers and artists featured in our series of mini-bios. Please use the comments feature at the bottom of individual posts, or email us.

Tony Burton's books include "Lake Chapala: A Postcard History" (2022), "Foreign Footprints in Ajijic" (2022), "If Walls Could Talk: Chapala's historic buildings and their former occupants" (2020), (available in translation as "Si Las Paredes Hablaran"), "Mexican Kaleidoscope" (2016), and "Lake Chapala Through the Ages" (2008).