Horace Sutton (1919-1991), one of the most prolific and well-known American travel writers of all time, and the creator of the term "jet lag", visited and reported on Chapala in 1970.
Sutton was a lifelong travel journalist and editor. He began his career, before the second world war, in the advertising department of The New York Post. During the war he worked in Army Intelligence and then returned to The Post as a reporter and travel writer.
He joined the Saturday Review in the late 1940s, and remained there for more than 30 years, first as travel editor and then as editorial director. He also founded travel sections for Sports Illustrated and McCall's. In the 1980s he served as the editor of Citicorp's Signature magazine (1981-1985) and editor-in-chief of Citicorp Publishing Company (1984-1987).
As author of a syndicated column, Sutton traveled more than 100,000 miles a year, not only to popular destinations and resorts but also to some of the most remote areas of the planet. His work was published in dozens of newspapers and magazines. In 1960, at the peak of his career, Sutton was profiled for Time magazine in "The Press: The Traveling Press", shortly after returning from Tahiti:
In the musette bag of red-haired Horace Sutton are Dramamine tablets, bug spray, a ten-bladed Swiss army knife, cable cards, swimming trunks, traveler's checks—and a seemingly inexhaustible supply of paregoric. These are the tools of Sutton's profession: he is a travel writer, working for newspapers and magazines in an age when more and more of the world's citizens are excursioning to more and more foreign countries."
But perhaps his most enduring contribution to the world of travel was his coining of the term "jet lag", which he first used in a 1966 piece in the Los Angeles Times when jet passenger service was barely 14 years old. Sutton explained that jet lag was "a debility not unakin to a hangover" and derived "from the simple fact that jets travel so fast they leave your body rhythms behind." The phenomenon had previously been known as time zone syndrome.
Sutton won numerous accolades for his travel writing, as well an award from the Overseas Press Club for his coverage of a military counter-coup in Indonesia in 1965.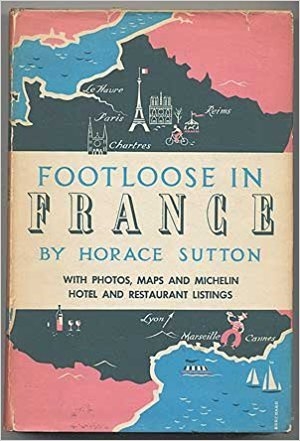 His eleven books included a series for Rinehart that included Footloose in France (1948); Footloose in Canada (1950); Footloose in Italy (1950); and Footloose in Switzerland (1952). In addition he wrote Confessions of a Grand Hotel: The Waldorf-Astoria (Holt Rinehart & Winston, 1953); Sutton's Places (Holt, 1954); Aloha, Hawaii;: The new United Air Lines guide to the Hawaiian Islands (Doubleday, 1967); Travelers, the American Tourist from Stagecoach to Space Shuttle (William Morrow, August, 1980); The Beverly Wilshire Hotel: Its Life and Times (1989).
In his 1970 article, "Chapala is Retiree's Dream – Cost of Living Big Attraction" (sic), Sutton described the town of Chapala – "a settlement of 7,000, Mexicans and Americans included" – as "the heart of the hammock and siesta country, a prime center for lollers, yawners and retirees", where "more than 10 per cent of all the residents are retired citizens down from the U.S. of A."
He claimed that "nearly 20,000 American retirees are nesting along the fringes of Lake Chapala, a balmy pool that is 70 miles long, 20 miles wide and a mile high. The weather is peachy."
Everyday prices were very favorable compared to prices back home since "shoeshines that now cost 50 cents in midtown urban centers up north, are 8 cents." Haircuts were 48 cents (compared to $2.50 up north), a bottle of spirits was $1.25 and a cook-maid might cost $30 a month. The average rent was, according to Sutton, under $100 a month, with the highest $240.
In nearby Ajijic, "once selected by bands of hippies", Sutton found that most- Americans stayed at the American-operated Posada Ajijic, where they could dine for $2, and shopped at El Angel for stonework, embroidery and other "hand-turned works of the native citizenry."
Sutton's other pieces related to Mexico include articles about Acapulco and Guadalajara.
After a lifetime of travel and reporting, Horace Sutton died at his home in Manhattan on 26 October 1991 at the age of 72.
Sources:
Hofstra University (Hempstead, New York). Sutton, Horace, 1919-1991. Papers, c. 1948-1991. Special Collections Department.
Rebecca Maksel. 2008."When did the term "jet lag" come into use?", airspacemag.com (Air & Space, Smithosonian), 17 June 2008.
Frank J. Prial. "Horace Sutton, 72, Magazine Columnist And Travel Author" (Obituary), in New York Times, 28 October 1991.
Horace Sutton. 1966. "Jet Set Living has its Perils", Los Angeles Times, 13 Feburary 1966.
Horace Sutton. 1968. "Acapulco: Golden Nest for Tourists", Chicago Tribune, 7 April 1968.
Horace Sutton. 1970. "Murals, Mariachis. Colorful Guadalajara." Chicago Tribune, 15 November 1970.
Horace Sutton. 1970. "Chapala is Retiree's Dream – Cost of Living Big Attraction", in Times-Picayune (New Orleans), 15 November 1970, p 30
Time magazine. "The Press: The Traveling Press", in Time, Monday, 4 July 1960.

Tony Burton's books include "Lake Chapala: A Postcard History" (2022), "Foreign Footprints in Ajijic" (2022), "If Walls Could Talk: Chapala's historic buildings and their former occupants" (2020), (available in translation as "Si Las Paredes Hablaran"), "Mexican Kaleidoscope" (2016), and "Lake Chapala Through the Ages" (2008).