Following Mexico's independence from Spain in 1821, a renewed emphasis was placed on the gathering of reliable statistics. Officials of the state of Jalisco made several attempts to gather relevant information, primarily in order to better monitor the state's development. These efforts began with Victoriano Roa (1825) and were continued by Manuel López Cotilla (1843), Longinus Banda (1873) and Mariano Bárcena (1888). These statistical reports may not be as fun to read as travel accounts but are a veritable gold mine of valuable information.
Manuel López Cotilla (1800-1861) was born in Guadalajara. His father, a Spaniard who died in 1816, was a captain in the Royalist army, and hated the insurgents who were fighting for an independent Mexico. At age 18, Manuel López Cotilla contracted tuberculosis, following which he led a reclusive life for many years, dedicating himself to drawing and studying mathematics.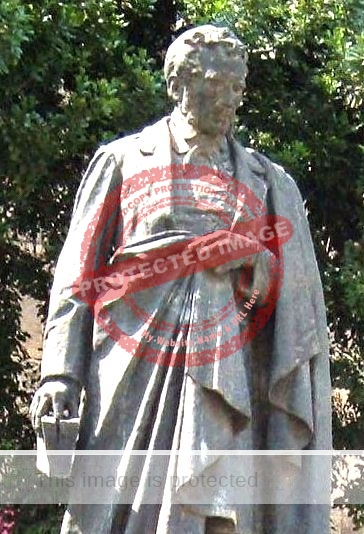 When he entered public life, he became a popular politician and successful educator. He occupied various posts on the city council and in the state government following Independence and was instrumental in reforming primary education. He founded several schools, including the first night school dedicated to adult education. López Cotilla was also responsible for producing noteworthy textbooks, including a handbook of practical geometry for schools. In 1851 he made a formal proposal for the creation of a teacher training college. This proposal was not carried out until long after his death.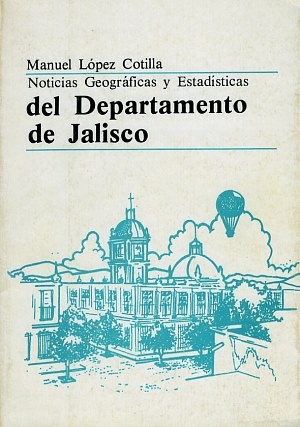 Manuel López Cotilla's statistical account, entitled Noticias geográficas y estadistísticas del Departamento de Jalisco, provides no details about the lake itself, but does include short descriptions, all following a set pattern, of each of the main villages on its shores. By this time, administrative reorganization had resulted in most of the northern shore of Lake Chapala falling into the Third Division – Tlajomulco – of the District of Jalisco. Apart from Tlajomulco itself, which boasted 3,066 inhabitants, the most important village in the district was Jocotepec, as these brief extracts reveal.
Jocotepec, a village located at the western end of Lake Chapala, is the seat of the curacy and receives payments. It has a justice of the peace, a municipal school and 2,742 inhabitants dedicated to farming, fishing and manufacturing. Its municipal fund produced in 1840 the sum of 456 pesos and 3 reales. It is 16 leagues from Guadalajara and 8½ leagues SSE of Tlajomulco.

San Cristóbal Zapotitlán, similarly situated on the shore of lake Chapala and belonging to the parish of Jocotepec, has a population of 735 inhabitants mainly working in farming, fishing and making mats (petates or esteras). It is 12 leagues SE, ¼ S. of Tlajomulco and 20 from Guadalajara.

San Juan Cosalá, situated like the previous villages, has 667 inhabitants dedicated to farming, fishing and the manufacture of equipales, which are low round seats, with or without high backs, and very commonly used in the country. Its climate is warm compared to its neighbors; it has a justice of the peace and belongs ecclesiastically to the parish of Jocotepec. It is 14 leagues from the capital of the District and 9 SE, ¼ S from Tlajomulco.

San Andrés Ajijic, with 954 inhabitants dedicated to the same jobs as the previous village and whose location and climate it shares, belongs to the curacy of Jocotepec and has a justice of the peace. Its distance from Guadalajara is 15 leagues and from Tlajomulco 11 SE, ¼ E leaning towards the SE

San Antonio Tlayacapan is in similar circumstances to the previous village, except for the occupation of its inhabitants, who number 423, and their dedication to only farming and fishing. It is 14 leagues from the District capital and 12 SE, ¼ E from Tlajomulco.

Chapala is the village that gives its name to the extensive lake that bathes the shores. It is the seat of a curacy, sub-office for payments, has a justice of the peace and 1,029 inhabitants employed mainly in fishing, farming and the cultivation of orchards. It is 14½ leagues from Guadalajara and 12½ ESE of Tlajomulco. Its municipal fund produced in 1840 the sum of 46 pesos 1 real.
Manuel López Cotilla retired in 1855 on the grounds of ill-health and died on 27 October 1861. His remains now repose in the Rotunda of Illustrious Jaliscienses in downtown Guadalajara, overlooked by a fine commemorative statue.
Lake Chapala Artists & Authors is reader-supported. Purchases made via links on our site may, at no cost to you, earn us an affiliate commission.
Learn more.
This profile is based on an extract from chapter 22 of my Lake Chapala Through the Ages: an anthology of travelers' tales.
Sombrero Books welcomes comments, corrections or additional material related to any of the writers and artists featured in our series of mini-bios. Please use the comments feature at the bottom of individual posts, or email us.

Tony Burton's books include "Lake Chapala: A Postcard History" (2022), "Foreign Footprints in Ajijic" (2022), "If Walls Could Talk: Chapala's historic buildings and their former occupants" (2020), (available in translation as "Si Las Paredes Hablaran"), "Mexican Kaleidoscope" (2016), and "Lake Chapala Through the Ages" (2008).