Famous American portraitist Everett Kinstler and his family spent the summer of 1971 in Ajijic on Lake Chapala.
While staying in the village, he and his family became close friends of Kulla Hogan (now Kulla Ostberg), wife of journalist Don Hogan. Kinstler painted portraits of their two children who became good friends with the Kinstler children. The timing of Kinstler's visit to Ajijic is confirmed by Molly Leland (formerly Molly Heneghan) who first visited Ajijic with her architect husband George Heneghan in December 1970 and who remembers the Kinstlers arriving the following summer.
Kinstler's life is well documented, so this short profile includes links to further reading for those interested in learning all about the amazing career of this talented artist.
Everett Raymond Kinstler was born in New York City on 5 August 1926. He studied briefly at the city's High School of Music and Art before transferring to the High School of Industrial Art, where he acquired the skills to make his living in the field of commercial art. While still a teenager, he started working for a comic book publisher, Cinema Comics, but soon became a freelance illustrator for comics and pulp magazines featuring characters such as Doc Savage, The Shadow, Hawkman, Kit Carson and Zorro. He also designed book covers and undertook commissions for magazine illustrations.
In 1945, Kinstler returned to school and studied at the Art Students League of New York under American illustrator and impressionist painter Frank Vincent DuMond (1865–1961) whose mantra was "I won't try to teach you to paint, but to see and observe." Also in 1945, Kinstler was drafted into the U.S. Army to work on creating a comic strip for an Army newspaper.
Throughout the 1940s and 1950s Kinstler worked mainly as a pulp and comic book artist before transitioning to become one of America's top portraitists, a calling he has pursued diligently ever since. He held his first major exhibition of portraits and landscapes at Grand Central Art Galleries in New York City in 1959.
Kinstler has painted portraits of over 1200 leading figures in business, entertainment and government, including eight U.S. Presidents: Richard Nixon, Gerald Ford, Jimmy Carter, Ronald Reagan, George H.W. Bush, Bill Clinton, George W. Bush and Donald Trump. Other portrait subjects include Paul Newman, Clint Eastwood, Gregory Peck, John Wayne, Gene Hackman, Katharine Hepburn, Carol Burnett, Peter O'Toole, James Cagney, Arthur Miller, Ayn Rand, Tennessee Williams, Tom Wolfe; and Theodor Seuss Geisel (Dr. Seuss).
This short video about Kinstler was produced by the Norman Rockwell Museum for its major exhibition of his work in 2012:
Kinstler was elected to the National Academy of Design in 1970 and, in 1999, the Copley Medal by the Smithsonian National Portrait Gallery in Washington, D.C., which has more than fifty Kinstler portraits in its collection. He also won a Comic-Con International's Inkpot Award in 2006.
There are several published works about Kinstler including Jim Vadeboncoeur, Jr.'s Everett Raymond Kinstler – The Artist's Journey Through Popular Culture (2005).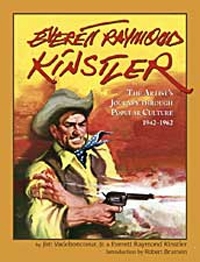 Kinstler taught at the Art Students League of New York from 1969 to 1974 and is the author of several books on art, including Painting Faces, Figures and Landscapes (1981) and Painting Portraits Hardcover (1987).
In addition to the National Portrait Gallery in Washington, D.C., Kinstler's work can be admired in the Metropolitan Museum of Art, Butler Institute of American Art, Brooklyn Museum, the Butler Institute of American Art in Youngstown, Ohio; and the University of Delaware, Newark.
Want to read more?
Sombrero Books welcomes comments, corrections or additional material related to any of the writers and artists featured in our series of mini-bios. Please email us or use the comments feature at the bottom of individual posts.

Tony Burton's books include "Lake Chapala: A Postcard History" (2022), "Foreign Footprints in Ajijic" (2022), "If Walls Could Talk: Chapala's historic buildings and their former occupants" (2020), (available in translation as "Si Las Paredes Hablaran"), "Mexican Kaleidoscope" (2016), and "Lake Chapala Through the Ages" (2008).