According to American writer Oakley Hall, the novelist Christopher Veiel (born in 1925) was living at Lake Chapala at the same time he was in 1952. A New York Times reviewer described Veiel as looking "a little like a British F. Scott Fitzgerald."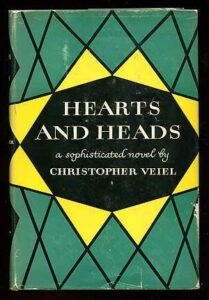 It is not known what Veiel was working on, if anything, during his time in Mexico, but his first (and apparently only) novel was published two years later, in 1954, in the U.K. as Intrigue (London: H. Hamilton), and in the U.S. as Hearts and Heads (Boston, U.S.: Little, Brown and Company).
Michael Hargraves says that at the time of its publication Veiel was living in Connecticut, having settled there after some extensive traveling.
Veiel was also the translator (from French) of Francois Clement's book, The Disobedient Son (Boston: Little, Brown, 1956) in which "Juan, an ignorant but proud and ambitious Indian, learns the ways of power in Veracruz and Mexico City, and returns to his village to lead the fight against those attempting to become the village bosses."
The Kirkus Review of Hearts and Heads, describes it as "A frivolous entertainment" and "saucy and skittish". The novel "follows the emotional escapades of Edward Wallingford and Constance, his young wife, as their first months of marriage take them to Geneva where Edward does not find with Constance the sexual incentive he has had with other girls… Constance, on the other hand, while appreciative that Edward is "such a rock" finds something softer in Pierre – the brother of the housekeeper of their neighbor Carlos, and now their chauffeur. Constance decides to marry Pierre but postponing the admission to Edward, the three leave for England where Pierre, in a moment of petulant pride, bares the past and turns on Edward – with a poker. Edward almost dies, and both Constance and Pierre are tried but cleared when Edward comes to their defense…"
"A. Christopher Veiel" (it is unclear what name the initial A stood for) was born in Switzerland and educated at Chillon College and the University of Geneva. He became a teacher of French, German and Latin and retained his Swiss passport after moving to the U.S. in about 1949 to work at Choate School in Wallingford, Connecticut.
Choate alumni, according to Wikipedia, include President John F. Kennedy, Adlai Stevenson, playwright Edward Albee, novelist John Dos Passos, investor Brett Icahn, philanthropist Paul Mellon, screenwriter Geoffrey Fletcher, actors Glenn Close, Michael Douglas, Jamie Lee Curtis, Bruce Dern, Paul Giamatti, and businesswoman Ivanka Trump, daughter of President Donald Trump.
Note: This is an updated version of a post first published on 7 July 2014.
Sources
Michael Hargraves. 1992. Lake Chapala: A Literary Survey (Los Angeles: Michael Hargraves).
New York Times, 24 July 1955, 89.
Comments, corrections or additional material related to any of the writers and artists featured in our series of mini-bios are welcomed. Please use the comments feature at the bottom of individual posts, or email us.

Tony Burton's books include "Lake Chapala: A Postcard History" (2022), "Foreign Footprints in Ajijic" (2022), "If Walls Could Talk: Chapala's historic buildings and their former occupants" (2020), (available in translation as "Si Las Paredes Hablaran"), "Mexican Kaleidoscope" (2016), and "Lake Chapala Through the Ages" (2008).