Mauricio Yáñez was a Mexican photographer and one of the more prolific producers of postcards in Mexico during the 1930s. He took thousands of tourist photos of Mexico, showing towns, cities and people, including at least 20 related to Lake Chapala.
This view of Chapala and its lakeshore (below)  includes a lakefront cantina mid-way between the Arzapalo hotel building (on the left) and the twin towers of San Francisco church. The cantina was demolished during the construction of the main avenue to Chapala pier (Avenida Francisco I Madero) at the very start of the 1950s.
Yáñez's photographs of Lake Chapala include several beautifully-composed images of fishermen and their fishing techniques. Fishing at Lake Chapala was described by travel writer Edna Mae Stark at about the same time as Yáñez took these photos.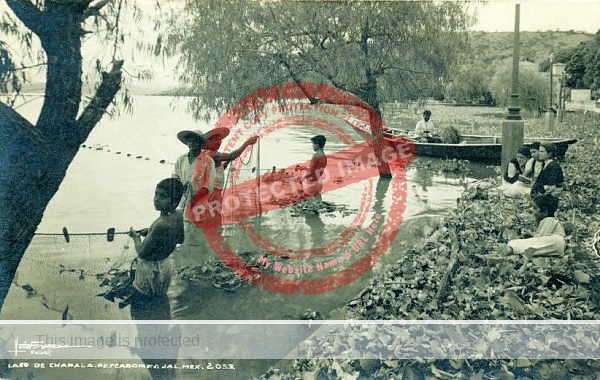 Mauricio Yáñez. c 1935? Lake Chapala fishermen.
The photo above shows a timeless scene of local fishermen, including young men, deftly working a net to catch fish right next to the shore; the waterfront is covered by water hyacinth (lirio), first introduced to Lake Chapala at the end of the nineteenth century.
Fishermen constantly needed to repair their nets, a task depicted on the following postcard. "Drying large nets required the use of an extensive area of beach. Among the many significant adverse impacts of the rash of shoreline invasions that have occurred in the past century is the great reduction in the area available to fishermen for drying and mending their nets. Missing floats or weights and tears in the mesh, however small, require rapid replacement or repair. However long the nets, their drying, checking and repairing is an essential daily task." (Lake Chapala: A Postcard History).
According to photography researcher Miguel Ángel Morales, Mauricio Yáñez was born in Jalisco in 1882 and died in an aviation accident in Tamazunchale, San Luis Potosí, on 1 April 1939. As a youth, Yáñez apparently used a do-it-yourself manual to build his own camera and began to take portraits. He moved to Guadalajara where he continued his career under the well-established and locally-renowned photographer Ignacio Gómez Gallardo.
During the Mexican Revolution, Yáñez became a correspondent for La Ilustración Semanal and also had numerous photos published in La Semana Ilustrada. He had a studio for a time in Culiacán, Sinaloa, where he took portraits of several leading Maderistas, and then opened a studio in Mazatlán in partnership with J. M. Guillen, before finally branching out on his own.
Yáñez moved to Monterrey, Nuevo León, in 1917 where, in partnership with Jesús R. Sandoval, he ran the "El Bello Arte" studio which specialized in marriage photography and portraits. While living in Monterrey, Yáñez and local author and politician David Alberto Cossio co-founded a literary magazine, Azteca.
From Monterrey, Yáñez is known to have visited the U.S. on at least two occasions, in 1918 and again in 1924-25. The latter visit may have been to meet Kodak executives. In 1925 he was named as the "representative of Kodak Mexicana" in Monterrey, where he hosted a dinner party to which numerous local photographers were invited. According to one source, Yanez had been asked by Kodak to re-organize the "Sociedad Fotográfica de Monterrey."
Based afterwards in Mexico City, Yáñez amassed an impressive collection of photos, and in December 1928 began selling many of them as postcards. They depicted cities and sites of tourist interest across the entire country. According to one estimate, more than 5 million photographic postcards with Yáñez's name were printed during his lifetime!
In 1935, with Hugo Brehme, Yáñez illustrated a bilingual guide to the Teotihuacán Archaeological Zone, and in 1937 the D.A.P.P. (Departamento Autónomo de Prensa y Propaganda) published his photographs in El Valle de México.
Lake Chapala Artists & Authors is reader-supported. Purchases made via links on our site may, at no cost to you, earn us an affiliate commission.
Learn more.
My 2022 book Lake Chapala: A Postcard History uses reproductions of more than 150 vintage postcards to tell the incredible story of how Lake Chapala became an international tourist and retirement center.
Note: This post was first published 1 August 2019.
Sources
Arturo Guevara Escobar. 2012. "Mauricio Yáñez". Blog entry, dated 14 July 2011.
Lynda Klich. 2018. "Circulating lo mexicano in Mauricio Yañez's Postcards," chapter 10 of Tara Zanardi and Lynda Klich. 2018. Visual Typologies from the Early Modern to the Contemporary: Local Contexts and Global Practices (Routledge).
Miguel Ángel Morales. 2017. "Mauricio Yáñez (1882-1939)". Blog post dated 22 February 2017.
Comments, corrections or additional material related to any of the writers and artists featured in our series of mini-bios are welcomed. Please use the comments feature at the bottom of individual posts, or email us.

Tony Burton's books include "Lake Chapala: A Postcard History" (2022), "Foreign Footprints in Ajijic" (2022), "If Walls Could Talk: Chapala's historic buildings and their former occupants" (2020), (available in translation as "Si Las Paredes Hablaran"), "Mexican Kaleidoscope" (2016), and "Lake Chapala Through the Ages" (2008).