Mrs. Clara Lena Thorward (née Schafer) was born in South Bend, Indiana, on 14 June 1887, and lived and worked mainly in New York and Arizona. She died on 16 March 1969 in Phoenix, Arizona. Both her parents were German immigrants and she was one of seven children. Her father died in 1900.
Clara Thorward was a painter, etcher and art teacher who studied at the Art Institute of Chicago (AIC) before studying as a post-graduate at the Cleveland School of Art, the Grand Central School of Art in New York, the Art Students League in New York, and with Hans Hofmann (1880-1966) at the Thurn School of Modern Art in Gloucester, Massachusetts, and with Henry Keller (1869-1949) in Cleveland.
Her painting style ranged from realist to abstract. While she was an excellent copyist, she is best known for her landscapes and still lifes.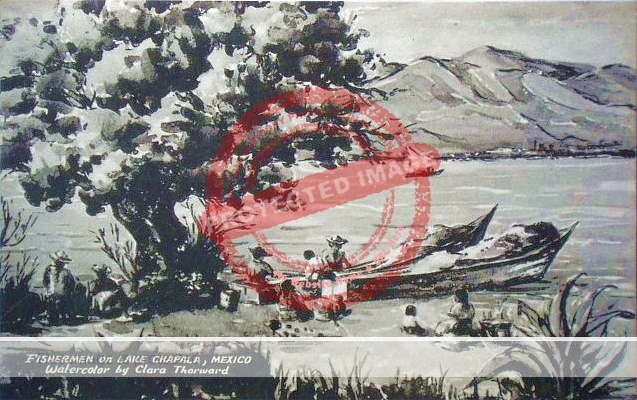 This black and white postcard (date unknown – early 1950s?) depicts a watercolor of Lake Chapala by Clara Thorward.
In the early part of her career, she was a member of the Boston Society of Arts and Crafts, the Hoosier Salon and Hoosier Gallery in Chicago, the Artist League of Northern Indiana, the New York Society of Arts and Crafts, the Arts and Crafts Guild of Philadelphia and the Society of Arts and Crafts in Detroit.
Clara married George Theodore Thorward (1883-1937) on 23 July 1919 in Syracuse, Indiana. He was a graduate of the University of Michigan in the class of 1906 and became a statistician, before serving for his country during the first world war. The couple lived initially in Michigan but by 1930 were living in the Bronx, New York, where George was working as an economist, while Clara continued to develop her art.
Clara's husband died in 1937 and her mother passed away a few months later in March 1938. It was probably this unfortunate combination of events that led to Clara taking a trip to Europe later that year. She returned to New York on 25 October 1938, from Boulogne Sur Mer, France, aboard the "Veendam". The following year, she and her older brother, Carle Herman Schafer, held a joint art exhibition.
In early 1940, she held a solo show of paintings at the Morton Gallery in New York. A reviewer in The New York Times praised their realism, noting that, "Watercolors by Clara Thorward at Morton Gallery, landscapes and flower pieces, display a personal approach to subject matter which makes them appear the record of visual delight in the things seen." The Indianapolis Star noted that the artist was not only "known for her excellent work in water colors" but had also received recognition for sculptures.
Thorward took part in a group show at the Morton Gallery the following year, with a reviewer for The Brooklyn Daily Eagle calling her "East River" one of "the important works of the show".
In March 1942, she held a benefit exhibition of her pictures at the entrance to the Sarasota Jungle Gardens in Florida, donating a percentage of all sales to the Sarasota City and County Welfare Board.
In the early 1950s, she became a regular visitor to the art community of Woodstock, as well as heading south to explore Mexico. The April 1952 issue of Mexican Life, Mexico's Monthly Review gave over its cover to a full-color photo of Thorward's painting "In the Plaza". The January 1952 issue of that magazine included a feature article about her art, written by Guillermo Rivas, which was illustrated by seven black and white reproductions of her paintings: Cuernavaca Landscape, Ahuehuete Tree, Washerwoman in Taxco, Cathedral at Saltillo, Ahuehuete Trees on the Paseo, Washerwomen in Cuernavaca, and Lane in Cuernavaca.
Rivas waxed lyrically about Thorward's work, writing:
"These are luminous water colors. But their luminosity is not only that of their outer aspects. It issues from their inner substance. The jewel-like brightness of the colors is enriched by the inner luminosity of the artist's vision, by the artist's mood articulated in sonorous terms. So while we have here a vista of Mexico, it is, more precisely the vista of fresh individual impact, of fleeting yet keenly penetrating glimpses of a reality which form it into a realm of imagery and song."
From 1925 on, Thorward's work was widely exhibited. Her solo shows included the Art League of Northern Indiana (1938); the Lock Gallery, Sarasota, Florida (1939); Morton Gallery, New York (1940); Plaza Hotel, New York (1940); Witte Memorial Museum (1944); Palacio de Bellas Artes, Mexico City (1946); the Academia de Bellas Artes, Guatemala; International Club, San Salvador; and Oklahoma Art Club. Her only major show in Europe was a solo show at Parsons Gallery in London, U.K., in 1954.
Thorward was in group shows at the Cleveland Museum of Art (1925, 1926); Boston Museum of Art; Dayton Art Institute, Ohio; the Sixth Street Gallery, New York; Art League of Northern Indiana (1932); Salons of America (1934); Montclair Art Museum, New Jersey (1939); Ringling Museum of Art, Sarasota, Florida (1939); Hoosier Salon, Indianapolis (1939); Society of Independent Artists; and the National League of American Pen Women (1950).
Her many awards included a first prize at the Cleveland Museum of Art (1925), the Burke Prize in Cleveland (1926), and prizes from the Artists' League of Northern Indiana (1932) and the National League of American Pen Women (1950).
Note:
This is an updated version of a post first published 8 September 2014.
Sources:
The Brooklyn Daily Eagle: 13 April 1941.
Peter Falk et al. 1999. Who Was Who in American Art, 1564-1975.
The Indianapolis Star: 28 April 1940, p 74.
Kingston Daily Freeman: 12 August 1952, p 17: 1 November 1952.
The New York Times: 19 February 1940.
Sarasota Herald-Tribune: March 26, 1942
Sombrero Books welcomes comments, corrections or additional material related to any of the writers and artists featured in our series of mini-bios. Please use the comments feature at the bottom of individual posts, or email us.

Tony Burton's books include "Lake Chapala: A Postcard History" (2022), "Foreign Footprints in Ajijic" (2022), "If Walls Could Talk: Chapala's historic buildings and their former occupants" (2020), (available in translation as "Si Las Paredes Hablaran"), "Mexican Kaleidoscope" (2016), and "Lake Chapala Through the Ages" (2008).