Alice Janice ("Jan") Dunlap, who lived in Ajijic from 1967-1998, was born on 15 June 1927 in Addison, Texas, and died in Los Angeles, California, on 19 October 2018. Jan was one of eleven children born to Clinton Adolphus Dunlap and his wife Janice Blackburn and was suitably thrilled later in life when she discovered that she was a descendant of an aide to U.S. President George Washington.
Jan studied to be sociologist and was a member of the American Association of University Women (AAUW). She had a son, Michael, from her first marriage (when only a teenager), and four children with Ramón Rivas Jr. from her third marriage. She met Rivas, from Puerto Rico, when both were studying at the Southern Methodist University (SMU) in Texas in the early 1950s. The couple lived for a decade in Puerto Rico, where on one occasion Jan met Fidel Castro.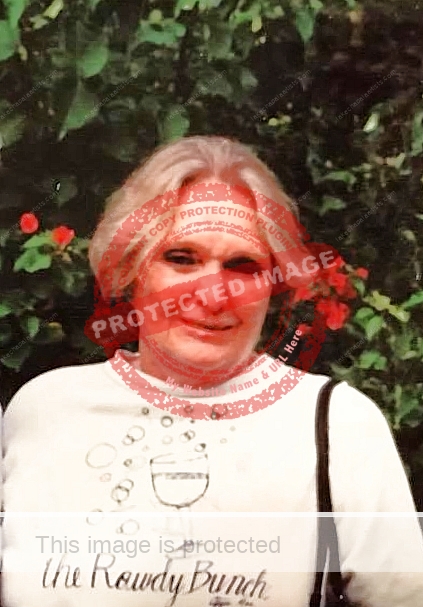 Later, when Jan was studying at the University of Texas at El Paso, she met and married artist Wesley Penn. Penn had friends who lived at Lake Chapala and suggested that they live in Mexico. Jan quickly agreed when she learned that Mexico wanted more English teachers ahead of hosting the 1968 Mexico City Olympics.
The couple decamped to Ajijic, with Jan's four children. Tragically, Penn was killed in 1970 when the car he was driving was hit by a bus on the Chapala-Guadalajara highway. Jan and her children remained in Ajijic where she became one of the village's more colorful and warm-hearted characters of the 1970s and 1980s. Jan felt as though nobody was a stranger and believed that anyone in need was worthy of help and assistance.
Known to everyone in Ajijic as "Big Mama", Jan ran a succession of restaurant-bars, boutiques and galleries, including El Tejabán, the Blackfoot Contessa Boutique, the Wes Penn Gallery, Big Mama's (on 16 de Septiembre) and El Tapanco. Jan was especially proud of having arranged an exhibit of Ruth Anaya paintings in El Tejabán that got the gallery (and Ajijic) listed in Who's Who in American Art. Jan was the "Grand Dame" of the "Rowdy Bunch" which contributed its positive energy to many Ajijic events.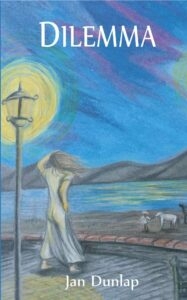 Declining health forced Jan and her husband, Michael Shapiro, to move back to the States in 1998. Shortly afterwards, Jan founded Grandmothers Against Smoking, a campaign to help persuade young people not to smoke.
Jan finally realized one of her long-term dreams in 2017 when she published, shortly after her 90th birthday (and with a little help from me) her debut novel, Dilemma, an exciting tale about a drug-dealing cartel capo and a beautiful, youthful female DEA agent. The novel is loosely based on Ajijic gossip and her personal experiences in Mexico.
The novel, set mainly at Lake Chapala in Mexico, takes us back to the 1970s. Natalie, a beautiful young DEA agent, is sent to investigate an alleged king-pin in the drugs world who lives in Ajijic. Her life soon becomes far more complicated than she bargained for. The positive reviews on Amazon for this tale of international romance, drugs and intrigue speak for themselves.
The striking artwork used for the cover is by B.C.-based artist Oliver Rivas, one of Jan's grandsons.
Jan also completed several other works including a novel entitled With Money Dances the Dog, and associated screenplay, based on an infamous series of murders in Ajijic in the mid-1970s.
Jan was predeceased by two of her five children: Janina Rivas died in Mexico following a dog bite in 1973; Ricardo Rivas died in 2015. She leaves behind her husband, Michael, and three sons – Michael, Ramón and Roberto – as well as many grandchildren, great grandchildren and great-great grandchildren.
Lake Chapala Artists & Authors is reader-supported. Purchases made via links on our site may, at no cost to you, earn us an affiliate commission.
Learn more.
Sources
Big Spring Daily Herald, Big Spring, Texas: 13 February 1935, 8.
Guadalajara Reporter: 13 Dec 1975; 17 Jan 1976; 31 Jan 1976; 28 Feb 1976; 10 Sep 1977, 19; 15 Oct 1983.
Henrietta Clay County Leader, Henrietta, Texas: 11 June 1970.
Comments, corrections or additional material related to any of the writers and artists featured in this series of mini-bios are welcome. Please email us or use the comments feature at the bottom of individual posts.

Tony Burton's books include "Lake Chapala: A Postcard History" (2022), "Foreign Footprints in Ajijic" (2022), "If Walls Could Talk: Chapala's historic buildings and their former occupants" (2020), (available in translation as "Si Las Paredes Hablaran"), "Mexican Kaleidoscope" (2016), and "Lake Chapala Through the Ages" (2008).