Sam Eskin (1898-1974) was an ethnomusicologist who traveled widely in the U.S. and beyond recording folk music. He was actively recording musical and cultural events for more than thirty years, from 1938 to 1969. His extraordinary audio collection includes material from the U.S., Latin America, the British Isles, the Middle East, the Caribbean, and East Asia.
Eskin visited Ajijic during the time a friend, African American artist and photographer Ernest Alexander, was running Club Alacrán (The Scorpion Club), sometime between about 1950 and 1952. The second part of Eskin's sound recording entitled Mexican firecrackers: a prayer and a festival (Smithsonian Folkways, 2001) was recorded from the patio of the Scorpion Club and features a religious festival in Ajijic, complete with church bells and pre-dawn firecrackers.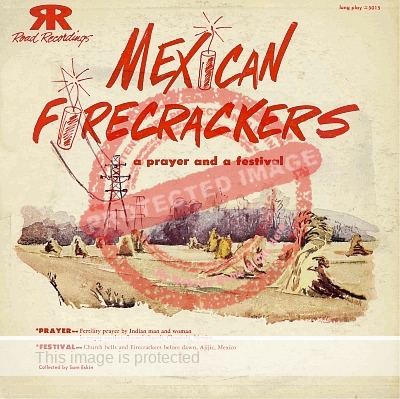 Eskin is quoted in the cover notes (written by Emory Cook) as saying that,
I was rudely awakened at three or four in the morning. The uproar was really deafening. I reached out from my bunk and flipped the tape machine on, set level and dozed off again. Fifteen minutes later firecrackers started going off, and sleep was no more that night…. Strangely enough, El Escorpion's patio was infested with black widow spiders."
Cook concludes his cover notes by writing,
In Mexico one religious festival follows closely on the heels of another. one never knows at what moment all heaven will break loose with church bells, firecrackers, singing, mariachis, brass bands. The entire populace along with roosters and dogs are swept on into the contagious festival spirit."
(Emory Cook (1913-2002) was an audio engineer and inventor. From 1952 to 1966 Cook recorded, manufactured, and distributed some of the highest quality audio recordings in the world.)
Sam Eskin was born in Washington, D.C. on 5 July 1898. He left school after the 8th grade and worked at a wide variety of jobs, including stints as a taxi driver, clerk, magazine reporter, logger, merchant seaman, cattle hand and cannery worker, before working for 15 years for UPS (United Parcel Service). Settling in Woodstock, New York, Eskin read widely on folksongs, becoming a self-taught folklorist, primarily interested in "the collection, preservation, and evaluation of American folksongs, indigenous music, dance music, primitive drumming, oral storytelling, and oral histories."
His interest in recording folk music coincided with a time of considerable technological advancement in recording equipment and Eskin embraced new emerging technology, regularly upgrading his disc and reel-to-reel tape recorders, amplifiers, and speakers.
Eskin made friends wherever he went and was able to make recordings in an amazing variety of settings. He gave numerous lectures to audiences at universities, workshops and folk festivals, and released two commercial albums, Sea Shanties and Loggers Songs, and the four-disc set Sam Eskin Songs and Ballads.
For more about Sam Eskin, see the Library of Congress Guide to the Sam Eskin Collection, 1939-1969.
Sombrero Books welcomes comments, corrections or additional material related to any of the writers and artists featured in our series of mini-bios. Please use the comments feature at the bottom of individual posts, or email us.