Gina Hildreth (who wrote under her maiden name Gina Dessart) and her husband, Phillip, lived in Ajijic in the mid-1960s. Gina wrote at least three suspense novels: A Man Died Here (1947), The Last House (1950) and Cry For The Lost (1959). All three works were published in New York by Harper & Brothers. The first two novels were set in New England, whereas her third novel was set in and around Tucson, Arizona. She also completed a fourth novel, Spiral, in about 1970. It is unclear if this was ever published.
Gina Hildreth also wrote a stage play – By any other name, a comedy in three acts (1948) – and had a short story, "Counterpoint", published in the Mike Shayne Mystery Magazine issue of November 1965. She also had stories published in The Literary Review, New Mexico Quarterly, Arizona Quarterly and The Virginia Quarterly.
Gina Dessart Hildreth (born Georgine Belle Dessart in Chicago, Illinois, on 16 March 1912) died in Nyack, New York, on 1 April 1979. Her husband, Phillip Nelson Hildreth, was born in East Hampton, New York, on 8 November 1898 and died in Guadalajara on 11 June 1968.
Gina Hildreth had grown up in New York and Europe, and gained a Masters degree in English, prior to marrying Phillip. Phillip had two failed marriages behind him. The first, when he was living in Manhattan and working in advertising, was to Lila Samantha Loper (1887–1958), a divorcee and mother of three. Phillip had a daughter with his second wife, Hilda Stone Tuzo (1902-1976), but that union did not last long. Phillip married Gina Dessart in about 1935. Five years later, the couple were still living in New York where they both gave their occupation in 1940 as working in "screen printing" for "display advertisements."
In 1950, Gina and Phillip moved to Tucson, Arizona, following a two month vacation there. Tucson remained their US home for the remainder of their lives. Gina worked in real estate and was quoted in an advertisement in Tucson for Hammond organs in the late 1950s as saying that, "As a writer, a member of a real estate firm and housewife, I lead a busy life. Yet when things begin to overwhelm me, I can always find new stimulation and inspiration at the Hammond."The precise timing, duration and motives for the couple's decision to live in Mexico for a time in the mid-1960s—from about 1964 to 1968—are unclear.
Long-time Chapala resident Bill Atkinson recalled that Phillip, while not himself a writer, certainly moved in literary circles and was active in Ajijic social circles. In July 1964, the Guadalajara Reporter told its readers that Phillip Hildreth "hosted a supper for Martha and Volney Hildreth and their children who have taken a house here for the summer." Six months later, the newspaper described how Philip Hildreth and his wife were in the middle of a 12-week-long competition organized by the "Ajijic chess club," competing against John Mersereau, Dick Bishop, Larry Hartmus, Lou Wertheimer and Bob Somerlott.
The Hildreths were especially close to Dick (Dickinson) Bishop and his wife, Nina. When Nina passed away, Gina Hildreth penned a moving tribute to her friend, describing how Nina and Dick had moved to Ajijic "scarcely more than three years ago," and how Nina, "an artist of great talent," maintained a stable of fine horses.
Gina and Phillip still had a home in Ajijic—at Calle Zaragoza 19—at the time of Phillip's death in June 1968 in a Guadalajara hospital, at the age of 69.
Gina returned to live in Tucson and was a lecturer in English, teaching creative writing at the University of Arizona in the early and mid-1970s, at the same time that another Ajijic resident, John Lee, taught there.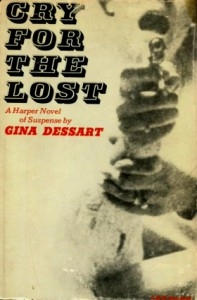 According to a Kirkus review, A Man Died Here (1947) tells the story of the Macklin family's "attempts to piece out the happenings in the Williams family  when as the new owners of the Williams house, their curiosity is first aroused by the house itself, later by the hints of gossip, hatred, evasion, in the town. Bob and Liz fit together each small fact, each tiny segment of character, and write finis to a story of bondage, cruelty, dishonesty, lifting the shadow from the house."
In The Last House (1950), according to one reviewer, a Connecticut gal "gets herself shot in village kitchen. Suspicion falls on various neighbors, male and female." The reviewer, William C. Weber found the book to be an "absorbing and capitally written mystery-suspense tale with interesting psychological overtones."
A review of Cry for the Lost describes it as "a murder story that poses no problem of who committed the crime. The interest and excitement in this suspense story lies in following the effect of the murder upon the characters and lives of the people who had been closely associated with the man who is killed. Miss Dessart reveals with considerable understanding and a searching sympathy the inner probings that torment both the guilty and the innocent when faced with the bitter knowledge that one among them has been driven to taking a human life."
Note: this is an updated and expanded version of a post first published on 3 November 2014.
Sources:
Arizona Daily Star (Tucson): June 8, 1958, 18.
Guadalajara Reporter: 1 Jul 1964; 10 Dec 1964; 14 Jan 1965; 23 Sep 1965.
Mecheline Keating, "Cry for the Lost – review", Tucson Daily Citizen, 3 October 1959, p 13.
William C. Weber, "The Last House, by Gina Dessart" in Tucson Daily Citizen, August 28, 1950, p 12.

Tony Burton's books include "Lake Chapala: A Postcard History" (2022), "Foreign Footprints in Ajijic" (2022), "If Walls Could Talk: Chapala's historic buildings and their former occupants" (2020), (available in translation as "Si Las Paredes Hablaran"), "Mexican Kaleidoscope" (2016), and "Lake Chapala Through the Ages" (2008).