Bob Somerlott was a well-respected writer of both fiction and non-fiction who lived in Ajijic for several years in the early 1960s before moving to San Miguel de Allende, where he resided for almost forty years.
Robert ("Bob") Somerlott was born 17 September 1928 in Huntington, Indiana, and died, following surgery, on 22 July 2001 in León, Guanajuato. He attended Northwestern University, Michigan State University and the University of Michigan, and then worked for about 15 years as an actor and stage director before moving to Mexico and becoming a professional writer.
According to Michael Hargraves in Lake Chapala: A Literary Survey, Somerlott spent the winter of 1958 at Chapala and then lived intermittently at Ajijic from late 1962 through the spring of 1965, before moving to San Miguel de Allende. While Somerlott apparently first settled in San Miguel in 1963, we know from contemporary newspapers that he was in Ajijic over the winter of 1964-65 since in December 1964 he is mentioned as being mid-way through a 12-week competition organized by the Ajijic chess club, playing against Phillip Hildreth and his wife Gina Dessart Hildreth, John Mersereau, Dick Bishop, Larry Hartmus and Lou Wertheimer.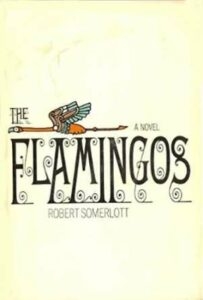 At some point during his several decades of residence in San Miguel, Somerlott was academic director of the Instituto Allende, a college for English-speaking students. Somerlott's interests were far-ranging. His works draw heavily on his particular keen interest in everything historical, including archaeology. History-related themes frequently made their way into his books.
His first major success as a writer came when he had a short story accepted for the January 1964 edition of Atlantic Monthly; it went on to win that publication's annual fiction award. The following year, Somerlott had a short story entitled "The Hair of the Widow" published in the January 1965 issue of Ellery Queen Mystery Magazine. That story was "based on a tale told to him early one morning on the pier in Ajijic by an old man" and was "supposed to be true, naturally, as all ghost stories are!" In 1967, his story, "Evening at the Black House" was chosen by Alfred Hitchcock for his Alfred Hitchcock Presents: Stories That Scared Even Me. Somerlott also had a piece published in American Heritage in 1971.
Somerlott's first novel, The Flamingos, written partly in Ajijic and partly in San Miguel, was published in 1967.
The Flamingos is not an especially strong first novel since both plot and dialogue are somewhat predictable but, in the words of the Kirkus Review, is "a most entertaining commercial novel", in which "The author brings an assortment of expatriate Americans with a full range of sexual tastes to a flyblown Mexican shoreline village", and a variety of Mexican characters who suddenly find themselves in the path of a major hurricane. "The only bull in the book is a muscular lesbian whose company built a defective dam above the town not destined to outlast such a storm." As the anonymous reviewer concluded, this would be a better movie than a book.
Some locales and incidents in The Flamingos are clearly derived from Somerlott's experiences in Ajijic and San Miguel, though heavily disguised. For example, there are descriptions of the "city" of Nexcotela, half-way to the coast, with its waterfall, mineral baths, American Legion and "Café International", a bar that somewhat resembles The Beer Garden in Chapala. Much of the book is set in the fictional coastal city of San Antonio Tlaxtalapan on Mexico's west coast. (Clearly, therefore, the title is a misnomer since flamingos are only found on Mexico's eastern coast!). The city has a "Mexican-North American Institute" that is the educational front of the missionary arm of the church.
The novel's minor characters include Stephen Mayers, a one-handed, ex-military American who had been a fine amateur pianist. His maid, Adela, is a petty thief whose husband, Roberto, "graduates" into a hitman, employed by two brothers from Guadalajara. The two main characters are Matthew Selkirk, a 58-year-old former professor and translator, an openly gay member of the "American colony" and 26-year-old, blond, blue-eyed Clay McPherson who has fled the U.S. because he believes he has murdered his mother. The relationship between the two men is often strained but Clay eventually risks his own life in order to try to rescue Matthew.
Hard on the heels of The Flamingos came The Inquisitor's House (1968).
Somerlott then changed track and published a book about occultism – "Here Mr. Splitfool": An Informal Exploration Into Modern Occultism (1971) (released in the U.K. as Modern occultism) – and another non-fiction work, The writing of modern fiction (1972).
Hargraves has pointed out that Here Mr. Splitfoot includes the following tangential reference to Lake Chapala:
"Throughout Latin America today there are divinas who gaze into a glass, a jewel, or a bowl of water in attempts to find the missing property of clients. Sometimes they have remarkable results, as in the Mexican village near Lake Chapala, where a divina announced that a lost watch would be found wrapped in a blanket—and this proved to be perfectly true. In another Mexican case a ring, supposedly stolen, was described as being lodged in a drainpipe—and so it was true. Despite numerous correct hits and the continued popularity of divinas, there has been to date no realty scientific study of this facet of crystallomancy." (p 221)
Somerlott then wrote several mystery novels under the pen name Jessica North, including The High Valley (1973), River Rising (1975), The Legend of the Thirteenth Pilgrim (1979) and Mask of the Jaguar (1982), before returning to use his own name for Blaze (1981) and Death of the Fifth Sun (1987). A Spanish language translation, by Miquela Misiergo, of Death of the Fifth Sun, was published as La Muerte Del Quinto Sol (1991).
In later years, Somerlott focused on non-fiction. He co-edited The Penguin Guide to Mexico 1991 (1990) and wrote San Miguel de Allende (1991) before completing a series of historical works including The Lincoln Assassination in American History (1998); The Little Rock School Desegregation Crisis in American History (2001); and The Spanish-American War: "Remember the Maine" (2002).
Sources:
Drewey Wayne Gunn. Gay American Novels, 1870-1970: A Reader's Guide. (McFarlane, 2016).
Guadalajara Reporter: 10 Dec 1964; GR 14 Jan 1965
Michael Hargraves. 1992. Lake Chapala: A Literary Survey (Los Angeles: Michael Hargraves).
Sombrero Books welcomes comments, corrections or additional material related to any of the writers and artists featured in our series of mini-bios. Please email us or use the comments feature at the bottom of individual posts.

Tony Burton's books include "Lake Chapala: A Postcard History" (2022), "Foreign Footprints in Ajijic" (2022), "If Walls Could Talk: Chapala's historic buildings and their former occupants" (2020), (available in translation as "Si Las Paredes Hablaran"), "Mexican Kaleidoscope" (2016), and "Lake Chapala Through the Ages" (2008).