Scottish writer Alexander Whitelaw Robertson Trocchi was born in Glasgow 30 July 1925 and died 15 April 1984 in London, England.
After graduating from the University of Glasgow, Trocchi lived in Paris, where in the early 1950s, he edited the literary magazine Merlin, which published the work of many noteworthy writers including Henry Miller, Samuel Beckett, Christopher Logue and Pablo Neruda. In the late 1950s, Trocchi lived for some time in Ajijic, on Lake Chapala, while he was writing his controversial novel Cain's Book, first published in New York in 1960.
Trocchi had previously published an autobiographical book Young Adam (1955), made into a movie in 2003. In the preface to Cain's Book, Trocchi reassured readers that the narrator's heroin use and related adventures were unrelated to the author's personal life or experiences. Joe Necchi, the heroin addict and writer in Cain's Book, is living and working on a scow (barge) on the Hudson River in New York. Necchi has numerous flashbacks to his childhood/youth in Glasgow, London and Paris. The narrative of the book, including its sex and drugs scenes, becomes more and more fragmented as Necchi stuggles to reconcile his desire for creativity with the demands of his addiction.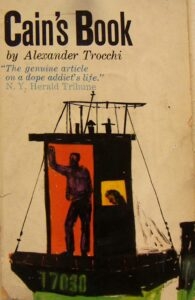 Trocchi's own addiction would prevent him from attending the launch party for Cain's Book in New York and indeed, from ever completing another book-length work. Shortly after the publication of Cain's Book, Trocchi shot himself up with heroin, live on camera, during a television debate on drug abuse. He was already on bail for having supplied heroin to a minor, and a jail term seemed inevitable. Trocchi's friends (including Norman Mailer) smuggled him across the border into Canada, where he was given refuge in Montreal by poet Irving Layton and met Leonard Cohen.
This short Youtube video – Alexander Trocchi – A Life in Pieces – features comments from William Burroughs, Allen Ginsberg and Leonard Cohen.
When the U.K. edition of Cain's Book was published in 1963, Trocchi was first "feted as a new star". But, in February of the following year, the book "was seized, together with 48 other novels and 906 magazines in a series of police raids in Sheffield." The police view was that the book was corrupting, since it "seems to advocate the use of drugs in school so that children should have a clearer conception of art." (quotes from Green's Encyclopaedia of Censorship). The publishers lost the case and Trocchi held a public bonfire to burn all unsold copies of Cain's Book.
Most of Trocchi's novels were published by Olympia Press, but many were originally published under pen names such as Frances Lengel and Carmencita de las Lunas. For example, the name Frances Lengel was used for several pornographic books including Helen and Desire (1954) and Carnal Days of Helen Seferis (1954).
Trocchi's other novels include:
White Thighs (1955)
School for Wives (1955)
Thongs (1955)
Young Adam (1955)
My Life and Loves: Fifth Volume (1954)
Sappho of Lesbos (1960)
School for Sin (1960)
Cain's Book (1960)
He also published a collection of poetry entitled Man at Leisure (1972).
John Ross (1938-2011), author of several books and a long-time resident of Mexico City, describes in Murdered by Capitalism : A Memoir of 150 Years of Life and Death on the American Left (Nation Books, 2004) how on one occasion (date unclear) he left Mexico City and met Alex Trocchi in Ajijic:
The road I was on took me west from Guadalajara out to Lake Chapala where Lawrence had set The Plumed Serpent. I kept staring at the dark surface, waiting for Quetzalcoatl to suddenly surge up from Chapala's turgid, ancient depths.

Alex Trocchi, Scotland's most accomplished junkie decades before Trainspotting, and a fellow barge captain whose Cain's Book was one of Barney Rosset's first titles at Evergreen, was hiding out in Ajijic. I bunked with Ned Polsky whose quibblings with Norman Mailer and his "White Negro" thesis were well-published on the Left. But heroin is a lethargic drug and weighty words did not spark much adventure. Ajijic, packed with dissipated gringos, seemed to me a kind of leper colony and I soon bid it adios and grabbed the puddle-jumper down to Puerto Vallarta, still a coastal backwater before Burton & Taylor filmed Night of the Iguana there, and caught a sail canoe out to the legendary Beatnik colony near the south cape of the bay at Yelapa."
(Editor's note: Richard Burton was in The Night of the Iguana (1964), but Elizabeth Taylor was not.)
Sombrero Books welcomes comments, corrections or additional material related to any of the writers and artists featured in our series of mini-bios. Please use the comments feature at the bottom of individual posts, or email us.

Tony Burton's books include "Lake Chapala: A Postcard History" (2022), "Foreign Footprints in Ajijic" (2022), "If Walls Could Talk: Chapala's historic buildings and their former occupants" (2020), (available in translation as "Si Las Paredes Hablaran"), "Mexican Kaleidoscope" (2016), and "Lake Chapala Through the Ages" (2008).