Born 26 March 1912 in Chiquinquirá, Boyacá, Columbia, Carlos López Ruíz (sometimes simply Carlos López) lived and painted in Ajijic for several years in the early 1960s. He came from a well-connected family, but disappointed his father by not entering the military or the church. Instead he became an artist.
He began his artistic career by drawing cartoons for newspapers in Bogotá, as a sideline while working in the Cartography Department of the War Ministry from 1944-1951. His drawings and caricatures appeared in several newspapers including El Liberal, humor section of Sábado and the sports section of El Tiempo.
In 1948, he displayed two artworks – a pencil drawing entitled "Tumaqueña" and an oil painting, "Indígenas del Pacífico" – in the first annual group show for artists from Boyacá.
By the early 1950s, he had become an established illustrator and caricaturist in Colombia, though his radical cartoons had gained him a certain notoriety. He left Colombia in 1952 for the U.S.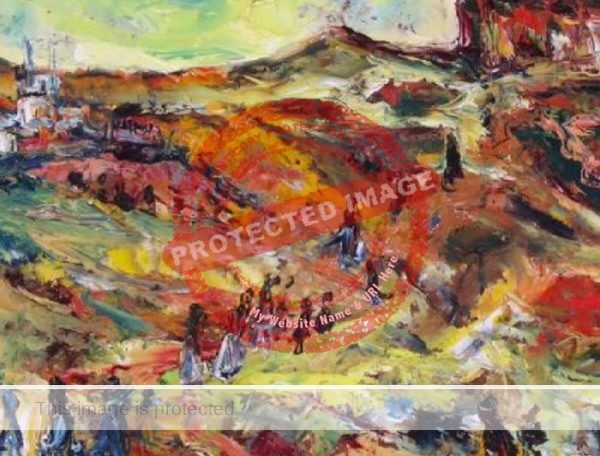 In 1953, he began a two year scholarship at the Corcoran Art School in Washington, D.C.. He was awarded first prize for oil painting in a collective exhibit arranged by the school. He spent the next five years studying the old masters in the finest U.S. museums, as well as modern art in galleries from Philadelphia to California.
In 1956-1957, he had several solo shows in Washington D.C., including shows at the Collectors Corner Gallery and the ArtSmart Gallery. He also exhibited in New York in the mid-1950s.
He returned briefly to Colombia in 1957 to participate in the 10th Annual Show of Colombian Artists. In 1959, he moved to Ajijic, Mexico, looking for new subjects to study and paint. During his time in Ajijic, he held several exhibitions in Guadalajara as well as in local Ajijic galleries. It was in Ajijic that he first met fellow artist Tink Strother (1919-2007), a relationship that lasted about seven years.
Tink Strother's son Loy remembers that his mother first met the hard-drinking López Ruiz when the artist was living with an aging, alcoholic, silent screen star… in the fabled "Casa Estrella", a large house overlooking the village. When the movie star's family arrived and insisted on taking her back to the U.S. to a detox clinic, Carlos moved down the hill and installed himself in the Hotel Anita, a couple of blocks from the village plaza.
López Ruiz gradually melded into the local art scene, and painted prolifically, specializing in fine portraits of horses and toreadors, as well as village scenes.
After he and Tink Strother became "an item", they lived together in Ajijic, and exhibited together in a group show in the Alfredo Santos gallery in Guadalajara (1962). In July 1962, López Ruiz returned for a short time to Colombia. The Galería "El Automático" in Bogotá held a one-man show for him later that year with twenty oil paintings.
Tink Strother and Carlos López Ruiz left Mexico and moved to California in 1963/64, where they opened a joint studio and gallery, first in Pico Rivera and then in Whittier. López Ruiz lived in Whittier until his death in 1972.
Loy Strother knew Carlos López Ruiz in the latter stages of his life as well as anyone, and still has the artist's notebooks, drawings and personal writings. He admires Carlos as a fabulous painter, whose rapid brushwork was in no way inhibited by his copious consumption of brandy. López Ruiz was choosy about selling his work and would refuse to part with anything unless he decided he liked the purchaser.
The magnificent works of Carlos López Ruiz have been exhibited in Washington D.C., New York, Virginia, Texas, California, Mexico and Colombia.
Sombrero Books welcomes comments, corrections or additional material related to any of the writers and artists featured in our series of mini-bios. Please use the comments feature at the bottom of individual posts, or email us.

Tony Burton's books include "Lake Chapala: A Postcard History" (2022), "Foreign Footprints in Ajijic" (2022), "If Walls Could Talk: Chapala's historic buildings and their former occupants" (2020), (available in translation as "Si Las Paredes Hablaran"), "Mexican Kaleidoscope" (2016), and "Lake Chapala Through the Ages" (2008).