Ned Polsky (20 October 1928 to 13 June 2000) was an American author who wrote the 1967 book Hustlers, Beats, and Others. The book was a sociological look at the various "deviant branches of American life", ranging from pool-hall regulars to the beat sub-culture, pornography and uncaught adult criminals in their natural environments. The book developed a new theory known as "crime as moonlighting".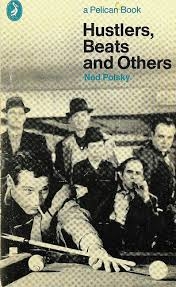 In the late 1950s, Polsky lived for some time in Ajijic on Lake Chapala.
John Ross stayed for a short time with Polsky in the village. In the afterword of The Heart of it All (2004), Ross writes that, "Alex Trocchi, Scotland's most accomplished junkie decades before Trainspotting, and a fellow barge captain whose Cain's Book was one of Barney Rosset's first titles at Evergreen, was hiding out in Ajijic. I bunked with Ned Polsky whose quibblings with Norman Mailer and his "White Negro" thesis were well-published on the Left."
Polsky himself, in a letter to the New York Times in 1995, writes of his admiration for the work of Alex Trocchi, and describes how, in 1958 or 1959, "… Alex and I had seen each other virtually every day while we were living in Mexico; there he had no difficulty in obtaining drugs, and under those conditions got much of the work done on his best novel, "Cain's Book" (1960)."
Polsky and Trocchi remained friends. Polsky relates how he and poet Diane de Prima were with Trocchi in a Greenwich Village bookshop on the fateful night a couple of years later when Trocchi decided to jump bail and flee to Canada rather than remain for the opening of his trial the following day on narcotics charges.
It is unclear just how long Polsky was in Ajijic, but his experiences and friendships there undoubtedly presented him with valuable first-hand insights into some of the subject areas of his book. Shortly after the publication of Hustlers, Beats, and Others, Polsky signed the "Writers and Editors War Tax Protest" pledge, vowing to refuse tax payments in protest against the Vietnam War.
Polsky, who had a degree in linguistics and literature from the University of Wisconsin, and had undertaken graduate study in sociology at the University of Chicago, was professor of sociology at the State University of New York, Stony Brook. During his career he contributed to a variety of magazines and professional journals. In retirement, he opened an antiquarian book business specializing in biographies.
Sombrero Books welcomes comments, corrections or additional material related to any of the writers and artists featured in our series of mini-bios. Please use the comments feature at the bottom of individual posts, or email us.

Tony Burton's books include "Lake Chapala: A Postcard History" (2022), "Foreign Footprints in Ajijic" (2022), "If Walls Could Talk: Chapala's historic buildings and their former occupants" (2020), (available in translation as "Si Las Paredes Hablaran"), "Mexican Kaleidoscope" (2016), and "Lake Chapala Through the Ages" (2008).