François de Brouillette was an artist and poet who was born in Vermont on 22 April 1906 and died in Santa Barbara, California, on 12 February 1972.
It has so far proved impossible to reconstruct a reliable time line for various significant events in his life, but de Brouillette is known to have visited Lake Chapala numerous times over a period spanning more than forty years, and definitely painted the lake, probably on numerous occasions.
A few years ago, two of his oil paintings connected to Lake Chapala – "Lake with Boat San Juan Cosala" and "San Juan Cosala Steeple" were in an auction of paintings belonging to Mr. and Mrs. Lucien Lemieux, though it is unclear when these works were painted.
From contemporaneous newspaper reports, we know that he spent several weeks in Chapala over the winter of 1966-67, a few years before he died. During that visit, Anita Lomax, who wrote for the Guadalajara Reporter, met de Brouillette when she called on another artist, Jesús "Chuy" Alcalá, at his studio in Chapala.
Lomas later wrote that de Brouillette had known the Chapala area since 1926, and was "an artist of great versatility", though "his forte is restoring fine paintings." Lomax reported that she had first met de Brouillette in 1962 when he exhibited a selection of his paintings at the Galería del Arte (in Guadalajara) and that de Brouillette was based in Houston, Texas, but continued to travel regularly for work and pleasure. Lomax found that de Brouillette was quite the raconteur, more than willing to talk about his many adventures and misadventures while researching and restoring old paintings.
Precisely where de Brouillette acquired his art knowledge remains something of a mystery, but he was living in Hollywood, California, and described himself as a "portrait painter" when, shortly before his 26th birthday, he married Joanna Catherina Tenneson in Yuma, Arizona, on 9 April 1932. Tenneson,  aged 33, was also living in Hollywood. Sadly, the marriage did not last very long.
In addition to his painting, de Brouillette was also becoming well known as a writer, with poems or articles published in the Honolulu Star-bulletin, Outlook, Town and Country, Wide World News and Harper's Magazine. He compiled one poetry collection, Peon's prayer, published in 1933 by the Bella Union Press in Los Angeles (at which time de Brouillette was apparently living in California). While some reports attribute a second book of poetry – Youth is a beggar – to him, its details do not appear in any of the usual bibliographic sources.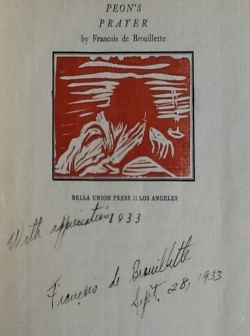 de Brouillette married for the second time in 1935. His second wife, Velma Mildred Henard (1912-1968), who preferred Mildred to Velma, later remarried to become Mrs Edgar Taylor. She was an artist and professor of art education who taught at the University of Southern California for 18 years. Mildred became an authority on Mexico's ancient sculpture and pottery. In the 1940s and 1950s, she and her second husband amassed a large collection of archaeological pieces from the area of Chupícuaro (Guanajuato), later purchased by the actress Natalie Wood for the Fowler Museum of the University of California of Los Angeles.
Mildred's parents had a ranch near Wellington in the Texas panhandle and in May 1935, de Brouillette, a "nationally known painter-poet", was invited to give art classes in Wellington and helped reorganize the Wellington Art Club. By this time, de Brouillette had, apparently, already acquired a serious interest in archaeology and the tropics, having spent five years in Florida, Cuba, the West Indies, Mexico and the Hawaiian islands. Advance publicity in the local newspaper said of the artist that, "As an archaeologist his journeys have taken him into Mayan country of Yucatan, Aztec lands, back mountain sections of Mexico, visiting Indian tribes never before visited by the white man. He lived and worked with the last tribe of the Aztecs and the Tonala Indians in Jalisco. His adventures and genius give promise of a great new name in western art and lore."
Exaggeration aside, de Brouillette had clearly already traveled quite widely in Mexico and was much in demand as a speaker and lecturer. In June 1935, he was guest speaker for the Wellington Kiwanis Club and spoke about the background of the "last tribe of Tonala Indians". In December, he lectured, exhibited and read poetry at Southwestern University.
In 1936, de Brouillette was director of the Miami Federal Art Galleries in Florida, an institution that had 780 pupils and 30 instructors. At about this time he was responsible for taking "the first exhibit of paintings ever sent abroad by the United States government", a collection that included 36 water color paintings, for an exhibition in Havana, Cuba.
In September of 1936, de Brouillette, who had already gained a reputation as a fine portrait painter, was in Dallas working on a portrait of John Nance Garner, the U.S. Vice President, for the Washington Press Club. The following year, de Brouillette conducted a two weeks' art class at Saint Mary's Academy in Amarillo in March 1937, teaching figure, portraiture and still life.
He and Mildred held a joint exhibition of their recent artwork at the Country Library in Wellington in September of that year. de Brouillette showed various portraits, mainly of local people, while his wife showed mainly scenic works and still lifes. Both painters also had works accepted into the juried show that opened at the Witte Museum in San Antonio in December 1940.
Newspaper accounts list several places (Washington D.C., Miami, California, Texas) as "home" for the de Brouillettes in the 1930s, but it appears that from 1940 to at least 1947, they were living and working mainly in San Antonio, Texas. For at least part of this time, the couple operated an antique shop on Broadway.
de Brouillette had oil paintings accepted into two consecutive major Texas annual juried shows. "The Mine Fell In" was included in the "7th Texas General Exhibition", which ran from November to December 1945 at the Dallas Museum of Fine Arts in Dallas, Texas, and "The Novice" was accepted into the "8th Texas General Exhibition", which ran from October 1946 to January 1947, opening at The Museum of Fine Arts in Houston, before moving to the Witte Memorial Museum in San Antonio and The Dallas Museum of Fine Arts.
Somehow, de Brouillette even found time to be the director of the Little House School of Art in San Antonio in 1947, an institution which trained dozens of fine young artists.
Newspapers in the 1950s include very few references to de Brouillette, apart from the occasional mention that he is undertaking a commission to paint a portrait of some then-famous personage.
By the time of his visit to Guadalajara in July 1962 and his exhibit at La Casa del Arte (Av. Corona #72), de Brouillette was billing himself in publicity adverts as "an acclaimed portraitist", who was "considered to be one of the five finest restorers in the world."
Sources:
Guadalajara Reporter : 21 January 1967; 25 February 1967
Molly Heilman. 1940. "New Artists In Witte Exhibition", San Antonio Light, 15
December 1940, p 42.
Informador (Guadalajara): 9 July 1962; 14 July 1962
The Megaphone (Georgetown, Texas). 1935. 3 December 1935: Vol. 29, No. 11, Ed. 1.
San Antonio Express (Texas). 1947. "Art School Directors To Address Students", San Antonio Express, 8 June 1947.
The Wellington Leader (Wellington, Texas). 30 May 1935; 6 June 1935, p 8; 1 October 1936, p 1; 1 April 1937, p 9; 23 September 1937, p 1; 6 January 1938, p 9; 23 February 1939, p 3.
Sombrero Books welcomes comments, corrections or additional material related to any of the writers and artists featured in our series of mini-bios. Please email us or use the comments feature at the bottom of individual posts.

Tony Burton's books include "Lake Chapala: A Postcard History" (2022), "Foreign Footprints in Ajijic" (2022), "If Walls Could Talk: Chapala's historic buildings and their former occupants" (2020), (available in translation as "Si Las Paredes Hablaran"), "Mexican Kaleidoscope" (2016), and "Lake Chapala Through the Ages" (2008).