Peter Frederick Egerton Elstob (1915-2002) was a British author, adventurer and entrepreneur who lived in Ajijic from late 1949 until 1952.
Peter Elstob was born in London on 22 December 1915. The family lived in various places during Peter's childhood, and his early education was in the U.S. where he graduated from Summit High School in New Jersey in 1934. He retained a mid-Atlantic accent throughout his life.
He ran away to sea and had reached Rio de Janeiro (and become engaged) before his father found him and persuaded him to attend the University of Michigan. When that failed to work out (Elstob failed the first year), his father then sent him to England to join the Royal Air Force. Some unauthorized stunt flying over the Queen Mary on its maiden voyage (to impress a girlfriend) soon put paid to that plan and Elstob was dismissed from the RAF.
Soon afterwards, he volunteered to fly with the Republican forces in Spain, but his intentions were thwarted when he was arrested on suspicion of being a spy and imprisoned for several months. His release from the Castle of Montjuïc prison in Barcelona, and expulsion to France, were due to the intervention of Medora Leigh-Smith, who subsequently became his first wife in Nice in 1937. Elstob's experiences were the subject matter for his first novel, Spanish Prisoner (1939).
Soon after his marriage, Elstob became partners with Arnold "Bushy" Eiloart and his wife, Mary, in marketing Yeast Pac, a beauty mask product they had devised. The product was a success and gave both families financial security.
When the second world war broke out, Elstob's application to rejoin the RAF was turned down, so he volunteered with the Royal Tank Regiment. He served in India, Iraq, Syria, Lebanon, Palestine, Egypt, Libya, Normandy, Belgium, the Netherlands and Germany. This gave him material for several later books, including the novel Warriors for the Working Day (1960) which was widely translated and used in military classes to illustrate war-time life in a tank.
Following Elstob's death, his former tank gunnery instructor, Chapman Pincher (long-time journalist and novelist) recalled one particularly memorable incident in Elstob's "colorful career":
"When I was his tank gunnery instructor at Catterick, Trooper Elstob always had money, a car and the necessary petrol. It transpired that all this derived from a chicken food that he was marketing. The packet admitted that the main ingredient was sawdust, but explained that this was to serve as a "filler" to offset the remainder, which, allegedly, consisted of high protein. Whether by accident or design, some of the packets eventually contained sawdust and little else and a court case ensued.
As the newspapers joyfully reported, the judge remarked that, perhaps, the real purpose of the product was to induce the chickens to lay eggs already packed in wooden boxes. Because Trooper Elstob was doing his military duty and looked like being a brave soldier, which he certainly became, he escaped with a fine."
It is unclear how Elstob, back in civvy street after the war, first heard about Ajijic, and the attractions of living there, but it is possible that this was from the London literary and theater circles in which he moved.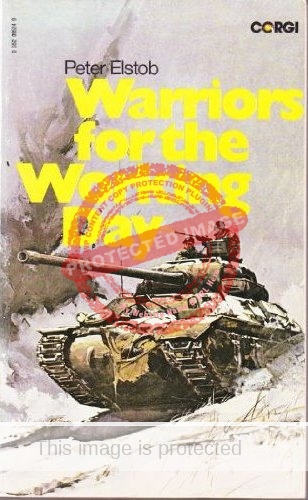 In 1946, Elstob and his business partner Arnold Eiloart teamed up with actor Alec Clunes to raise £20,000 for the lease on the Arts Theatre in London. After buying the lease there was only enough money for one production: Waiting for Lefty by Clifford Odets. Fortunately, this was a financial success, and enabled them to finance several other plays, including the first production of The Lady's Not For Burning by Christopher Fry. Elstob managed the theater single-handedly for three years.
The London theater and writing set at this time would have included friends of Nigel Millett and  Peter Lilley who had teamed up as "Dane Chandos" to write Village in the Sun (first published in the U.K. in 1945), their month-by-month account of building a home in San Antonio Tlayacapan, just to the east of Ajijic.
Millett lived in Ajijic from 1937 to his death in 1946. Prior to moving to Mexico, he had written (as "Richard Oke") a biography, and several plays and novels, including Frolic wind (1929), a satirical gay comedy novel that was turned into a West End stage production in 1935. A revived run of Frolic wind began on 10 November 1948 at Boltons Theatre, Kensington.
In Ajijic, Elstob partnered Eiloart to form "Peter Arnold", a joint venture that promoted Ajijic as a vacation and retirement destination. Participants were housed in the Posada Ajijic and other rental properties as needed. For much of Peter's time in Ajijic, his first wife, Medora Leigh-Smith, remained in the U.K., looking after the couple's first four children and preparing for the arrival of their fifth.
It was in Ajijic that Elstob met a young artist, Barbara Jean Zacheisz. Following his divorce from Medora, Elstob married Barbara in 1953. The couple had two children: Peter Mayo Elstob, born in Mexico City in 1951, and Sukey, born in the U.K. in 1957.
Elstob and Zacheisz left Ajijic for the U.K. in April 1952, traveling with their infant son and Estob's business partner Arnold Eiloart on board the Queen Elizabeth.
The two men's next joint venture came in 1958, when Eiloart attempted a trans-Atlantic balloon flight, with Elstob managing publicity. The attempt ultimately failed, but set a record for a gas-powered balloon flight that stood for decades. The story of this adventure is told in their joint book, The Flight of the Small World (1959).
Elstob's other books included The Armed Rehearsal (1960); Warriors For the Working Day (1960); Bastogne: the road block (1968); Battle of the Reichswald (1970); Hitler's Last Offensive (1971); The Condor Legion (1973); and Scoundrel (1986). The last-named is at least partly autobiographical according to Elstob's family and friends.
In 1962, Elstob joined the writers' organization PEN International, and later served (unpaid) as its general secretary and vice-president, during which time he was able to put the organization on a sound financial footing. He retired from this position in 1981.
Barbara suffered a severe stroke in 1973, from which she never fully recovered. Elstob remained devoted to his wife throughout the remaining twenty years of her life. The couple were able to enjoy trips together and revisited Ajijic on at least one occasion.
Elstob seems to have attracted adventures, danger and drama wherever he went. On a trip to Kenya in 1980, he and his wife were stripped and robbed while strolling on a secluded beach. Only days later, they were dining in the restaurant of the Norfolk Hotel in Nairobi when a bomb exploded, killing 20 people and injuring 80 others.
Barbara died in 1992. Elstob's own life – adventurous, unconventional and incredible – ended in Burley, Hampshire, at the age of 86, on 21 July 2002.
Acknowledgments
Sincere thanks to Sukey Elstob for her help with compiling this profile of her father.
Sources:
Sombrero Books welcomes comments, corrections or additional material related to any of the writers and artists featured in our series of mini-bios. Please use the comments feature at the bottom of individual posts, or email us.

Tony Burton's books include "Lake Chapala: A Postcard History" (2022), "Foreign Footprints in Ajijic" (2022), "If Walls Could Talk: Chapala's historic buildings and their former occupants" (2020), (available in translation as "Si Las Paredes Hablaran"), "Mexican Kaleidoscope" (2016), and "Lake Chapala Through the Ages" (2008).