Martín Casillas de Alba's second novel, Las batallas del general, was published in 2002 as the second in a proposed trilogy about Lake Chapala. The first novel in the series was Confesiones de Maclovia (1995), the third novel remains unpublished.
Inspired by the life of General Ramón Corona, born near Tuxcueca on the southern shore of the lake, Casillas examines Corona's actions, motives and achievements as he moved from the humble family into which he was born into the military and political elite.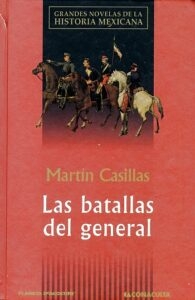 Ramón Corona Madrigal (1837-1889) was born on 18 October 1837 in Puruagua, a small settlement east of Tuxcueca, Jalisco. Corona, a liberal, joined the army and fought on the winning side against the conservatives during the War of Reform (1857-1861). During the Second French intervention (1861-1867), Corona commanded the 8000-strong, pro-Republic, Army of the west, which played an important part in finally defeating the French. When Maximilian finally surrendered in May 1867, he did so to Corona, formally handing over his sword.
At about this time, Corona met and married Mary Anne McEntee. McEntee, born in New York in 1844 to Irish immigrants, had been previously married to a much older wealthy Californian and was a woman of independent means. Corona and his wife had seven children.
Even after Maximilian's execution in 1867 and the expulsion of French troops, guerilla warfare continued in the west with opportunist Manuel Lozada, the "Tiger of Álica," fighting to gain territorial control over the region west of Guadalajara. Corona and Lozada battled each other for months before Corona finally defeated Lozada at the bloody Battle of La Mojonera (near Guadalajara) on 28 January 1873. More than 3000 of Lozada's men died on the battlefield that day; the rest fled for the hills. Lozada was eventually captured and executed a few months later.
The following year, President Sebastián Lerdo de Tejada appointed Corona as the head of Mexico's diplomatic mission to Spain. Corona and his wife remained in Madrid for a decade before returning to Guadalajara.
In 1887, Corona was elected governor of the state of Jalisco, on a progressive, modernist agenda. During his time in office, prominent local businessmen funded the opening of a state pawn shop (Monte de Piedad), a Chamber of Commerce was established and a system of state (as opposed to municipal) primary schools put in place. Corona presided over the celebrations when the railroad finally reached Guadalajara for the first time in 1888. Corona's governorship came to an abrupt end when he was attacked in the street on 10 November 1889 by mentally-unstable Primitivo Ron. Corona died the following day.
In Casillas' novel, José María Reyes, a modern-day writer, has decided to make General Ramón Corona the subject of his next historical novel. Reyes sets out from Mexico City to spend some time in Guadalajara, Lake Chapala and surrounding places to follow in Corona's footsteps and try to get himself inside the general's head.
By chance, while admiring the Orozco frescoes in the Instituto Cultural Cabañas, Reyes bumps into Alma Mahler. He is enchanted, immediately gives her a French nickname, Peau Douce ("soft skin"), and they quickly become friends and, not long afterwards – at La Nueva Posada in Ajijic – lovers.
[Reyes] knew that Chapala inevitably produces the desired effect: on the shore, on the edge of the lake, nobody knows why, but women – and men as well – let themselves be more easily seduced. No one knows why, but that is what happens."
The novel interweaves the love story of Reyes and Mahler with the lives of Ramón Corona and his American wife with great skill and dexterity, as the pairs of protagonists fight their (very varied) battles. Certain parallels can be drawn between the two couples, including their move from Mexico to Spain and back.
There are some excellent descriptive passages about Lake Chapala and Ramón Corona's life story is told with impressive historical accuracy. Readers who lack any background in Mexican history need not worry. The motives, actions and events described in this book stay close to the established historical versions of what transpired.
The links between this novel and Confesiones de Maclovia (the first volume in the intended trilogy) are readily apparent. Both novels have many connections to Lake Chapala. In addition, in both books it becomes evident that Maclovia was something of a clairvoyant. She reads tarot cards for Ramón Corona in Guadalajara at a fair to benefit the orphans of the Hospicio Cabañas (now the Instituto Cultural Cabañas) and foretells that he will be the subject of treachery. Not long afterwards, Primitivo Ron attacks and fatally wounds the general as he is on his way to the theater.
One trivial anomaly between the books is that the date of the tarot card reading is given as August 1889 in Confesiones de Maclovia and as one month later in Las batallas del general.
This well-produced book is an educational, entertaining and thought-provoking read.
Sources
Martín Casillas de Alba. 1995. Confesiones de Maclovia. Mexico City: Ediciones del Equilibrista.
Martín Casillas de Alba. 2002. Las batallas del general. Mexico City: Editorial Planeta.
Comments, corrections or additional material related to any of the writers and artists featured in our series of mini-bios are welcomed. Please use the comments feature at the bottom of individual posts, or email us.

Tony Burton's books include "Lake Chapala: A Postcard History" (2022), "Foreign Footprints in Ajijic" (2022), "If Walls Could Talk: Chapala's historic buildings and their former occupants" (2020), (available in translation as "Si Las Paredes Hablaran"), "Mexican Kaleidoscope" (2016), and "Lake Chapala Through the Ages" (2008).