Inveterate world traveler Norman D Ford (1921-2009) described Lake Chapala and Ajijic in several of his books, including in Bargain Paradises of the World (1952). By 1970, he had decided that Lake Chapala was "no longer the cheapest place in Mexico. Since 1950, about 1,500 American couples have moved into its two dreamy villages of Chapala and Ajijic. Prices have inevitably risen. But building costs still average only $4 per square foot, and you can hire a maid for $12 or a cook for $16 a month."
"You can have a modern home built for under $5,000…. For two, you can budget about $70 for food and $30 for utilities and your maid per month. The rest is for high living–golf, riding or swimming by day, followed by some of the most fabulous parties on this continent."
Ford was born in the UK on 8 January 1921, the only child of Frederick William John Matthew and Jessie Shortland Ford. He grew up in Wales, and became a lifelong adventurer, especially keen on cycling, hiking and kayaking. During six years service as a radio operator in the Merchant Navy during the second world war, Ford traveled as far as the U.S., Sri Lanka and New Zealand.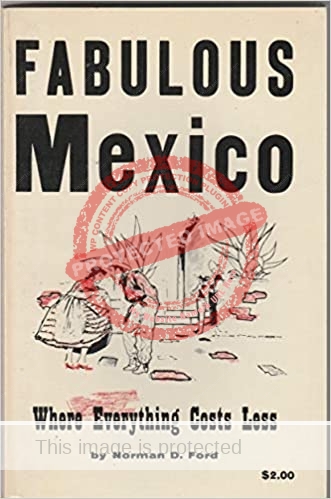 A few days after the war ended, Ford declared himself president of the Globetrotters Club, a then loose-knit organization which produced "a monthly newsletter describing how to travel the world at rock bottom cost, plus a list of other members." This helped popularize low budget adventure travel to all manner of unlikely destinations.
In early 1947 he moved permanently to the US where he worked as an editor and began to write travel and retirement books, starting with Where to Retire on a Small Income (1950). The success of this book, and several later books, enabled Ford to quit his day job, move to Florida, and focus on freelance writing. By 1980 travel writing had become increasingly competitive, so Ford moved to Boulder, Colorado, and switched to writing popular books about health issues. He spent the last years of his life in Kerville, Texas, where he died on 19 June 2009 at the age of 88.
Ford wrote a more detailed account of Ajijic in Fabulous Mexico where everything costs less. The following excerpts are from the 10th edition (1970).
AJIJIC. Alt 5,030′, pop 3,500. An ancient Tarascan fishing village, Ajijic nestles on the lush shores of Lake Chapala beneath a steep, green and aesthetically contoured mountain range…. You notice the neat, trim plaza with its well painted bandstand, the picturesque fishing nets strung along the shore. What lies behind those bare adobe walls? Inside are white patios lush with flowers, well equipped art studios and the comfortable homes and apartments of Ajijic's 300 permanent American residents."
Ford summarizes how foreigners 'discovered' Ajijic and began to change it:
Years ago, a retired British engineer seeking a Utopia discovered this garden spot and built himself an impressive lakeshore home fronted by an acre of color-splashed blooms. After World War II, veterans studying in Guadalajara found they could live well here on their G.I. Bill payments. Artists moved in, led by several well known modern painters. Several writers and musicians followed together with a group of enterprising ladies who reorganized Ajijic's dwindling handlooms crafts into a thriving industry. With a few exceptions, this group still forms Ajijic's Old Guard. Getting in early, they bought up the choicest lots and homes, secured long term leases on the lowest rentals and today, most of these old timers offer outstanding examples of the way in which the good life can be enjoyed in Mexico on little."
Ford explains that while some of these incomers were still paying "fantastically low rents" [$7.50 to $15.00 a month] "and living well on very small budgets," some were "constructing lavish homes costing up to $14,000 and $15,000. New homes are sprouting all around the village and to the west, ultra modern homes are studding a new hillside subdivision."
He concluded that "Ajijic today is a slightly raffish, slightly bohemian rustic village where retirees outnumber the artists five to one." The foreign community was changing: "Ajijic is still no place for suburban conformists but neither is its nonconformity disquieting. Drinks and gossip are still favorite pastimes but criticism today centers on the unstable electricity, the water supply which sometimes runs dry in May, and the water hyacinths which clog the lake rather than on eccentric people."
Besides writing about Mexico, Ford wrote dozens of other books, including Florida: A Complete Guide to Finding What You Seek in Florida (1953); How to travel without being rich (1955); America's 50 best cities in which to live, work, and retire (1956); America by car : planned routings to all that's worth seeing (1957); Where to retire on a small income (1966); Good night : the easy and natural way to sleep the whole night through (1983); Keep on pedaling : the complete guide to adult bicycling (1990); 50 Healthiest Places to Live & Retire in the United States (1991); The sleep Rx: 75 proven ways to get a good night's sleep (1994); and Natural remedies: techniques for preventing headaches and the common cold (1994).
When Ford looked back on his varied experiences on several continents, including cycling trips in 38 countries, he concluded that:
travel half a century ago was much more rewarding and much more fun…. Overall, the world was much safer then with far less risk of being robbed or mugged. In fact, every year since 1945 I've witnessed a world-wide deterioration in the quality of life and the quality of the travel experience. Each year, more Coca-Cola signs appear and almost every country is rapidly losing its national character while it fuses into a faceless industrial monoculture."
That is so true! The world has changed, and is continuing to change, though not always for the better.
Foreign Footprints in Ajijic: Decades of Change in a Mexican Village (2022) explains the changes that have taken place in Ajijic since 1940 in far more detail.
Lake Chapala Artists & Authors is reader-supported. Purchases made via links on our site may, at no cost to you, earn us an affiliate commission.
Learn more.
Sources
Comments, corrections or additional material related to any of the writers and artists featured in our series of mini-bios are welcomed. Please use the comments feature at the bottom of individual posts, or email us.

Tony Burton's books include "Lake Chapala: A Postcard History" (2022), "Foreign Footprints in Ajijic" (2022), "If Walls Could Talk: Chapala's historic buildings and their former occupants" (2020), (available in translation as "Si Las Paredes Hablaran"), "Mexican Kaleidoscope" (2016), and "Lake Chapala Through the Ages" (2008).