The great food writer Mary Frances Kennedy Fisher is one of the many well-known non-fiction writers to have spent time in Chapala.
Fisher wrote more than 20 food-related works and was considered by contemporaries as "the greatest food writer of our time". The revered English poet W. H. Auden extolled the quality of her writing, saying "I do not know of anyone in the United States today who writes better prose."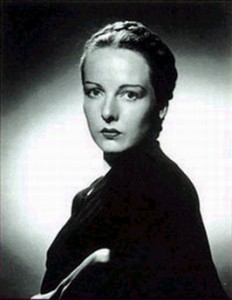 Fisher was born on 3 July 1908 in Albion, Michigan. Her first book, Serve it Forth, was published in 1937. Her books, with titles such as How to Cook a Wolf, Consider the Oyster, and An Alphabet for Gourmets, consider food from multiple perspectives, including preparation, natural history, culture, and philosophy.
Fisher spent three weeks in Chapala from mid-October into November 1941, shortly after her second husband Dillwyn had taken his own life. [Dillwyn "was dying from a horribly painful and invariably fatal disease (and could not obtain the only medication that had any effect on the pain in the USA)" – see comments below.] Fisher visited Chapala to stay with her sister Norah and her brother David Holbrook Kennedy and his wife Sarah, who had rented a house there over the summer. David and Sarah were honeymooning in Chapala where David had a contract to paint murals in the municipal baths of Chapala, a task with which the others helped. The entire group (David, Sarah, Norah, and Mary Frances) helped paint the murals, working on them every day for several weeks. After the murals were finished toward the end of November 1941, Fisher and Norah flew back to Los Angeles, with David and Sarah following by car.
Many details and stories relating to Fisher's visit are told in Reardon's Poet of the Appetites and Fisher's The Gastronomical  Me. According to Joan Reardon, her biographer, Fisher drafted some of The Gastronomical Me while staying in Chapala: "No doubt Mary Frances drafted those two chapters [of The Gastronomical Me] during the three weeks she stayed with Norah, David, and Sarah in their little rented house in the fishing village along the shore of Lake Chapala." (Reardon, 141)
In The Gastronomical Me, Fisher describes what living in Chapala was like in 1941:
"Our house was about thirty steps from the little square, which was very correct, with a wooden bandstand in the middle and a double promenade around it under the thick green trees, so that the boys could walk one way to the music and the girls the other… until the boys found courage or centavos enough to buy flowers and join their loves.

The flower-women sat at one end of the plaza on concert nights, the dark end, and candles or little lamps shone like magic on the blossoms lying on clean cloths in front of them. There were camelias and tiny gardenias, and sometime spidery jewel-like orchids, and plainer garden flowers, all glowing in the soft light on the earth while the women crouched darkly behind, deep in their shawls, and the band wheezed bravely for the innocent concupiscent strollers on the paths.

There were two or three bars, with juke-boxes when the orchestra got tired, and a little kiosk sold bright pink and yellow ices and Coca-Cola.

In the other direction from our house, and around the corner was the market. It was a sprawling wandering collection of stands, some of them elaborate, with counters for eating and stoves in the center, and some of them a piece of cloth on the ground with two little heaps of dried peppers and a bruised yam or a pot of stew waiting to be bought. Of course there were serape merchants and sandal-makers on Sundays, and piles of thin pottery everywhere and always because it broke easily after it was bought.

There were hungry dogs and cats near the one meat-stand, where flies buzzed so thickly over the strange strips of hanging bony flesh that we could hear them before we even turned the corner.

Some days, and perhaps for a week at a time, there would be almost nothing to buy except one thing, like tomatoes, at every stand… little pungent tomatoes no bigger than pigeon eggs. It was the wrong season for avocados when I was there, but now and then we found string beans, or a rotting papaya." (Fisher, 546)
In general, Fisher was not overly impressed with the quality of the food in Mexico, though she praised a meal in Mazatlán (where she had to overnight between flights on her way south to Guadalajara), brought from the "country" (non-American) kitchen where the waiters ate.
She was far less impressed with the culinary delights of Chapala where  "the meats were repulsive and poorly cooked; there were no salads and almost no vegetables; none of us liked the violently colored stiff sweet pastes that were called desserts."
Even breakfast was an ordeal. She cooked scrambled eggs a few times, "but it was hard to find more than two or three at once, and there was no cream or cheese in the village."
The family ate out most nights:
"At night we usually went to one of the little restaurants. They were very plain, and it was best to stop by in the afternoon and ask what there would be for four people. Most of the people ate in them or ordered food to be cooked there and taken home, even if they were quite poor. It was because the kitchens were so bad, I suppose, and charcoal and water and food so scarce. Always at meal times boys would be walking through the streets with food on their heads, from the little eating-places… pots of stew and beans, piles of tacos, sometimes a boiled chicken steaming naked on a platter if it was for a family feast-day." (Fisher, 549)
Elsewhere, Fisher describes an evening spent in a bar run by a "fat widow", "a white-faced woman with a shy flashing smile". This description is almost certainly of the famous bar owned at that time by the Viuda Sánchez (Widow Sánchez), who popularized the tequila chaser known as sangrita.
Sources:
Joan Reardon, 2005. Poet of the Appetites: The Lives And Loves of M.F.K. Fisher (North Point Press)
M. F. K. Fisher, 1943. The Gastronomical Me (Duell, Sloan and Pearce, New York), reprinted in The Art of Eating (Macmillan 1979).
Note: This post was first published Oct 13, 2014.
Sombrero Books welcomes comments, corrections or additional material related to any of the writers and artists featured in our series of mini-bios. Please use the comments feature at the bottom of individual posts, or email us.

Tony Burton's books include "Lake Chapala: A Postcard History" (2022), "Foreign Footprints in Ajijic" (2022), "If Walls Could Talk: Chapala's historic buildings and their former occupants" (2020), (available in translation as "Si Las Paredes Hablaran"), "Mexican Kaleidoscope" (2016), and "Lake Chapala Through the Ages" (2008).