A lakefront home in Ajijic was the setting in 1949 for the marriage of a Canadian author and an English nurse. The story of how they met and fell in love is one of the most endearing tales to emerge from my research into the authors and artists associated with Lake Chapala.
The venue for the wedding was Quinta Johnson, the home built by Herbert and Georgette Johnson, a British couple who had left France just as the second world war broke out and who first arrived in Mexico in 1939. The magnificent garden they created separating their residence from the lake was sufficiently famous that it featured, years later, in Elizabeth Schuler's Gardens of the World (1962).
The groom at the ceremony in Ajijic was Harold Walter Masson, who was born in St. Raphael's in South Glengarry County, Ontario, Canada, on 29 June 1915 and died in Hawaii at age 95 on 26 March 2011.
Prior to joining the Royal Canadian Air Force in October 1939 at the outbreak of the second world war, Masson had lived in Toronto and worked for the Royal Canadian Mounted Police. In 1945, at the end of the war, "Hal" Masson, as he was known, joined the staff of Maclean's magazine as the magazine's assignments editor, with special responsibility for short fiction.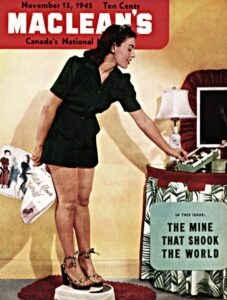 Over the next eighteen months the magazine published several of his short stories, starting with "These thy gifts" in November 1945 which has the memorable opening, "Black Joe and Little Joe sat at the worn kitchen table, elbows resting on the scrubbed pine boards, their faces shining in the uncertain light of the flickering kerosene lamp."
By 1947, tired of the extreme winters in Ontario, Masson decided to emigrate to sunnier climes in the US. He crossed the border at Niagara Falls in June 1947 and, after a brief stay in California in September that year, continued driving south in pursuit of a warm winter.
Masson eventually landed in Ajijic where, in 1949, he rented the guest bungalow at Quinta Johnson and continued to write. A short story entitled "He knew what was wrong with her, and how to cure it" appeared in Collier's Weekly in 1948, and another story—"The Worm's Eye View"—was published in Argosy.
+ + +
Meanwhile, on the other side of the Atlantic, Herbert Johnson's 29-year-old niece was making plans to visit her uncle in Ajijic. Helen Eunice Riggall (pronounced "Regal"), born in Langton, Spilsby, Lincolnshire, on 24 April 1919, was the daughter of Herbert's younger sister. During the war, Helen studied for three years at St. Thomas's Hospital in London, where she passed her exams to become a registered nurse in 1942. By the time the war ended, like many of her contemporaries, she longed to forget the worst of her war-time nursing experiences and begin a new chapter in her life in new surroundings.
She left Southampton for New York on 20 January 1949 aboard the SS America of the United States Lines. According to her US immigration form, Helen was unaccompanied and named the US as her country of "intended future permanent residence," indicating that she had little or no intention of returning to the UK. However, before settling in the US, she wanted to visit her uncle and his wife in Ajijic.
While some details remain unclear, it appears most likely that from New York she traveled first by train across to California and then took a steamer south, to disembark in Mexico at either Manzanillo or (less likely) Mazatlán.
At this point, it is best if Helen's daughter takes up her mother's story:
Her uncle and his chiropractic friend met her… and planned to drive her to Lake Chapala. Unfortunately, the sun was setting and uncle Herbert was not able to see the road well and ended up driving over a cliff. My mother's back was broken to the point the doctors fused it. Poor thing, she spoke no Spanish [and] was in a Mexican hospital [presumably in Guadalajara] sharing a room with a woman bullfighter! It was there that my father met her and began spending time with her while she recovered. As he had been there awhile he had picked up some Spanish, while she had none. The day she was released from the hospital, he proposed."
Harold Walter Masson and Helen Eunice Riggall were married in the Quinta Johnson garden on 31 August 1949. Guests at their wedding included the Langley, Riggall, Masson, Butterlin, Johnson, Bauer and Stephens families, as well as Mrs Grace Wilcox, Miss Neill James and Miss Madeline Miedema. The witnesses to their union were Herbert B. Johnson and Guillermo González Hermosillo (owner of the Villa Montecarlo in Chapala) for the bride and, for the groom, German businessman Kurt Weinmann and Peter Lilley, the English writer behind the "Dane Chandos" books.
Interestingly, the formal registration of the wedding states that Hal was in Mexico as a tourist (normally valid for no longer than six months) while Helen was in possession of a "tarjeta especial para turistas forma 5B." Never having heard of this category previously, I assume that her regular tourist card had expired while she was in hospital and that this was an "exceptional case" extension for a period of time—perhaps three months—which would have been about to expire by the time the newlyweds left Mexico for California in November.
When the couple crossed the border at Laredo, Helen stated her intention to become a permanent resident. Her entry paper lists a large scar on her left palm as a distinguishing feature.
The Massons revisited Mexico briefly in 1951.
While residing in Laguna Beach, Masson joined the staff of the Indian Valley Record in Greenville. When he contributed "The Sea Raiders" to that paper in 1951, it reported proudly that their new contributor had "recently crashed the American "big time" with a story in the Saturday Evening Post." That story was entitled "Trouble Below the Border."
Masson published several more short stories over the next few years, including "Fat Man's Doom" in Cavalier (June 1953), "Señor, It Is a Pump", in Bluebook Magazine (November 1953), which appeared alongside stories by John D. MacDonald, Leslie Charteris, Philip Ketchum and similarly famous writers; "The Last Quarrel" in Cosmopolitan, and "The Love Trap" in Canadian magazine Liberty.
Harold became a naturalized US citizen in April 1953; a few years later, Helen also took US citizenship. In 1958, they visited relatives in the UK to show off their young daughter. The family subsequently settled in Hawaii, where Helen died in May 1986 and Hal in 2011.
The Masson-Riggall wedding was not the first marriage between two foreign tourists in Ajijic, and certainly not the last. That between David Holbrook Kennedy and Sarah Shearer—who had married in Ajijic in 1941—sadly ended in tragedy within months.
The stars were better aligned for the union of Hal and Helen, who shared their lives and their happiness for more than 36 years. The romance of Lake Chapala and "The Love Trap" of Ajijic had struck again.
Acknowledgments
My sincere thanks to Colette Hirata for helping me piece together this profile of her parents, and to Katie Goodridge Ingram for an email sharing her memories of Hal and Helen, and of the Johnsons.
Sources
El Informador, 9 September 1949.
The Glengarry News. 1939. "Other Enlistments", The Glengarry News, 6 October 1939, 1.
The Glengarry News. 1945. "On Editorial Staff of Maclean's", reprinted in The Glengarry News, 23 November 1955, 1.
Indian Valley Record (Greenville, California), 30 August 1951, 10.
Hal Masson, 1951. "For Sale Cheap – One Snow Shovel" Oakdale Leader (Oakdale, California), 27 September 1951, 21.
Comments, corrections or additional material related to any of the writers and artists featured in our series of mini-bios are welcome. Please use the comments feature at the bottom of individual posts, or email us.

Tony Burton's books include "Lake Chapala: A Postcard History" (2022), "Foreign Footprints in Ajijic" (2022), "If Walls Could Talk: Chapala's historic buildings and their former occupants" (2020), (available in translation as "Si Las Paredes Hablaran"), "Mexican Kaleidoscope" (2016), and "Lake Chapala Through the Ages" (2008).