Novelist Joan Van Every Frost, born 28 Feb 1929 in Los Angeles, California, lived in Jocotepec from 1966 to 2012. She died at age 83 on 6 June 2012 in Santa Barbara, California. Her father, Dale Van Every, was a famous writer and screenwriter most active in the 1920s and 1930s.
Joan gained an undergraduate degree in English from the University of California at Santa Barbara in 1951 and a librarian certificate from the University of California at Berkeley. She served as a librarian after the second world war on US military bases in France and Germany, and was later the Head Librarian of the Santa Monica Public Library for several years.
Joan Van Every (then 35) married artist and photographer John Frost (41) on 26 September 1964 in San Bernadino, California. In 1966, the couple relocated to Mexico, living for a short time in Uruapan in Michoacán, before establishing their permanent home and John's photographic studio in Jocotepec on Lake Chapala. John maintained his commercial photography studio (specializing in aerial photography) in their home for more than 40 years.
Prior to finding their home in the village, the couple spent 6 weeks at the historic La Quinta inn in Jocotepec. Sadly, La Quinta, which had been an inn ever since 1824 and was one of a small number of truly historic buildings in the town, was wantonly destroyed in the 1990s.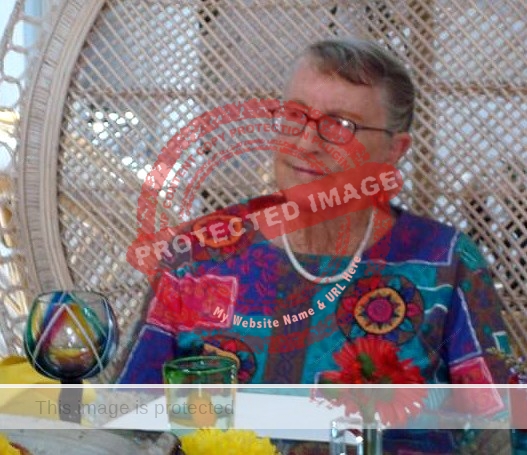 Joan was an indefatigable supporter of numerous charitable organizations at Lakeside, including the pioneering Centro de Salud in Jocotepec, the Lakeside School for the Deaf. For many years, she helped coordinate medical consultations and surgeries for Chapala-area children via the Shriners organization. Joan  was also the co-founder in the 1970s of Amigos de Salud (which in 1993 became the Programa Pro Niños Incapacitados del Lago), and was a co-founder of the Lakeside region's major annual fund-raising event: the Ajijic Chili Cook-off.
Using her married name of Joan Van Every Frost, Joan wrote six novels, several of them set in Mexico.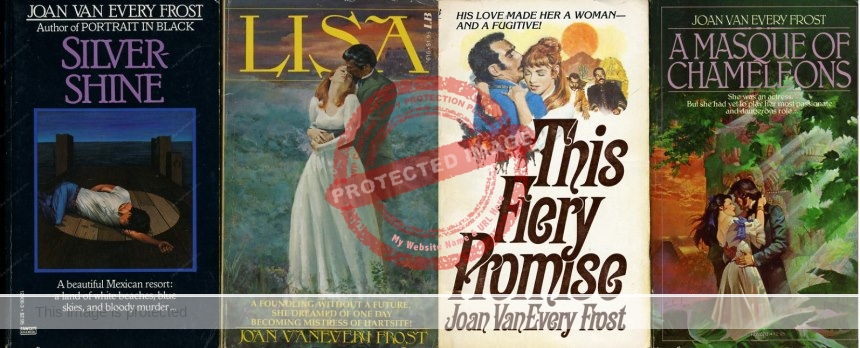 Her first novel, This Fiery Promise (Leisure Books, 1978), dedicated to Tam, is a historical romance set at the start of the Mexican Revolution. It tells the fiery adventures of a horse-loving American girl who marries a rich, much older Mexican hacienda-owner. Their lives become entangled in the Revolution, and she eventually flees by joining a circus. The novel covers lots of territory from Santa Barbara (California) to Nayarit, Guadalajara, Colima and the port of Manzanillo.
Lisa (New York: Leisure Books, 1979) is dedicated "For John, with all my love". This historical romance, set in 1880s Britain, unravels the complex relationships of a dysfunctional family, in the midst of scenes involving horses, fires, medical doctors, and class differences.
Her third novel includes scenes set in Guadalajara and at Lake Chapala. A Masque of Chameleons (Fawcett 1981) looks at the adventures and misadventures befalling a troupe of traveling actors in mid-nineteenth century Mexico. The theater troupe withstands lots of internal intrigue and external pressures as it tours Mexico, from Veracruz, Puebla, Mexico City and Cuernavaca to Morelia, Zacatecas, Aguascalientes, Guadalajara and Lake Chapala. This novel displays a sound background knowledge of Mexican history and is engagingly written.
This is how Frost first describes the troupe's arrival at Lake Chapala: "They finally came to a large body of water that stretched as far as they could see to the west, like an inland sea the color of a silver coin. Across the lake were green, brush-covered mountains, ancient dead volcanoes that had thrust themselves up when the world was still young to form this pocket cradling the endless lake." ( p 228)
In Kings of the Sea (Fawcett, 1982), the publisher's blurb claims that Gideon Hand is determined to endure all hardships as he struggles to forge a shipbuilding dynasty and to possess the woman he loves but cannot marry. Genius and passion hold sway in this sweeping saga of a shipbuilding dynasty.
Frost's fifth novel, Portrait in Black (Fawcett 1985) has a Santa Barbara portrait painter Crystal Perry as its main protagonist. Perry not only paints portraits of Santa Barbara's upper crust, but also paints horses, and she is quickly dragged into a web of extortion and murder.
Silvershine (Fawcett 1987) is set in Mexico, and looks at the drugs scene in the glittering Los Dorados hotel in Manzanillo, where swimwear designer Blaise Cory has opened a new boutique. A minor part of the action is set in Oaxaca (at Mitla). This is a tale of smuggling, money and corruption. The Los Dorados hotel is clearly based on Manzanillo's famed Las Hadas hotel complex.
All of Joan Van Every Frost's novels are well-crafted, and enjoyable light reading. While long out-of-print, copies are readily available via used books sites such as http://abebooks.com.
Joan was an active correspondent for the Guadalajara Reporter for many years. She wrote her first column for the paper in August 1975 and ended a column the following year by writing that, "There may be many irritations to living in a foreign country, but they dwindle to insignificance when we can revel in golden days, sunsets blazing red on towering thunderheads, and the comforting splash of rain as we lie warm in our beds at night."
This profile was originally published on 22 December 2014.
Sombrero Books welcomes comments, corrections or additional material related to any of the writers and artists featured in our series of mini-bios. Please use the comments feature at the bottom of individual posts, or email us.

Tony Burton's books include "Lake Chapala: A Postcard History" (2022), "Foreign Footprints in Ajijic" (2022), "If Walls Could Talk: Chapala's historic buildings and their former occupants" (2020), (available in translation as "Si Las Paredes Hablaran"), "Mexican Kaleidoscope" (2016), and "Lake Chapala Through the Ages" (2008).