Arthur H. Lewis was born in Mahanoy City, Pennsylvania, on 27 September 1906, and died in Philadelphia, Pennsylvania, 25 January 1995.
He spent about five weeks in Mexico, in Ajijic on Lake Chapala, in the spring of 1964, working on his book Lament for the Molly Maguires, published later that year. His wife Juliet Blum accompanied him. On that occasion he stated that he wished to return to Mexico to work on a novel, but it is unclear if he ever actually did so.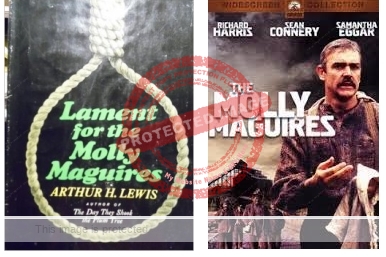 Lament for the Molly Maguires tells the true story of the violence wrought by a secret society of Pennsylvania Irish coal miners and how they were eventually brought to justice by an undercover detective of the Pinkerton Detective Agency. The book was nominated in 1965 for an "Edgar" award by the Mystery Writers of America, and was made into a 1970 movie starring Sean Connery and Richard Harris.
Fellow journalist Andy Wallace described him as, "tall and slender, with close-cropped white hair, a shaggy mustache and bushy white eyebrows. Deep furrows crossed his forehead, slid down between his eyes, and dropped from beside his ample nose to the ends of his mouth. He wore glasses. His fingers were long and graceful and carefully manicured."
Lewis, who disliked being called an author and preferred to be known as a journalist, attended Franklin and Marshall College, and Columbia University, from 1924-26, but never completed a degree. He left university to work as a reporter with The Philadelphia Inquirer, a position he held, with gaps, until 1938.
From 1939 to 1952 he was the press representative for four Pennsylvania governors: Arthur James, James Duff, Edward Martin and John S. Fine.
He also taught journalism at the University of Pittsburgh in 1950, and at Harcum Junior College, in Bryn Mawr, and had a weekly radio show in Pittsburgh.
In the early 1950s, he became a free-lance writer. He was a highly self-disciplined writer, beginning work every day at 5:30 am. He specialized in researching and writing non-fiction books based on people and events in Pennsylvania. Lewis, himself, in a 1980 interview admitted that, "Most of my people are eccentrics. Why? I think eccentrics are the only people who accomplish anything…. They're the most fascinating."
His first book, The Aaronsburg Story (1956) told the history of an inter-faith, inter-race program in a small Pennsylvania town. The Worlds of Chippy Patterson (1960) was the biography of a Philadelphia socialite and recovering alcoholic who was one of the city's best-known criminal lawyers.
He also wrote Bill Scranton of Scranton, Pennsylvania (1962); The Day They Shook the Plum Tree (1963), about Hetty Green, reputed to be the richest and one of the most detested women in America; La Belle Otero (1967), the biography of a courtesan whose clients included the world's wealthiest men; Hex (1969), a tale of witchcraft; Carnival (1970) which described life on the carnival circuit; Copper Beeches (1971), a mystery story involving The Philadelphia Sherlock Holmes Society; Childrens Party (1972), a suspense mystery; It Was Fun While It Lasted: A Lament for the Hollywood that Was (1973); Murder by contract: the people v. "Tough Tony" Boyle (1975); and Those Philadelphia Kellys: With a Touch of Grace (1977), the biography of the family of Princess Grace.
Lewis' research materials, newspaper and magazine clippings, correspondence, photographs, notes and cassette recordings of interviews, are now held in a special collection at Temple University in Philadelphia.
Main source:
"Arthur H. Lewis, 89, Author Of Philadelphia Stories" By Andy Wallace, The Philadelphia Inquirer, 27 January 1995
Sombrero Books welcomes comments, corrections or additional material related to any of the writers and artists featured in our series of mini-bios. Please use the comments feature at the bottom of individual posts, or email us.

Tony Burton's books include "Lake Chapala: A Postcard History" (2022), "Foreign Footprints in Ajijic" (2022), "If Walls Could Talk: Chapala's historic buildings and their former occupants" (2020), (available in translation as "Si Las Paredes Hablaran"), "Mexican Kaleidoscope" (2016), and "Lake Chapala Through the Ages" (2008).