Oscar Collier was born 26 February 1924 in Mumford, Texas, and died 3 July 1998. He and his second wife, Gladys, lived in Ajijic for six months sometime in the late 1950s, while he was still actively painting.
In this oral history interview in 1994 by Stephen Polcari, Collier talks about his childhood in Texas, his education at Baylor University (where he studied English), the University of Iowa (where he took his first art classes with Philip Guston), and the Art Students League in New York, and his links to many other artists, including Will Barnet, Peter Busa, Robert Barrell, Lee Krasner and Jackson Pollock. Collier describes how he became involved in the 1940s with the style known as Indian Space Painting (named for its links to Pre-Columbian American Indian art), before giving up painting in 1959 to concentrate on publishing as a career.
Collier met his first wife, Gertrude Barrer (1921-1997), while they were both students; they married in about 1942 and separated shortly after the second world war. Gertrude was also a well-known Indian Space Painter, and the couple's daughter, Greer Fitting (1943-2017), also became an artist and writer.
Collier married Gladys (Whitridge), his second wife, in 1949. That marriage lasted 20 years, and the couple had two children: Lisa Collier Cool, journalist and author who has written for dozens of magazines including Cosmopolitan, Penthouse and Good Housekeeping, and Sophia Collier, entrepreneur (the originator of Soho Soda), investor and artist. Oscar subsequently married Dianna Meerwarth and had a son, Christopher Collier.
Oscar Collier was active as an artist in New York in the 1940s and 1950s. He became a close friend of poet Kenneth Beaudoin (1913-1995) who then owned the Galerie Neuf on East 79th Street, in Greenwich Village, New York. Possibly the single most famous exhibit of Indian Space Painting was a show, held at Galerie Neuf in April-May 1946, called "8 and a totem pole" which featured the work of eight Indian Space Painters (Robert Barrell, Gertrude Barrer, Peter Busa, Oscar Collier, Howard Daum, Ruth Lewin, Lillian Orloff and Robert Smith) together with a Haida totem pole. This show had the alternative name of Semeiology. However, Collier's first one man show at Galerie Neuf in 1947 was not a success.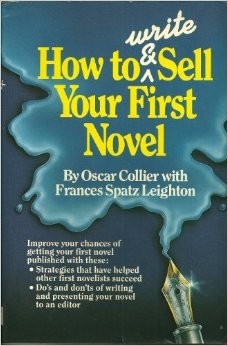 From 1946-1947, Collier, Gertrude Barrer and Kenneth Beaudoin collaborated to produce an art and literature quarterly, called Iconograph. Beaudoin was editor, Collier associate editor, and Barrer the art director. Sadly, financial difficulties meant that the quarterly did not last long.
In 1959, Collier abandoned painting for publishing. He became a successful literary agent, managing the publication of such best-sellers as Mark Lane's Rush to Judgment; My Thirty Years Backstairs at the White House (by Lillian Rogers Parks, with Frances Spatz Leighton, later turned into a TV series); My Life with Jacqueline Kennedy, by Mary Barelli Gallagher; Barry Goldwater's first set of memoirs; Harry Browne's You Can Profit from a Monetary Crisis; The Scripps, the Divided Dynasty, by Jack Casserly; and Joseph P. Kennedy: Life and Times, by David Koscoff.
Collier was also the co-author, with Frances Spatz Leighton, of How to Write & Sell Your First Novel (1986) and How to Write and Sell Your First Nonfiction Book (1990).
Acknowledgment
My sincere thanks to Lisa Collier for making valuable corrections and additions to the original post, and for permission to reproduce photographs of her father's artwork.
Note: This is an updated version of a post originally published on 13 March 2015.
Comments, corrections or additional material related to any of the writers and artists featured in our series of mini-bios are welcome. Please use the comments feature at the bottom of individual posts, or email us.

Tony Burton's books include "Lake Chapala: A Postcard History" (2022), "Foreign Footprints in Ajijic" (2022), "If Walls Could Talk: Chapala's historic buildings and their former occupants" (2020), (available in translation as "Si Las Paredes Hablaran"), "Mexican Kaleidoscope" (2016), and "Lake Chapala Through the Ages" (2008).