The Canadian playwright and novelist George Ryga (1932-1987), who also wrote poems and song lyrics, lived and wrote during part of the 1980s in the village of San Antonio Tlayacapan, mid-way between Chapala and Ajijic.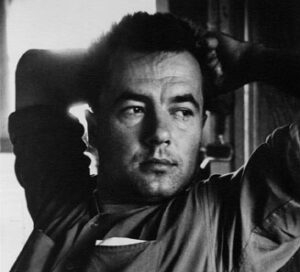 Ryga was born in the tiny Ukrainian community of Deep Creek, Alberta, on 27 July 1932. He died in Summerland, British Columbia, on 18 November 18, 1987.
Ryga left school after grade six and worked in several jobs, including as a radio copywriter, prior to winning a scholarship to the Banff School of Fine Arts. In 1955, he traveled to Europe to attend the World Assembly for Peace in Helsinki, and undertake some work for the BBC.
Shortly after returning to Canada in 1956, he published his first collection of poems, Song of My Hands (1956). In 1961, Ryga's first play, Indian, was performed on television. He achieved national exposure in 1967 with his play, The Ecstasy of Rita Joe, about a young native woman who leaves her home for the big city but then finds she loses any sense of belonging. It was warmly received by critics and still considered to be one of the most important English-language plays by any Canadian playwright. It has been widely performed, and in 1971 was turned into a ballet by the Royal Winnipeg Ballet.
Other plays by Ryga include Captives of the Faceless Drummer (1971); Sunrise on Sarah (1972); Portrait of Angelica (1973); Ploughmen of the Glacier (1977); In the Shadow of the Vulture (1985); Paracelsus (1986); Summerland (1992).
For more details about Ryga's life and work, try James F. Hoffman's The ecstasy of resistance: a biography of George Ryga (Toronto: ECW Press, 1995).
See also George Ryga's connections to other Lake Chapala artists and authors.
Comments, corrections or additional material related to any of the writers and artists featured in our series of mini-bios are welcomed. Please use the comments feature at the bottom of individual posts, or email us.