The Canadian playwright and novelist George Ryga (1932-1987) lived and wrote in the village of San Antonio Tlayacapan, mid-way between Chapala and Ajijic, from November, 1972 to March 1973.
Ryga was sufficiently immersed in local life during his few months at Lake Chapala that it inspired him to write A Portrait of Angelica, a play set in Ajijic, that rings just as true today as it did when it was first written.
This is not some lighthearted romantic comedy, though Ryga does employ humor to good effect in examining the interaction, from a Canadian perspective, between a group of tourists and the Mexican townsfolk, who have "a culture that, unlike our own, 'has withstood a thousand hurricanes.'"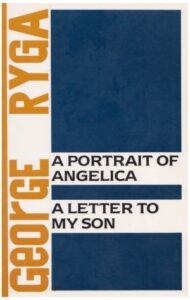 Ryga introduces the play (in the published version) with the text of a talk he gave during a series of workshops of populist theatre in Thunder Bay in 1982. In the introduction, entitled "An Artist in Resistance," Ryga proves to be a staunch advocate for the contribution that populist theatre can play to help audiences understand a world that is globalizing so rapidly—via changes in technology and communications—that it inevitably leads to conflicts and contradictions that expose widespread racism and inequalities. The themes of A Portrait of Angelica are no less serious.
My first surprise in reading the play was to discover that Angelica was the name of the small town (Santa Angelica) where the play is set, and not a person!
The basic plot is centered around frustrated lives and loves mixed with tales of lust, violence and drunkenness. The three principal characters are Danny, Jose and Elena. Danny is a well-educated young Canadian, who wants to parlay his masters degree in history and English into a writing career. He sits at a table on the town square writing letters to his mother—letters which, for one reason or another, never get sent. Jose is a local policeman, standing nearby, outside the town's delegación. Elena is a "town girl", an independent thinker, high spirited, sensuous and flirtatious.
The dialogue between these three and a host of minor characters (tourists, local residents, fishermen) varies from seemingly mundane conversations about daily life to quick-witted teasing, taunting and wisecracking about past and current events, occasionally interspersed by drinking and dancing. For the most part the dialogue is unfailingly entertaining, incisive and perceptive.
Here is Danny casting lighthearted aspersions on the newcomers who arrive with no Spanish:
Danny: I came to write a book in a town the new arrivals from Texas, Alabama and New York call Se Vende for a week or so. There are no markings on the highway to announce the entrance to Angelica, only "Se Vende" signs on fields, sheds, housing, shops and even refuse heaps now overgrown with banana palms sheltering scorpions who know nothing of inter-American economics… or the meaning of "For Sale" signs. [31]
Moments later, Padre Edwardo explains to Danny and Jose his own fears about how the town is changing:
You are both young… it is easy to impress you! You know nothing of this culture! Two thousand years of heritage sells for twenty pesos a square metre this very hour on the edge of town. I have a dream the people sold my church from underneath my feet for a parking lot… and I was reduced in my old age to herding goats upon the mountain for the milk and cheese consortium! When the price of land is high, history and culture is a dying calf with three legs! [31]
At one point Jose loses his patience with Danny and tells him what he thinks of the foreigners who have settled in the town:
They've all come here to die, or write a book! The taverns overflow with rotting poets and biographers who waste empty paper on their empty lives! Climb a mountain, or screw up a storm, amigo!… It will be better for your system than sitting at a table all day long! [33]
In a later part of the play, Danny and Jose continue to debate the relative merits of Canada and Mexico, Canadians and Mexicans:
Danny: In my homeland, we struggle six months of the year to keep ourselves from freezing during winter. Our children are well fed… the old have a living pension. You are as wealthy in resource as we, yet to boil soup takes a woman and two men!

Jose: But the soup gets made, even though we had to lose Texas, New Mexico, Arizona, Nevada and California to get to this!…" [36]
As the discussion proceeds, Jose is particularly anxious to impress on Danny that foreign visitors need to treat Mexicans as their equals:
Jose: . . No one, amigo, not a fool nor enemy of our people, will be allowed to starve or die forgotten in this country!

Danny: I understand that.

Jose: But do you understand that once you've taken of feeling that we have… you must accept us and our country as your equals… and not curiosities in your winter travels? [38]
The opening lines of Act 2 reiterate the long and rich history of Mexico by including this keenly observed reference to las cabañuelas:
Jose: In the month of January, we predict the temperatures and rainfall of each month within the coming year… what crops to plant and when… what water we shall have… according to a Mayan calendar of observations that has never failed us… and never will. [47]
Despite the play being set in Ajijic, there is only a single direct reference to Lake Chapala in the entire script, in this evocative description of a rider galloping along the shore:
Danny: A spray of sand and flecks of foam fly as Diablo and his rider become one – teeth bared, bent into the wind like arrows flying. Galloping over pale sands of Lake Chapala. Disappearing into eucalyptus groves and then reappearing. Galloping in water now… grey water beaten to a mist… by Diablo's iron hooves. [55]
Elsewhere, Danny notes how:
Fishermen, silhouetted in the dying light, haul nets into boats designed ten thousand years ago. The women gather laundry left drying on the stones, their dusky faces and their eyes haunted by memories of long ago… of kings who rode this valley, their glowing helmets ablaze with quetzal plumes gathered from the places of the dead. [59]
One revealing exchange between Danny and Jose focuses on some of Santa Angelica's other characters:
Danny: . . Mercedes Perez, doctora who invites an illness with her languid eyes, delicious thighs and septic hands… legendary healer of small dark children with dysentery… and white gentlemen with clap…

Jose: Antonio, the fixer… a hot lunch and four hundred pesos buys anything from Antonio – a two-year visa… marriage license… death certificate.

Danny: Blind Santo, who plays one note on his harmonica beside your open window until he's paid to go away. Over coffee he listens for the addresses of all newcomers to the town, so he can serenade them at a later time.

Jose: The pimp, Augustino… hustling disease and brightly coloured woven shawls of finest mountain wool.

Danny: The solider, Gus… ancient remnant of an ancient war. [55]
Some of these minor characters are so timeless they have reappeared on numerous occasions scattered through Ajijic's history.
This interesting and thought-provoking play was first performed at the Banff School of Fine Arts in Canada in summer 1973, with a cast of students, directed by Tom Peacocke. Somewhat surprisingly, it has never been performed at Lake Chapala.
Sources
George Ryga. 1982. "An Artist in Resistance," Canadian Theatre Review, No 33 (Winter 1982).
George Ryga. 1984. A portrait of Angelica. A Letter to My Son. (Two plays) Winnipeg: Turnstone Press.
Note
The published version of the play could use some light editing. It is quite irritating (for any Spanish-speaking reader) to encounter such monstrosities as "el gatto" for "el gato" and "Como esta, senors?" for "Comó están, señores?" While the absence of accents is excusable in an English-language play, the absence of the letter ñ from words that require it is not. And as for "Padre Edwardo" [sic], he should definitely be Padre Eduardo, given that w is used in Spanish only in words of foreign origin.
Comments, corrections or additional material related to any of the writers and artists featured in our series of mini-bios are welcome. Please use the comments feature at the bottom of individual posts, or email us.

Tony Burton's books include "Lake Chapala: A Postcard History" (2022), "Foreign Footprints in Ajijic" (2022), "If Walls Could Talk: Chapala's historic buildings and their former occupants" (2020), (available in translation as "Si Las Paredes Hablaran"), "Mexican Kaleidoscope" (2016), and "Lake Chapala Through the Ages" (2008).