The Canadian playwright and novelist George Ryga (1932-1987), who also wrote poems and song lyrics, lived and wrote in the village of San Antonio Tlayacapan, mid-way between Chapala and Ajijic, from November, 1972 to March 1973.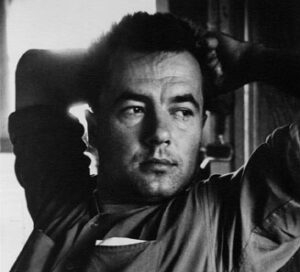 Ryga was born in the tiny Ukrainian community of Deep Creek, Alberta, on 27 July 1932. He died in Summerland, British Columbia, on 18 November 18, 1987.
Ryga left school after grade six and worked in several jobs, including as a radio copywriter, prior to winning a scholarship to the Banff School of Fine Arts. In 1955, he traveled to Europe to attend the World Assembly for Peace in Helsinki, and undertake some work for the BBC.
Shortly after returning to Canada in 1956, he published his first collection of poems, Song of My Hands (1956). In 1961, Ryga's first play, Indian, was performed on television. He achieved national exposure in 1967 with his play, The Ecstasy of Rita Joe, about a young native woman who leaves her home for the big city but then finds she loses any sense of belonging. It was warmly received by critics and still considered to be one of the most important English-language plays by any Canadian playwright. It has been widely performed and, in 1971, was turned into a ballet by the Royal Winnipeg Ballet.
Other plays by Ryga include Captives of the Faceless Drummer (1971); Sunrise on Sarah (1972); Portrait of Angelica (1973); Ploughmen of the Glacier (1977); In the Shadow of the Vulture (1985); Paracelsus (1986); Summerland (1992).
According to Canadian actor and dramatist Ken Smedley, a long-time friend, Ryga first became interested in living at Lake Chapala because English playwright Ray Rigby had just moved there. (It is unclear how Rogby and Rygba knew each other but they may have shared an agent in Hollywood.) Ryga bought a small village home on Calle La Bandera in San Antonio Tlayacapan and spent the winter of 1972-3 there. It was apparently the only time he and his family ever visited the area (partly because his wife had serious vision problems), though the family only sold the house some time after Ryga's death in 1987.
Ryga was sufficiently immersed in local life during his few months at Lake Chapala that it inspired him to write Portrait of Angelica, which was first produced in Banff, Alberta, in 1973, and which we will consider in a separate post. James Hoffman, Ryga's biographer, claims that, "… Ryga enjoyed the vitality of the Mexicans, especially one vivacious girl who strutted about wearing a T-shirt marked with the protest slogans of Che Guevara or Bob Dylan, and whose response to the world was lively defiance."
Many family and friends visited Ryga's winter getaway in San Antonio Tlayacapan. They included his daughter, Tanya (a drama teacher), and her husband, Larry Reece, a musician and artist.
Another couple who visited was Ken Smedley and his model-actress-artist wife Dorian Smedley-Kohl who stayed at "the cottage" for several months in 1978-9. They subsequently lived most of the next eleven years at Lake Chapala, mainly in Ajijic.
References
James Hoffman. 1995. The Ecstasy of Resistance: A Biography of George Ryga. Toronto, Canada: ECW Press.
George Ryga. 1973. Portrait of Angelica / A Letter to My Son. (2 plays) Winnipeg: Turnstone Press, 1984.
Comments, corrections or additional material related to any of the writers and artists featured in our series of mini-bios are welcomed. Please use the comments feature at the bottom of individual posts, or email us.

Tony Burton's books include "Lake Chapala: A Postcard History" (2022), "Foreign Footprints in Ajijic" (2022), "If Walls Could Talk: Chapala's historic buildings and their former occupants" (2020), (available in translation as "Si Las Paredes Hablaran"), "Mexican Kaleidoscope" (2016), and "Lake Chapala Through the Ages" (2008).