Ken Smedley and his wife, Dorianne Smedley-Kohl, lived and performed at Lake Chapala from 1978 until 1989. Ken was a long-time friend of George Ryga, and the couple stayed initially at Ryga's "cottage" in San Antonio Tlayacapan, before moving later to Ajijic, where they rented a house opposite "La Rusa" on Calle Independencia.
Ken Smedley is an actor, director and dramatist who grew up in Kamloops, British Columbia. Smedley has presented one-man shows such as "Three of a Certain Kind" at Fringe festivals in Edmonton and Vancouver (both in 1986) and was a founding member of the Western Canada Theatre Company, now a professional theatre. He has directed plays at the Phoenix Theatre in the U.K. and several radio plays for CBC.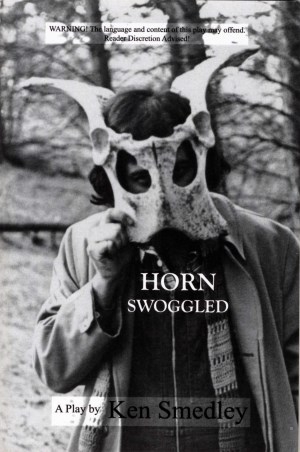 During his time in Ajijic, Smedley wrote Horn Swoggled, an over-the-top Pinteresque black comedy set in Mexico. The play was performed as a stage reading at several locations – Kamloops, Vernon, Kelowna, Penticton and Armstrong – in the interior of British Columbia in 1994.
The setting for Horn Swoggled is a gathering of relatives mourning the family's dead matriarch, whose body lies in a casket in the living room. As the assorted relatives – including the priceless family patriarch, "Don Porfidio", who clutches a gallon jug of tequila throughout – interact, they recall past events, recount differing versions of past events and argue angrily and vehemently with each other.
While the Smedleys were living in Mexico, Smedley directed several productions at Lake Chapala, including plays by Joanna Glass, Jack Heifner, David Marnet and Harold Pinter. Perhaps the single most noteworthy production was Smedley's dinner-theater offering, in 1979 at the (Old) Posada Ajijic, of Portrait of a Lady, a Tribute to Margaret Laurence. This work, based on George Ryga's seminal adaptation of Margaret Laurence's classic novel The Stone Angel, featured Dorian Kohl's acclaimed portrayal of heroine Hagar Shipley, a role Kohl has reprised numerous times since, in theaters across British Columbia.
Smedley was later appointed director of the George Ryga Centre, a cultural venue occupying Ryga's former home in Summerland, British Columbia, Canada. Due to funding problems, the center closed in 2013.
Dorianne Smedley-Kohl (also known as Dorian Kohl) is a Canadian model, actress and artist. Dorianne was a fashion model in Toronto, New York, Paris and London for more than a decade, before becoming a regular on the "Wayne & Shuster Hour" on television. She has also appeared in the CBC TV series "The Party Game", "The Actioneer" and many other works. Her stage performances include roles at Toronto's Royal Alex Theatre, in "The King and I" and in "Pal Joey".
In 1988, Ken and Dorianne Smedley were instrumental in mounting the first (and only) Ajijic Fringe Theatre – "El Fringe" – which included performances by Dorianne in "Circle of the Indian Year", and by Ken in "Ringside Date with the Angel", alongside various other events.
The couple's son Terence "Diego" Smedley-Kohl was born in Ajijic and spent the first ten years of his life in Mexico. Diego later became a member of "El Mariachi (Los Dorados)", a Canadian mariachi band that had the honor of playing at the prestigious International Mariachi Festival in Guadalajara a few years ago.
Want to find the play?
Ken Smedley. 1983. Horn Swoggled. Canada: Rich Fog Micro Publishing (2019).
Comments, corrections or additional material related to any of the writers and artists featured in our series of mini-bios are welcome. Please use the comments feature at the bottom of individual posts, or email us.

Tony Burton's books include "Lake Chapala: A Postcard History" (2022), "Foreign Footprints in Ajijic" (2022), "If Walls Could Talk: Chapala's historic buildings and their former occupants" (2020), (available in translation as "Si Las Paredes Hablaran"), "Mexican Kaleidoscope" (2016), and "Lake Chapala Through the Ages" (2008).