In an earlier post, we looked at the somewhat adventurous life of actress, playwright and novelist George Rae Marsh (Williams), aka Georgia Cogswell (1925-1997), who lived for many years in Ajijic in the 1950s and 1960s with her first husband, the accomplished novelist Willard Marsh. Two years after her husband's death in 1970, George Rae married the science fiction writer Theodore R. Cogswell.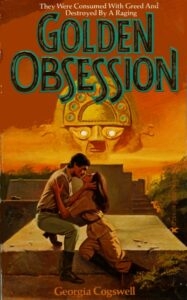 As Georgia Cogswell, she published the mass market paperback novel Golden Obsession. (Zebra Books, 1979). While the book is not set at Lake Chapala, it is a mystery story completely set in Mexico and involving a wide cast of characters, some more disreputable than others. The author makes good use of her inside knowledge and experience of the country, its people, customs and beliefs.
The back cover blurb sets the scene:
It's strictly illegal to take ancient artifacts out of a country, especially in Mexico. Archaeologist Brad Bradley knew and respected that law – only he got killed. It happened right after he notified the museum of the priceless pre-Columbian gold mask he uncovered at the Witches' Mountain dig – but the mask was never found.

The authorities told his beautiful young wife Hally that it was an accident; that he was brutally attacked by a jaguar. She saw his mangled body and the jagged ripped flesh, yet somehow, she was not convinced. So she decided to stay in Mexico and decode Brad's maps and notes to find out the truth about his death and discoveries.

Unfortunately, a lot of other people had the same idea. Was it a coincidence that she met a charming, attractive man who knew woo much about her late husband's work? Was it unusual that her house was ransacked and Brad's files completely searched? Hally knew only one thing: Brad had dug up more than a buried treasure – he had unleashed a corrupt and greedy murderer who was consumed by a raging GOLDEN OBSESSION.
This is not a prize-winning book, but is still a good read to while away a rainy day. It is not very easy to find, but used copies occasionally appear on Amazon or on sites such as abebooks.com.
Sombrero Books welcomes comments, corrections or additional material related to any of the writers and artists featured in our series of mini-bios. Please email us or use the comments feature at the bottom of individual posts.

Tony Burton's books include "Lake Chapala: A Postcard History" (2022), "Foreign Footprints in Ajijic" (2022), "If Walls Could Talk: Chapala's historic buildings and their former occupants" (2020), (available in translation as "Si Las Paredes Hablaran"), "Mexican Kaleidoscope" (2016), and "Lake Chapala Through the Ages" (2008).