Willard Marsh, known to his friends as "Butch", was one of the pivotal figures in the Ajijic literary scene in the 1950s and 1960s, and one of the first to write a novel set in the village. His novel, Week with No Friday (1965), is the story of a troubled expatriate playwright who lives in Ajijic in the 1950s. While fictional, it still affords many insights into the village's literary and artistic scene of the time.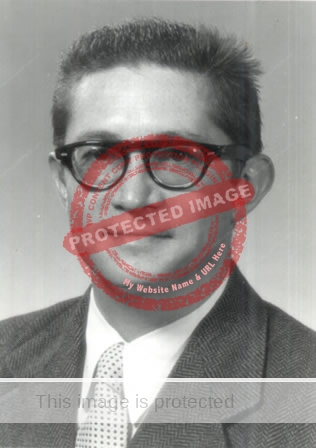 Marsh also wrote Beachhead in Bohemia: Stories (1969) a collection of short stories, published by Louisiana State University. Several of these stories had been published previously, and several are set in the Lake Chapala area, and feature the same characters and scenes that appear in Week with No Friday.
Marsh was born in Oakland, California and attended Oakland High School where he learned to play trumpet and trombone, initiating a lifelong devotion to jazz music. He financed his courses at the State College at Chico by forming "Will Marsh and the Four Collegians", a jazz group that played at an Oakland roadhouse.
His education was interrupted by the second world war, where he served with the U.S. military, 1942-45, in the South Pacific, becoming a staff sergeant.
Soon after the war, on 4 September 1948, Marsh married George Rae Williams, a former Pasadena Playhouse actress. It must have been Marsh's second marriage, since George wrote to her brother John Williams in mid-1948 that, "We can't get married until August because his divorce isn't final until then."
[John Williams (1922-1994) was a novelist, editor and professor of English, author of Augustus and Stoner. Williams is the subject of The Man Who Wrote the Perfect Novel, a biography by Charles J. Shields published in 2018. Shields kindly shared with me the information that John Williams had begun his own novel (sadly now lost) about bohemians living in Mexico, presumably based on his visits to his sister and brother-in-law.]
Willard and George Rae Marsh moved to Chapala in Mexico in the early 1950s. Marsh strove to establish a career as a free-lance writer while working on his "G.A.N." (Great American Novel). They would continue to live in the area, with breaks to travel or teach in the U.S., until his death in 1970.
The couple lived first in Chapala, and later in Ajijic. They also spent some time in the literary and artistic circles of San Miguel de Allende. In 1952, from Chapala, Marsh reported to brother-in-law, John Williams, that they were living "quite well, in our cozily disordered way, for about seventy-five bucks a month, including everything." The comment, "both typewriters clacking, and the jug of tequila diminishing as we go," suggests that a liberal amount of alcohol helped fuel their creativity.
A letter from George to her brother in March 1953, says that she was excited to have just learned from their landlady that they were living in the same house in Chapala where "Red" Warren wrote All the Kings Men.
After several years living and writing in Mexico, Marsh's Great American Novel remained unfinished. Marsh gained degrees at the University of Iowa Writers' Workshop (B.A. in 1959 and M.A. in 1960), and decided to complement his less-than-stable writing income by teaching, accepting positions as an assistant professor of English, first at Winthrop College, Rock Hill, SC (1959-61), then at the University of California, Los Angeles (1961-64) and later at North Texas State University, Denton (1968-70). He continued to spend as much time as possible in Mexico.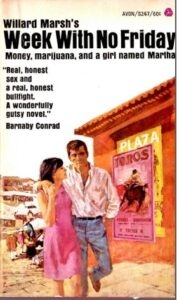 Work on the novel continued. In October 1963, Marsh reported having had "a wildly relaxing, wildly productive summer in Ajijic, during which time I got so much accomplished on the novel that I can have the mother in the mails before year's end." He planned to resign from the University of California and live in Spain for a few years.
The following year, after more thought, they decided against Spain, opting to return to Ajijic instead, though they expressed some misgivings: "Ajijic has been overrun with slobs quite a bit, too, but if it gets too bad, one can move a few kilometers down the lake to San Juan, Jocotepec, and on to Morelia. The lake is 25 miles wide and 50 miles long, so there's a lot of lake-front real estate still unoccupied."
Marsh's magnum opus Week with No Friday was published in 1965 to generally positive reviews. The book gave Marsh the opportunity to respond to the unflattering portrait of him in Eileen Bassing's own novel set in Ajijic, Where's Annie? (1963). Bassing had used Willard and George Rae Marsh as the basis for her characters Willie and Sam Chester:
"[Willie Chester] was enshrined there on his patio only half hidden among the telefono vines, typing away. He wrote. Merciful God, how he wrote. A story every day he said, good, bad indifferent, sensational, like a non-discriminating machine, learning, he said, with each one he wrote, but writing them so fast, so terribly, frighteningly fast. And he sold some of them, not many. That he sold any was alarming. He had no reverence, no respect, no fear of his own possible or impossible talent. He wrote; it was the answer to everything for him…. Sam was behind Willie, circling about in a stained and tattered leotard, steadily but badly practicing her ballet. Did she woo and win him with her twittering, soiled dancing? Oh, turn my eyes from the vision of their lives."
Marsh retaliated with brief, equally unflattering descriptions of Eileen "Blissing" and her husband, in his own novel:
<He introduced her to Beau Blissing, a fairly entertaining slob, so that she could hear the single gift that Beau had perfected in a lifetime — the ability to sing 'Blue Skies' backward. Afterwards he tried to give them one of his voracious French poodles he never could afford to feed.

"Such a bewildered, wistful man" Martha said. "Has he any other hobbies?"

"He accepts book dedications. His wife is a lady novelist with a lousy memory." (82-83)>

In his writing career, Marsh had short stories published in more than seventy periodicals, including Antioch Review, Furioso, Prairie Schooner, Northwest Review, Yale Review, Esquire, Playboy, Transatlantic Review, and Saturday Evening Post. His short stories include, "Beachhead in Bohemia" (The Southwest Review, 1952); "Bus Fare to Tomorrow" (The Saturday Evening Post, 1954); "No More Gifts" (Playboy, 1956); "Ad Lib Exit" (Playboy 1956); "Mexican Hayride" (Esquire, 1960), described by writer Allyn Hunt as the short story that most "accurately depicts Ajijic in the 1950s" (and the basis for the first chapter of Week with No Friday). "Beachhead in Bohemia" and "Mexican Hayride" were chosen for inclusion in The Best American Short Stories of 1953 and 1961 respectively.
Marsh also wrote under several pen names, including "George Ketzel" for poetry.
In 1970, apparently as the result of a medical misdiagnosis, he died, leaving his next novel, Anchor in the Air unpublished. Marsh's body was interred in Ajijic cemetery, but was not allowed to rest for long. In 1972, a real estate developer drove a road through Ajijic cemetery, desecrating many graves, including that of novelist Willard Marsh.
Willard Marsh's personal papers are held at the University of Iowa. My thanks to Charles J. Shields, biographer of John Williams, for his valuable help in locating material relating to Willard and George Marsh.
Related posts:
Comments, corrections or additional material related to any of the writers and artists featured in our series of mini-bios are welcome. Please email us or use the comments feature at the bottom of individual posts.

Tony Burton's books include "Lake Chapala: A Postcard History" (2022), "Foreign Footprints in Ajijic" (2022), "If Walls Could Talk: Chapala's historic buildings and their former occupants" (2020), (available in translation as "Si Las Paredes Hablaran"), "Mexican Kaleidoscope" (2016), and "Lake Chapala Through the Ages" (2008).