George Rae Marsh (née Williams) was an actress, playwright and novelist who lived for many years in Ajijic in the 1950s and 1960s with her first husband, the novelist Willard Marsh. The couple were married in 1948 and were together until Willard died in Ajijic in 1970. Two years after her husband's death, George Rae married the science fiction writer Theodore R. Cogswell.
George Rae Marsh has several published plays and short stores, and also wrote at least one novel. Piecing together her bibliography is complicated by the fact that she wrote under several different names. Her plays were written as George Rae Williams, her novel as Georgia Cogswell, and most of her stories appear to have been written as George Cogswell. She was also sometimes referred to as George Rae Marsh Cogswell. To the best of my knowledge, despite several of these works having been written while she was living in Ajijic, they have no textual connections to the village.
However, George Rae Marsh was the basis for the character Sam Chester, wife of Willie Chester, in Eileen Bassing's Ajijic-based novel Where's Annie? (1963). George Rae's most substantial work set in Mexico was the novel Golden Obsession (1979).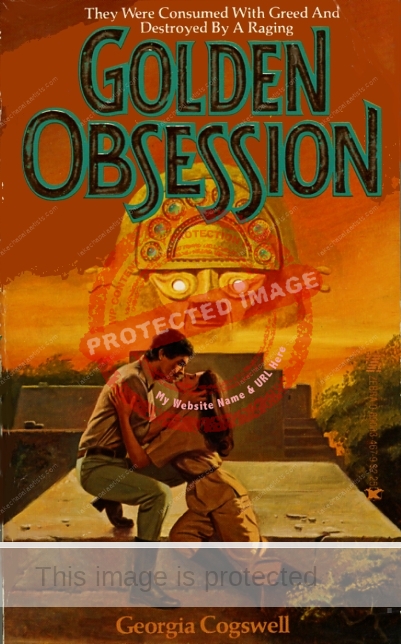 George Rae Williams was born in 1925. She graduated from the Wichita Falls High School in the early 1940s and became an actress at the Pasadena Playhouse.
Her brother John Williams (1922-1994) was a novelist, editor and professor of English whose 1972 novel Augustus won a National Book Award. He also wrote Stoner (1965), the tale of a professor of English at the University of Missouri. Williams's work has seen something of a revival in recent years in Europe and he is the subject of a biography titled The Man Who Wrote the Perfect Novel by Charles J. Shields, who was kind enough to share with me the information that John Williams had started a novel about bohemians living in Mexico (presumably based on his visits to his sister and brother-in-law) but that it has since been lost.
Shortly after George Rae married Willard Marsh, they decided to move to Ajijic, so that they could concentrate on their writing. They lived on-and-off in the village from the early 1950s through to 1970, though with numerous intermissions elsewhere, including several spells in the U.S. where Willard taught English at Winthrop College in South Carolina (1959-1961), at the University of California, Los Angeles (1961-64) and at the North Texas State University, Denton (1968-70). They also spent some time in the literary and artistic circles of San Miguel de Allende.
Two years after Willard's death, George Rae married Theodore Rose Cogswell (1918-1987) in San Miguel de Allende. Cogswell was an American professor of English and science fiction writer. After their marriage, the couple divided their time between Ajijic, San Miguel de Allende and the U.S.
The photo below, from the Megan Cogswell Collection, shows George and "Ted" Cogswell on their wedding day in 1972, in their matching leather safari suits.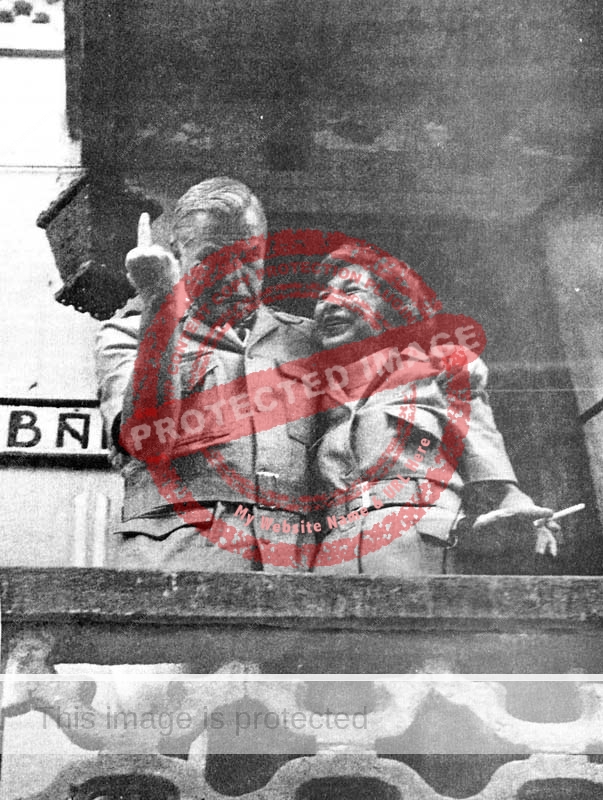 At the time, George Rae owned a discotheque in Ajijic, presumably one of the earliest discotheques, if not the earliest, in the village.
Jerry Murray, a writer who lived in Ajijic at the time, was invited to the wedding, and later recalled (e*I*43–(Vol. 8 No. 2) April 2009) how the couple had ended up spending the first night of their honeymoon in separate cells in the city police station:
George owned a discotheque in Ajijic, and like everyone else in the wedding party at the Episcopalian church, including the priest, she was an atheist. The ceremony was followed by the wettest reception I've ever attended, and that was followed by Ted and George getting into her Jeep and heading for their honeymoon suite in Puerto Vallarta.

An hour later the reception was winding down when the Jeep came roaring back, stopping between the plaza and the police station for Ted to shove his screaming, cursing bride out on the cobblestones, where bride and groom were immediately arrested for being drunk and very disorderly. Placed in separate cells, Ted made a pillow out of his boots and went to sleep on the thin mattress of the cell's wooden cot. George propped her mattress against her cell's door, set it on fire, and screamed bloody murder until the cops turned them loose at dawn to continue on their honeymoon. When the honeymoon ended, George sedately began serving tea at the Sunday seminars Ted hosted for his graduate students at Ball State Teacher's College in Muncie, Indiana."
As George Rae Williams, she wrote five published plays: Mind Over Mumps: A One-act Farce (Eldridge Publishing Company, 1951); Augie Evans: Private Eye: A One-act Farce (Eldredge Publishing Company, 1951); Leave it to Laurie: A Comedy in One Act (Northwestern Press, 1952); Keeping it in the Family: A Comedy in One Act (Northwestern Press, 1953) and A will and a way – A Three Act Comedy (Eldridge Publishing Company, 1962).
As George Rae Cogswell, she wrote (with her husband) the short story "Contact Point" (1975) and they contributed a joint story to Six Science Fiction Plays, (Pocket Books, 1975).
In 1979, as Georgia Cogswell, she published Golden Obsession (Zebra Books, 1979).
George Rae Williams Marsh Cogswell died in 1997 and was interred next to Theodore Cogswell in Arlington National Cemetery.
Lake Chapala Artists & Authors is reader-supported. Purchases made via links on our site may, at no cost to you, earn us an affiliate commission.
Learn more.
Several chapters of Foreign Footprints in Ajijic: Decades of Change in a Mexican Village offer more details about the history of the artistic community in Ajijic.
Comments, corrections or additional material related to any of the writers and artists featured in our series of mini-bios are welcomed. Please use the comments feature at the bottom of individual posts, or email us.

Tony Burton's books include "Lake Chapala: A Postcard History" (2022), "Foreign Footprints in Ajijic" (2022), "If Walls Could Talk: Chapala's historic buildings and their former occupants" (2020), (available in translation as "Si Las Paredes Hablaran"), "Mexican Kaleidoscope" (2016), and "Lake Chapala Through the Ages" (2008).