Witold, later Vitold, de Szyszlo (1881-1965), was born in Warsaw but lived part of his early life in Paris, where he studied natural sciences and became a member of the Paris Society of Geography.
His first visit to the U.S. is recorded as taking place in 1904. The passenger list says he was 23 years old, single, of "Polish-Russian" nationality, and a book-writer. He lived in Mexico for almost twelve months, from 1909 to 1910, making astute observations on the eve of the Mexican Revolution.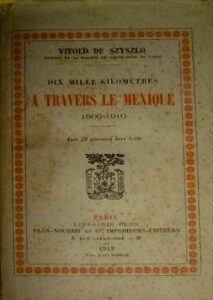 Shortly after the Revolution began, he moved to Peru. By 1925, he was married to Rosa Valdelomar; had a young son, Fernando; and was functioning as the Polish Consul in Lima. Rosa came from a distinguished Peruvian family. Her brother Abraham Valdelomar (1888-1919) was, briefly, a Peruvian diplomat in Italy, besides being one of his country's most famous authors, crafting everything from short stories and novels to poetry, essays and theater plays.
De Szyszlo's son, Fernando, clearly inherited some of the family's artistic genius since he has become one of Peru's best known modern artists. In an interview in 2005, Fernando attributed his success to the inspiration of Picasso and Mexico's Rufino Tamayo. He recalled that his father considered painters to be drunks and impoverished, and had been disillusioned when he had abandoned formal studies of architecture to dedicate himself to painting. Fernando's recognition by the art world came too late to be appreciated by his father, who died in Lima in 1965. (Some sources suggest 1963.)
Besides Dix mille kilomètres a travers le Mexique, 1909-1910, Vitold de Szyszlo also wrote La Naturaleza en América Ecuatorial (1955), a book based on forty years of research and exploration in the Amazon rainforest. He was a remarkable man, described in promotional material as a "geographer, biologist, zoologist and pioneer."
Dix mille kilomètres a travers le Mexique, 1909-1910 contains excellent descriptions of some parts of Mexico, such as Chiapas, Oaxaca and Baja California, which were decidedly lesser-known at the time Vitold de Szyszlo was writing.
Despite including some poetic descriptions of Lake Chapala and towns like Ocotlán, de Szyszlo was somewhat disappointed with the reality of the lake, since he felt that the available maps had made the surrounding scenery seem much more Alpine. Vitold de Szyszlo reported on the progress of the major drainage scheme at the eastern end of Lake Chapala, and had first-hand experience of the party scene at Lake Chapala during Holy Week:
Chapala, the most frequented settlement of the lake of the same name, serves as a meeting place during Holy Week for the elite of Mexican society. Elegant villas line the edge of the lake, surrounded by colorful gardens, created at great expense on the rocky soil of the beach. One of the prettiest, "El Manglar", belongs to Mr. Elizaga, the brother-in-law of ex-President Diaz, who gives, in this enchanting setting, splendid Mexican fiestas, where nothing is lacking: cock fights, balls and joyous dinners."
After commenting on the various attractions of Chapala, including its hot springs and the opportunities that Lake Chapala offered for bird-hunting, he describes his return visit in 1909 to Chapala for Holy Week, only a few months before the outbreak of the Mexican Revolution:
I returned to Chapala in April to attend the Holy Week festivities. While all the other Mexican towns are absorbed by Lent, a large number of visitors flock to Chapala for that period. Under the auspices of President Diaz, then in power, regattas were organized in small canoes reserved for the young ladies of the best society.

The president, in a navy blue suit and wearing a panama hat, was accompanied by his wife, dressed all in black, and his daughter Luz, in an elegant outfit. Among the other representatives of the smart set, come to Chapala for the occasion, were: the eminent finance minister Mr. Yves Limantour, to whom the country owes the consolidation of its foreign credit; Mr. Braniff, a railroad king, of working class origins, and Sr. Moreno, whose revenue reached a fabulous figure. It is said, not without malice, that just the wool from his sheep's tails could be worth one million piastres. Also present were Mr. Landa, governor of the state of Mexico, Mr. Ahumada, governor of the state of Jalisco, Mr. Escaudon, governor of the state of Morelos, Messrs. Corcuera, Cuesta, Cosio, Hermosillo, Malo, Del Valle, etc.

Mexican millionaires make up the so called national aristocracy, but their doors are little accessible to strangers or even to their less fortunate compatriots. It is a very vain and proud circle where no one will speak to you without inquiring about your personal situation. The ladies, who make generous use of makeup, are rarely beautiful. Their annual budget for jewellery, toiletries, trinkets and trips to Europe amounts to hundreds of thousands of piastres. Some families own private hotels on the Champs Elysées, villas in Switzerland, on the Côte d'Azur, and at popular beaches and the fancy resorts of the good life."
See also : Vitold de Szyszlo visited Chapala market in 1910
Source:
This post is based on chapter 55 of my Lake Chapala Through the Ages: an anthology of travellers' tales (2008).
Lake Chapala Artists & Authors is reader-supported. Purchases made via links on our site may, at no cost to you, earn us an affiliate commission.
Learn more.
Sombrero Books welcomes comments, corrections or additional material related to any of the writers and artists featured in our series of mini-bios. Please use the comments feature at the bottom of individual posts, or email us.

Tony Burton's books include "Lake Chapala: A Postcard History" (2022), "Foreign Footprints in Ajijic" (2022), "If Walls Could Talk: Chapala's historic buildings and their former occupants" (2020), (available in translation as "Si Las Paredes Hablaran"), "Mexican Kaleidoscope" (2016), and "Lake Chapala Through the Ages" (2008).