Ralph Jocelyn McGinnis (1894-1966) was a sports writer, publicist and painter who lived in Ajijic during the early 1960s and penned an article about the area entitled "Lotus Land". "Lotus Land" was written initially in 1964 as an open letter to friends in the U.S., but McGinnis subsequently sold copies in the Lake Chapala area in 1965, and it was published, much later, as a series of nine article, in El Ojo del Lago, from June 1994 to February 1995 inclusive.
We will take a closer look at "Lotus Land", a tongue in cheek account of the area, in a separate post.
Ralph Jocelyn McGinnis was born in Kingston, Ohio, on 13 November 1894 and died in Ajijic on 4 June 1966. He grew up in an artistic family; his brother was the famous artist and illustrator Robert E. McGinnis.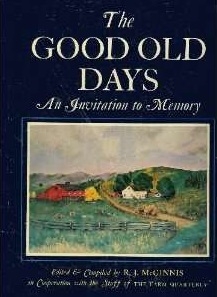 Ralph McGinnis was the author of many articles and at least two books. His articles included "The Wimodausians", in Farm Quarterly 6 (1951), while his books included The History of Oxford, Ohio, from the earliest days to the present, 1930 (Stewart Press, 1930) and The good old days: An invitation to memory (F. & W. Publishing Company, 1960). The latter book is about farming life and includes photos and some "primitive-style watercolors" by the author.
McGinnis is also credited with having come up with the nickname "Redskins" for the Miami University (Ohio) sports teams previously known as the Big Reds. McGinnis had been a star halfback and track athlete in the class of 1921 at Miami University in Ohio. At university, he was associate editor of the student magazine Recensio, and athletic editor and eventually editor of The Miami Student. In articles dating from 1919 and 1920, McGinnis used phrases such as, "sturdy warriors," "pow wow on the commons," and "Big Red Warriors Go on Warpath."
In 1928, McGinnis joined the staff of Miami University as a publicity advisor, and later as a teacher of English and journalism. By 1930 the tagline Redskins was being regularly used for university teams. According to McGinnis, he first came up with the attention-grabbing name in 1928.
Ralph McGinnis married twice. His first wife was a fellow student Erma Kőenig, born in Kentucky; they had two children, Albert and Marsue. After a divorce, McGinnis married Edith R. Matthew.
McGinnis and his second wife were living in Ajijic in the summer of 1965, as evidenced by a mention in the Guadalajara Colony Reporter for 19 Aug 1965. Edith McGinnis was an author, whose pen name was Edith Shepherd, and apparently the author of several crime stories and articles, though I have no further details of these. In August 1965, she was working on a commissioned travel article. (There is an Edith Shepherd who wrote Geography for Beginners (Rand McNally, 1924) but it is unclear whether or not this is McGinnis's wife).
McGinnis's daughter Marsue has her own claim to fame, dating back to when she was teaching as a 21-year-old on the island of Hawaii in 1946. On 1 April 1946, she was swept out to sea by a massive tidal wave, along with several fellow teachers and many of their students. She clung on to a piece of driftwood for an amazing nine hours prior to being plucked to safety by her fiancé who had borrowed a motorboat to help find survivors. Her first-person account of that harrowing day won a major Reader's Digest prize in 1959. Her astonishing story is one of those retold by Rita Beamish in Perils of Paradise (Bess Press, Inc., 2004). Marsue also retold the story in this oral history interview.
Acknowledgment

My sincere thanks to Mr. Bill Atkinson of Chapala for graciously giving me a copy of "Lotus Land" as originally published in 1964.
Sombrero Books welcomes comments, corrections or additional material related to any of the writers and artists featured in our series of mini-bios. Please email us or use the comments feature at the bottom of individual posts.

Tony Burton's books include "Lake Chapala: A Postcard History" (2022), "Foreign Footprints in Ajijic" (2022), "If Walls Could Talk: Chapala's historic buildings and their former occupants" (2020), (available in translation as "Si Las Paredes Hablaran"), "Mexican Kaleidoscope" (2016), and "Lake Chapala Through the Ages" (2008).