Barbara Moore (1934-2002), the second wife of prolific author John Lee (1931-2013), worked as a reporter for most of her career and published several novels.
The couple married in 1957 and then lived for a year in Spain, before spending time in various places in the U.S. prior to visiting Mexico in 1962. They lived for a year in Ajijic in 1962-63, fell in love with Mexico, and subsequently returned for three months almost every summer for the next decade.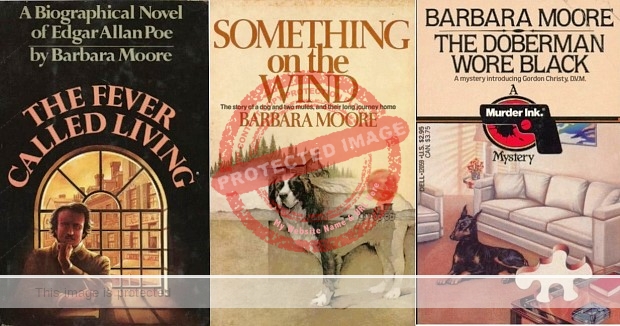 Moore had a masters degree in creative writing and anthropology, and taught journalism at the American University in Washington D.C., and later at California State University in Northridge.
Barbara and John Lee co-wrote two non-fiction works: Monsters Among Us: Journey to the Unexplained (1975) and Learning to Judge the Doberman Pinscher (1982).
Moore's novels include Hard On The Road (1974), an unconventional coming-of-age novel in which two young men and a camera meet the grand old West; The Fever Called Living (1976), a biographical novel about the last five years of the life of Edgar Allen Poe, based on research conducted by her husband towards a PhD; Something on the Wind (1978); The Doberman Wore Black (1984); and The Wolf Whispered Death (1986).
According to John Lee, The Fever Called Living won his wife a Mark Twain award, though I have been unable to find any independent verification of this.
Barbara Moore predeceased her husband in Texas in 2002.
Sombrero Books welcomes comments, corrections or additional material related to any of the writers and artists featured in our series of mini-bios. Please email us or use the comments feature at the bottom of individual posts.

Tony Burton's books include "Lake Chapala: A Postcard History" (2022), "Foreign Footprints in Ajijic" (2022), "If Walls Could Talk: Chapala's historic buildings and their former occupants" (2020), (available in translation as "Si Las Paredes Hablaran"), "Mexican Kaleidoscope" (2016), and "Lake Chapala Through the Ages" (2008).