David Dodge was already a successful author of plays, novels and travel books when he and his wife Elva settled in Ajijic in 1966.
David Francis Dodge was born in Berkeley, California, on 18 August 1910. When his father, an architect, was killed in an auto accident, the family moved to Southern California. After attending Lincoln High School (and leaving before he graduated), Dodge had a succession of jobs, as a bank messenger, marine fireman, stevedore, night watchman and in an accounting firm. He became a C.P.A. in 1937, a year after marrying Elva Keith who had worked as a publishing company representative. Their daughter, Kendal, was born in 1940.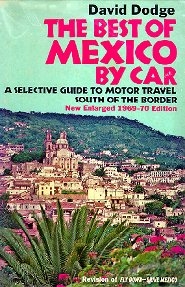 Dodge's career as a writer dates back to 1936 when his play A Certain Man Had Two Sons, won the Northern California Drama Association's Third Annual One Act Play Tournament. The play was later published by the Banner Play Bureau in San Francisco. Dodge co-wrote (with Loyall McLaren) a second play, Christmas Eve at the Mermaid, which was first performed as the Bohemian Club's Christmas play of 1940.
Drawing on his experiences as a CPA, he then wrote Death and Taxes (1941), the happy result of a $5 bet with his wife that he could write a better detective story than the one she was reading. Death and Taxes introduced readers to James "Whit" Whitney, a San Francisco tax expert turned amateur detective. Whitney continued his investigations in Shear the Black Sheep (1942), Bullets for the Bridegroom (1944) and It Ain't Hay (1946). These books were completed despite Dodge joining the U.S. Naval Reserve during the second world war, and rising to the rank of Lieutenant Commander by the end of his active service three years later.
Following his navy service, Dodge and Elva decided to drive to Guatemala. The family's adventures in Mexico, Guatemala, and then in South America, became the subject matter for several travel books. They also provided Dodge with the raw material for another fictional tough-guy private investigator, Al Colby, who first appeared in The Long Escape (1948).
The novel Dodge completed the following year, Plunder of the Sun (1949), was turned by Warner Bros. in 1953 into the movie of the same name.
However, Dodge's greatest success, beyond any doubt, was the novel To Catch a Thief (1952). In the Guadalajara Reporter in 1966, Anita Lomax explained that,
The way David came to write "To Catch a Thief" is a thriller in itself… the Dodges were living on the Riviera when the house next door was robbed of a fortune in jewels – they left early the next morning, before the robbery was discovered for a trip to the Far East and they were in Cambodia when they learned that they were the chief suspects and were being "hunted" by the French police! Fortunately, the real thief was caught by the time they returned to France to clear themselves."
To Catch a Thief was the basis for Alfred Hitchcock's classic 1955 Paramount film starring Cary Grant and Grace Kelly.
His career established, Dodge spent the next decade alternating between novels and lighthearted travel books. His Poor Man's Guide to Europe (1953) was revised annually and became a Book-of-the-Month Club selection. He also wrote travel articles for several magazines, and was a regular contributor to Holiday Magazine from 1948 to 1968.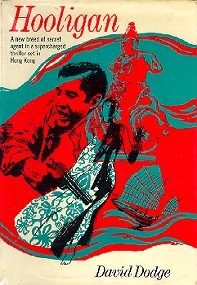 In 1966, David Dodge and his wife settled in Ajijic for a few months, while David worked on a travel article for Holiday and on his next novel. The novel is presumed to be Hooligan (1969), which features a Treasury Department agent named John Abraham Lincoln who "is sent to Hong Kong to investigate a series of insurance claims for U.S. dollars following a devastating typhoon."
A reference in 1966 to the couple taking "their former home in the Neill James' compound" suggests that they were already very familiar with Ajijic prior to this, though the precise timing and length of any previous visits is unclear.
During their stay in Ajijic, Elva ("Elvita") Dodge took part in at least one group art show, held in the Posada Ajijic for Easter. The exhibition was held in the first half of April, and included works by Jack Rutherford; Carl Kerr; Sid Adler; Gail Michel; Allyn Hunt; Franz Duyz; Margarite Tibo; Elva Dodge; Mr and Mrs Moriaty; and Marigold Wandell.
While David and Elva Dodge were in Ajijic in 1966, their daughter, Kendal, flew down from her job in New York with CBS to visit them. Within a few weeks, she had met and married a Guadalajara portrait photographer named Joaquin Reynoso Escatell. They lived in Guadalajara, where Kendal worked in Joaquin's studio and taught languages and American History part-time at The Butler Institute. Their daughter, "Kendalita", was born in 1967. In order to be closer to their daughter and granddaughter, David and Elva "retired" to San Miguel de Allende in 1968, the last major move in their global wanderings. When Kendal and Joaquin separated a few years later, Kendal and her daughter returned to the U.S. More than a decade later, in December 1983, Kendal married Frank Butler, the founder of The Butler Institute and her former boss; the couple settled in California. The early years of the life of Kendal Dodge Butler (1940-2007) were portrayed by her father with great  charm, humor and sensitivity in How Green Was My Father (1947) and the subsequent travel accounts of the family's adventures through Central and South America.
Dodge's travel writing is exemplified by his Fly Down, Drive Mexico: A Practical Motorist's Handbook For Travel South of the Border, published by Macmillan in 1968 with a Special Guide to the XIX Olympic Games in Mexico City (held 12-27 October 1968), which was reissued the following year as The Best of Mexico by Car. Dodge's passion was travel and he viewed writing as a means to an end: he did not travel in order to write but wrote in order to travel.
Elva Dodge died on 17 October 1973; David's own travels came to an end less than a year later on 8 August 1974. Both Elva and David Dodge are buried in San Miguel de Allende.
Dodge's extensive bibliography includes fourteen novels published in his life time, with another novel published after his death, as well as several plays and nine travel books.
His novels are Death and Taxes (1941); Shear the Black Sheep (1943); Bullets for the Bridegroom (1944); It Ain't Hay (1946); The Long Escape (1948); Plunder of the Sun (1949); The Red Tassel (1950); To Catch a Thief (1952); The Lights of Skaro (1954); Angel's Ransom (1956); Loo Loo's Legacy (1960); Carambola (1961); Hooligan (1969;) Troubleshooter (1971).
Dodge's travel books are How Green Was My Father (1947); How Lost Was My Weekend (1948); The Crazy Glasspecker (1949); 20,000 Leagues Behind the 8-Ball (1951); The Poor Man's Guide to Europe (1953); Time Out for Turkey (1955); The Rich Man's Guide to the Riviera (1962); The Poor Man's Guide to the Orient (1965); Fly Down, Drive Mexico (1968), revised as The Best of Mexico by Car (1969).
Several of Dodge's books have been reissued in recent years, including Plunder of the Sun (2005), Death and Taxes (2010),  To Catch a Thief (2010) and The Long Escape (2011). In addition, a previously unpublished novel, The Last Match, was published posthumously in 2006.
Sources:
Website: A David Dodge Companion [http://www.david-dodge.com/ [3 Nov 2016]
Website: Golden Age of Detection
Guadalajara Reporter, 26 Feb 1966; 12 Mar 1966; 2 April 1966; 16 April 1966; 19 July 1969.
Bill Atkinson (personal communication, letter, August 2015)
Sombrero Books welcomes comments, corrections or additional material related to any of the writers and artists featured in our series of mini-bios. Please use the comments feature at the bottom of individual posts, or email us.

Tony Burton's books include "Lake Chapala: A Postcard History" (2022), "Foreign Footprints in Ajijic" (2022), "If Walls Could Talk: Chapala's historic buildings and their former occupants" (2020), (available in translation as "Si Las Paredes Hablaran"), "Mexican Kaleidoscope" (2016), and "Lake Chapala Through the Ages" (2008).