Did the great British author W. Somerset Maugham ever visit Lake Chapala? A number of writers and websites, extolling the literary connections of Ajijic, have claimed that W. Somerset Maugham (1874-1965) has connections to the village. Some of these writers add that he lived in Ajijic for several months in the 1930s where he supposedly completed his novel, The Razor's Edge (1944).
The Razor's Edge is the story of Larry Darrell, an American pilot psychologically damaged by the First World War who seeks some meaning for his life. It was turned into a screenplay which was nominated for four Academy Awards in 1946, including Best Picture, with Anne Baxter winning Best Actress in a Supporting Role.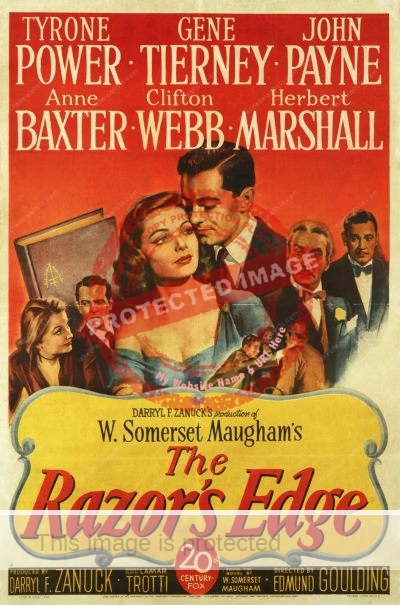 While I have been unable to ascertain when or how the myth about Maugham at Lake Chapala began, I am now completely convinced that he never ever visited the area. The closest he ever came was when he was in Mexico City in 1924.
It is possible that the idea of Maugham being in Ajijic originated from the fact that while in Mexico City he did actually meet (albeit briefly) D. H. Lawrence, who does have a close association with Lake Chapala. However, during the time Lawrence was living in Chapala (from May to July 1923), Maugham was traveling in Burma (Myanmar), Siam (Thailand) and Indonesia, a trip that lasted from October 1922 until July 1923.
On the occasion when the two men met in Mexico, on 5 November 1924, it was at an uncomfortable lunch at the home of archaeologist Zelia Nuttall in Mexico City.  It was during Maugham's one and only trip to Mexico.
Lawrence later used this lunch meeting as the basis for his description of the memorable tea party hosted by "Mrs Norris" in Chapter 2 of The Plumed Serpent. For his part, Maugham later based his character sketch of the dying poet "Francesco" in A Writer's Notebook on a passage by Frieda Lawrence about her husband ("Lorenzo" to his friends) in her autobiography. Maugham's only other connection to Mexico is a later short story, set in Europe, entitled "The Hairless Mexican", the original version of which appeared in 1928.
Even though Lawrence and Maugham met over lunch, there was no love lost between them. As Jeffrey Meyers writes in Somerset Maugham, a life, the two men were very different:
"Maugham always returned to his permanent home; Lawrence never had one. Frequently pressed for money, Lawrence traveled simply; Maugham usually journeyed in luxury. Lawrence loathed Capri, where Maugham felt entirely at home. Always in delicate health, Lawrence had to be more cautious, and died young. Maugham was much tougher. He'd risked his life as a spy in Switzerland and Russia, survived tuberculosis, traveled in remote and dangerous places." (Meyers 156)
Moreover, in terms of their writing abilities:
"Lawrence thought Maugham was a superficial, commercial scribbler who catered to the establishment that had suppressed his own novel, The Rainbow, in 1915. A far greater writer, but living from hand to mouth, he bitterly resented Maugham's popularity, financial success and self-indulgent way of life… For his part, Maugham considered Lawrence "a pathological case". " (Meyers 156-157)
In addition, as Robert Calder has pointed out, Maugham was decidedly underwhelmed by Mexico and disappointed that it had not given him the literary stimulus he was seeking:
"Maugham and Lawrence were unlikely to have enjoyed each other's company under the best conditions, and by the time that they met, Maugham was depressed by the realization that Mexico was not providing the kind of material for his writing that he had anticipated… Maugham found little inspiration and produced nothing from the trip." (Calder 182)
Shortly after their brief meeting at Zelia Nuttall's home, Lawrence continued on to Oaxaca where he completed the final draft of The Plumed Serpent, while Maugham left Mexico City for the Yucatán Peninsula, from where he and his secretary-companion sailed to Havana, Cuba. Maugham never returned to Mexico but found his inspiration elsewhere.
Despite Maugham's lack of empathy for Mexico, his novels and plays were popular in the country and several of his plays were performed at the Degollado theater in Guadalajara during the 1930s.
Even if Maugham never did work on The Razor's Edge at Lake Chapala, the novel does have one very tenuous link to the area. According to literary critics, "Larry Darrell", the novel's central character, is based on the English-born novelist and playwright Christopher Isherwood. Isherwood himself, in an interview with David Lambourne, once referred to Lake Chapala when he credited D. H Lawrence with having taught him that, for best effect, you don't need to describe things as they are, but as you saw them:
"Lawrence… was so intensely subjective. I mean his wonder at the mountains above Taos, you know, and then his rage at Lake Chapala. And the characteristic methods of his attack were so marvelous. I mean, he was in a bad temper about Lake Chapala, so he just said, 'The lake looks like urine.' He meant, 'It looks like urine to me,' you see…"
Conclusion
Unlike many other great writers and artists over the years, Somerset Maugham never did visit Lake Chapala. Some would say "his loss", given that the area attracted and nurtured so many famous names and such a range of talents over the years. Even without staking any claim to Maugham, Lake Chapala residents can still justifiably be proud of the area's rich literary and artistic heritage.
Sources:
Robert Calder. 1989. Willie, the life of W. Somerset Maugham. London: Heinemann.
David Ellis. 1998. D.H. Lawrence: Dying Game 1922-1930: The Cambridge Biography of D. H. Lawrence, p 205.
David Lambourne. 1975. "A kind of Left-Wing Direction", an interview with Christopher Isherwood in Poetry Nation No. 4, 1975. Manchester: C.B. Cox & Michael Schmidt. 152pp.
Frieda Lawrence (Frieda von Richthofen). 1934. Not I, But the Wind... (New York: Viking Press)
W. Somerset Maugham. Collected Short Stories, Volume 3.
W. Somerset Maugham. 1938. The Summing up. London: Heinemann.
Jeffrey Meyers. 2004. Somerset Maugham, a life. Vintage.
Harry T. Moore (ed). 1962. The Collected Letters of D. H. Lawrence (two volumes). Heinemann.
Sombrero Books welcomes comments, corrections or additional material related to any of the writers and artists featured in our series of mini-bios. Please use the comments feature at the bottom of individual posts, or email us.

Tony Burton's books include "Lake Chapala: A Postcard History" (2022), "Foreign Footprints in Ajijic" (2022), "If Walls Could Talk: Chapala's historic buildings and their former occupants" (2020), (available in translation as "Si Las Paredes Hablaran"), "Mexican Kaleidoscope" (2016), and "Lake Chapala Through the Ages" (2008).