Ramón Martínez Ocaranza was born in Jiquilpan, Michoacán, 15 April, 1915, and died in Morelia 21 September 1982.
He was a poet, essayist, social fighter and teacher, who used to joke that only a wall had stopped him from becoming President of Mexico–this was because Lázaro Cárdenas (President of Mexico 1934-1940) had been born in the house next door!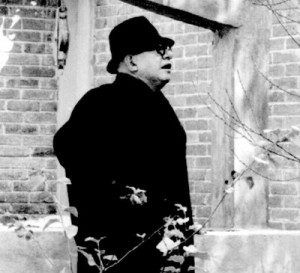 Martínez christened his native city of Jiquilpan as the "city of jacarandas", a name that is still widely used today on account of the city's many blue-flowering jacaranda trees.
He published numerous volumes of poetry, including:
Al pan, pan y al vino, vino, 1943; Ávido Amor, 1944; Preludio de la muerte enemiga, 1946; Muros de soledad, first part 1952, second part 1992; De la vida encantada, 1952; Río de llanto, 1955; Alegoría de México, 1959; Otoño encarcelado, 1968; Elegía de los triángulos, 1974; Elegías en la Muerte de Pablo Neruda, 1977; Patología del Ser, 1981.  Works published after his death include the poetry volumes La Edad del tiempo, 1985; and Vocación de Job, 1992, which formed part of El libro de los días (1997).
He also wrote an autobiography, finally published twenty years after his death in 2002. He studied (and later taught) at Colegio de San Nicolás de Hidalgo (Morelia) and studied at UNAM. His poems contain many pre-Columbian element and he researched and wrote about Tarascan literature.
Sadly, a campaign in 2010-2011 to turn his former house (Río Mayo #367, colonia Ventura Puente, Morelia)  into a small museum and exhibition space has apparently failed, owing to lack of funds.
Sombrero Books welcomes comments, corrections or additional material related to any of the writers and artists featured in our series of mini-bios. Please email us or use the comments feature at the bottom of individual posts.

Tony Burton's books include "Lake Chapala: A Postcard History" (2022), "Foreign Footprints in Ajijic" (2022), "If Walls Could Talk: Chapala's historic buildings and their former occupants" (2020), (available in translation as "Si Las Paredes Hablaran"), "Mexican Kaleidoscope" (2016), and "Lake Chapala Through the Ages" (2008).