Francisco Ochoa was born in Jamay, Jalisco, mid-way between Ocotlán and La Barca, on 4 Sep 1943 (some sources say 1946). The family moved to Mexico City when he was 5 years old. He subsequently became an accountant.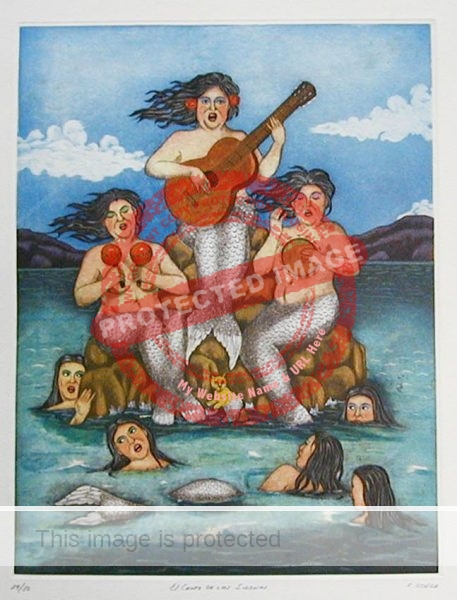 He was about 36 years old when he enrolled in the  Escuela Nacional de Pintura, Escultura y Grabado "La Esmeralda". While studying there, he became the accountant for the Galería Estela Shapiro. Recognizing his talent, Shapiro offered him space in her gallery for a one-man show, which was well received by the art-loving public. Ochoa abandoned accountancy to focus full-time on his painting. Numerous individual exhibitions followed, in locations such as the Instituto Francés de América Latina, the Casa de la Cultura Jesús Reyes Heroles, the Salón de la Plástica Mexicana, the Museo Universitario del Chopo, the Centro Cultural Arte Contemporáneo, and in the Galería OMR. His works have also been exhibited in Guadalajara (including the Cabañas Cultural Institute), and in California and San Antonio, Texas.
After the death of his mother, Ochoa returned to Guadalajara, from where he continued to supply Galeria OMR with his work. Unfortunately, shortly after moving to Guadalajara, he was diagnosed with oral cancer, which led to his passing on 29 March 2006.
Ochoa was primarily an oil painter, but also left many sketches and drawings. His works are included in the permanent collections of the Metropolitan Museum of New York, the Regional Museum of Guadalajara and the José Luis Cuevas museum in Mexico City.
His paintings shows great ingenuity, and are somewhat naif in style, using color and a sense of fun to offer a fresh view, replete with social criticism, often poking fun at the idiosyncrasies of Mexico and the absurdities of everyday life. This has led to him being described as a "satirical costumbrista".
It is unclear whether Ochoa ever painted Lake Chapala, though his 1982 work "El Canto de las Sirenas" ("Song of the Sirens") (see image) could easily be interpreted as having been influenced by his familiarity with the lake.
In his will, he left numerous drawing and two oil paintings to the Casa de la Cultura in Jamay, which has now been renamed after him. Since 2012, one room in the building shows works by Ochoa and a second room is used for temporary exhibitions.
For more images of Francisco Ochoa's art, see Museoblaisten.com

Tony Burton's books include "Lake Chapala: A Postcard History" (2022), "Foreign Footprints in Ajijic" (2022), "If Walls Could Talk: Chapala's historic buildings and their former occupants" (2020), (available in translation as "Si Las Paredes Hablaran"), "Mexican Kaleidoscope" (2016), and "Lake Chapala Through the Ages" (2008).