Lake Chapala – the lake itself – played an important bit part in the filming of the 1965 movie In Harm's Way. The movie, an epic Panavision war film, was John Wayne's last black-and-white film. The movie's cast, besides John Wayne, included Kirk Douglas, Patricia Neal, Henry Fonda, Stanley Holloway and Larry Hagman, among many others.
The screenplay by Wendell Mayes and based on the 1962 novel Harm's Way, by James Bassett, looks at the lives of several US Navy officers in Hawaii, and their wives and lovers, during the first year of U.S. involvement in the second world war.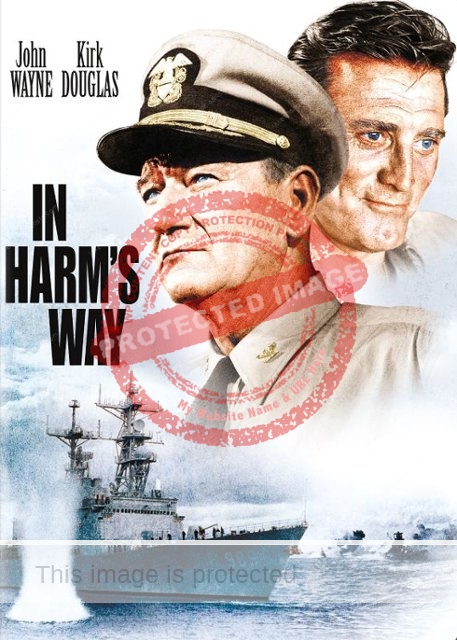 In October 1964, the movie's producer-director, Otto Preminger, and several members of the film crew visited Lake Chapala to film some special effects. They stayed at what was then the Holiday Inn in Chula Vista. A brief note about their stay, in the Guadalajara Reporter, claimed that the crew was "filming explosions in the lake for the movie" and that the explosions were of compressed air only and would reportedly would not harm local wildlife.
Among the youthful audience watching the crew filming of In Harm's Way were the children of Marcella Crump, a keen amateur photographer. Dennis recently wrote about his memories of watching the filming in a catchily-titled piece, "The Time the U.S. Navy Came to Lake Chapala" published in El Ojo del Lago. He recalled "when a US Navy battleship, destroyer, and submarine appeared on Lake Chapala to engage in battles against the Japanese." The vessels were "perfect scaled down Navy vessels… complete with their big guns firing heavy projectiles, destroyer firing its guns… and the submarine cruising in stealth mode."
As Dennis explains, Lake Chapala was the perfect setting for small models to be filmed in a variety of wave heights. They could appear to be on the calmest of waters or fighting against the fierce waves of Pacific storms.
His brother, Raymond, remembers how about six replicas of PT (patrol torpedo) boats, each about 8 feet long and remote controlled, were "hand crafted right there on the beach under the umbrellas." He vividly recalls the small explosions generated during the filming to simulate bombs hitting the water.
Sources:
Dennis Crump. 2019. "The Time the U.S. Navy Came to Lake Chapala.". El Ojo del Lago, May 2019, 30.
Raymond Crump, personal communication.
Guadalajara Reporter, 22 October 1964
Comments, corrections or additional material related to any of the writers and artists featured in our series of mini-bios are welcomed. Please use the comments feature at the bottom of individual posts, or email us.

Tony Burton's books include "Lake Chapala: A Postcard History" (2022), "Foreign Footprints in Ajijic" (2022), "If Walls Could Talk: Chapala's historic buildings and their former occupants" (2020), (available in translation as "Si Las Paredes Hablaran"), "Mexican Kaleidoscope" (2016), and "Lake Chapala Through the Ages" (2008).