Juan Pablo Guzmán, a renowned Guadalajara physician, wrote several books, including a novel – El gran Chapa – set at Lake Chapala. We will take a closer look at the novel, which won the inaugural Premio Jalisco for literature in 1950, and offers valuable insights into lakeside communities and culture, in a separate post.
In this post, we consider the life and work of its author, Juan Pablo Guzmán.
Juan Pablo Guzmán Alemán was born in Guadalajara on 26 June 1909. His father died when Juan Pablo was still in his teens. At the time of the 1930 census, Juan Pablo's mother, María Jesús Alemán viuda de Guzman, was head of a large household which included four children older than Juan Pablo (then almost 19 years of age) and three younger children.
The previous year, having just entered university to study medicine, Juan Pablo had won a statewide oratory competition, held in the Degollado Theater in Guadalajara, before going to on place second in a national competition in Mexico City. His younger brother, Victor, who also became a doctor, accompanied him on his trip to the capital.
Juan Pablo had completed his medical training and was practicing in Guadalajara when, at the age of 31, he married María Dolores Serratos on 29 October 1940. The couple's son, Juan Bernardo Guzmán Serratos, born in 1945, also entered the medical profession, training as a medical surgeon and odontologist (forensic dentist) and teaching at the University of Guadalajara.
Juan Pablo Guzmán was a multi-talented individual who combined his professional life as a gynecologist with active involvement in the arts as a poet, musician, painter, writer and dramatist. He published three books, the first of which—El gran Chapa—was set at Lake Chapala.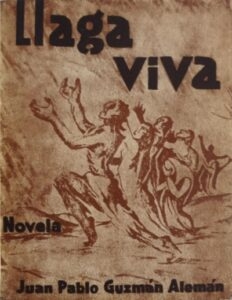 His second novel, a decade later was Llaga viva ("Open Sore"). It also won a Premio Jalisco. Guzmán's third book, Tres voces en tres cuentos, was published in 1997.
The two early novels are extremely difficult to find though copies are held by several U.S. university libraries and the Biblioteca Pública del Estado de Jalisco Juan José Arreola in Guadalajara.
When Llaga viva was published, in 1961, Winston Allin Reynolds, a professor in the Department of Spanish and Portuguese at the University of California at Santa Barbara, supplied the introduction. The 181-page novel was enthusiastically reviewed by Dr. Alfonso Manuel Castañeda in El Informador who praised the author's "penetrating and scrupulous observation of people".
Castañeda described the succession of everyday characters that populates the pages of Llaga Viva as "pilgrims without a destination and migrants without a direction in the constant wanderings of life."
For a sense of the style of Llaga Viva, here is a loose translation of a short passage lamenting the fact that it has become money not knowledge that establishes a person's position in society:
"In the city you learn the urgency of money; the main thing in choosing a profession is to work out which one can most easily bring you wealth. People with experience, and all of society, had constantly yelled at him: Gold! It takes gold for you to live among us! It's no use if you stuff your head with books while your pockets are empty. The old days, when a man was considered a man on account of his knowledge and virtue, have passed. Do you have the gold? With that you will buy a place in society; you will buy the sensuality of all women; you will buy valuable friends; you will buy the glories that cultured citizens pursue; you will buy life…."
A sentiment that is surely even more true today than it was in the 1950s.
Source
Alfonso Manuel Castañeda. 1961. "Llaga Viva." El Informador, 24 September 1961, 14.
Juan Pablo Guzmán Alemán. 1951. El gran Chapa. Guadalajara: Gobierno del Estado de Jalisco.
Juan Pablo Guzmán Alemán. 1961. Llaga viva. Guadalajara: Universidad de Guadalajara.
Juan Pablo Guzmán Alemán. 1997. Tres voces en tres cuentos. Guadalajara: Secretaría de Cultura, Gobierno de Jalisco.
El Informador, 25 May 1929, 6; 20 June 1929, 6.
Comments, corrections or additional material related to any of the writers and artists featured in our series of mini-bios are welcomed. Please use the comments feature at the bottom of individual posts, or email us.

Tony Burton's books include "Lake Chapala: A Postcard History" (2022), "Foreign Footprints in Ajijic" (2022), "If Walls Could Talk: Chapala's historic buildings and their former occupants" (2020), (available in translation as "Si Las Paredes Hablaran"), "Mexican Kaleidoscope" (2016), and "Lake Chapala Through the Ages" (2008).