This post looks at the small number of early stereoscopic photo pairs of Chapala that have come to light. A stereoscopic pair of photos is obtained by taking the same picture twice, but from slightly different positions, akin to the two slightly different views from your left eye and right eye, respectively. When a stereo pair of photos is printed side by side and viewed through the two lenses of a stereoscope, the brain can combine the two slightly different images into a vivid 3-dimensional image, with depth and perspective.
Taking stereoscopic views was much more expensive and time-consuming than taking regular postcard photographs, so the paucity of images is no surprise. What is a surprise is the subject matter of some of the photo pairs.
I only know of two stereo pairs that definitely show Lake Chapala. The first (below) was apparently taken privately (ie for his own use, not for commercial use) by a French mining engineer, L. Legrand.
Dated 14 April 1907 it shows the view looking west from Playa Chacaltita, the beach originally to the east of the church in Chapala. In the distance, at the foot of Cerro San Miguel, is the distinctive holiday house of the Capetillo family.
Several small fishing boats occupy the foreground, making for a pleasing composition, similar to the bottom left photo appearing on this Juan Kaiser triple-view postcard.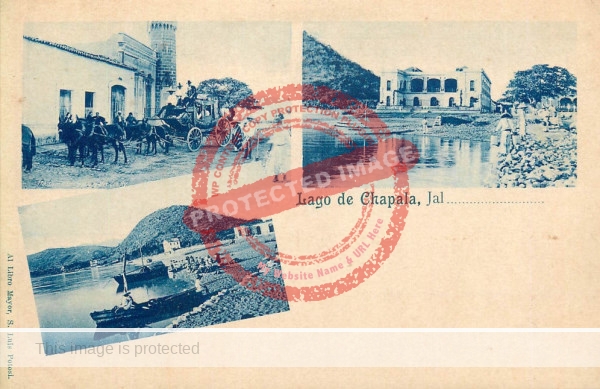 The second known Chapala-related stereo pair of photos (uncredited and undated) shows a sunset as seen from the pier at El Fuerte, near Ocotlán.
There is a a third stereo pair (below), also uncredited and undated, that purportedly has a connection to Lake Chapala. This pair, not published commercially, has a handwritten caption on the back: "Pueblo de Chapala." It is an unusual view looking down on rustic single-story homes and buildings surrounding a crowded central square. The inclusion of an animal-drawn cart headed for the "jardín" makes for an interesting and compelling composition.
Unfortunately, the profile of the hills in the background does not appear to match any location near the settlement of Chapala itself. It is possible that the "Pueblo de Chapala" was shorthand for "Pueblo del Lago de Chapala" and that the photo actually shows some other lakeside village. If you can suggest where this photograph was taken, then please let me know!
At least two other stereo pairs are indirectly related to Lake Chapala. Visitors traveling from Guadalajara to Lake Chapala in the early part of the 20th century often stopped off in Juanacatlán in order to admire the beautiful waterfalls there: "The Niagara of Mexico."
The Keystone View Company, of Meadville, Pennsylvania, and St. Louis, Missouri, published two stereo pairs of the Juanacatlán Falls. The earliest, dated 1900 and copyrighted by B. L. Singley, shows a group of men and women on a ferryboat on the River Grande (Santiago) immediately above the falls. A second, later, Keystone stereo pair shows the falls themselves in all their glory. Whether or not Keystone also published a stereo pair of Lake Chapala is unknown but it would seem very likely given the company's immense output.
Are there any more stereoscopic images of Lake Chapala out there? If so, please let me know!
Acknowledgment
My thanks to the members of the "Imágenes históricas de Guadalajara, México" Facebook group for their valuable comments on the "Pueblos de Chapala" image.
Comments, corrections or additional material related to any of the writers and artists featured in our series of mini-bios are welcomed. Please use the comments feature at the bottom of individual posts, or email us.

Tony Burton's books include "Lake Chapala: A Postcard History" (2022), "Foreign Footprints in Ajijic" (2022), "If Walls Could Talk: Chapala's historic buildings and their former occupants" (2020), (available in translation as "Si Las Paredes Hablaran"), "Mexican Kaleidoscope" (2016), and "Lake Chapala Through the Ages" (2008).