Winifred Martin, a journalist working for the The San Bernardino Sun in California, spent six weeks in Mexico in 1909 and has left us a first-hand account of staying at the Hotel Ribera Castellanos (located mid-way between Jamay and Ocotlán near the eastern end of the lake), one of Mexico's most fashionable resorts at the time.
Extolling the virtues of "the delightful balminess," perfect temperature and "gentle lapping of the waves," Martin labeled the Hotel Ribera Castellanos "a place unique in all the great republic of Mexico."
The hotel is picturesque and charming with lawns sloping steeply to the water's edge… the long rambling building with its tiled roof fits well into the setting. Song birds fill the trees and birds of brilliant scarlet plumage, mingle with their kin of the silver voices. Mesquite trees with foliage like a species of acacia, are among those which dot the lawn, with banana plants, palms, bougainvillea, geraniums and other plants with gorgeous blooms in unstudied arrangement."
She praised the hotel management:
Mr. and Mrs Sumrow, formerly of the Kenilworth Inn at Asheville, North Carolina, are managing the Ribera now, and give Americans a warm welcome. The chef is Chinese and the other servants as a matter of course are Mexicans. Horseback and coach rides are very popular and a number of interesting trips may be made, that to the old Indian village of Jamay, being one of the most popular."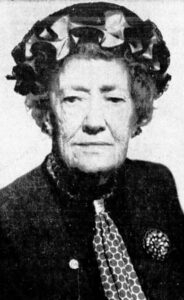 Martin also comments on how native boats with square sails plied the waters of the picturesque lake, which was a "hunters paradise during October, November and December, 22 species of game birds being found thereabouts."
When Martin visited in 1909, the hotel was building an "addition with 58 rooms and baths." The hacienda, of which the hotel was part, employed 230 men and produced "wheat, corn, and garbanzas."
During her Mexico trip in 1909, Martin also made "delightful visits to Mexico City, Guadalajara, Guanajuato, Aguascalientes, and a score of other places of interest in the mañana land." She concludes in her article that she shares "the experience of every traveler there, in that she was loath to leave and longs to enjoy the trip again."
Winifred Martin, who never married, was born on 6 February 1869 in Cloverdale, Indiana, and died in San Bernardino, at the age of 92, on 22 June 1961. She began her career by working on The Transcript, a newspaper started in San Bernardino by her father in 1898. Her brother, Ernest Martin, who later became the San Bernardino postmaster, also worked there. At that time, San Bernardino was little more than "a harsh frontier town of muddy streets and drab buildings." When her father sold The Transcript, Martin moved to the Daily Sun, beginning a long career with that paper (and its later iterations) that extended almost 60 years.
Martin was the paper's social correspondent and chronicled social activities, births, marriages and deaths of three generations of San Bernardino families, always insisting on checking out key facts in person and never relying only on telephone conversations. She would work late into the night writing and checking material that would appear in the following morning's edition.
Even as her health declined, Martin refused to slow down or retire. Even though needing a wheelchair in her later years, she still attended the annual Sun Company Christmas party, where she would be introduced as the "Grand Lady of the Sun Company". In memory of her outstanding contributions, the paper established a Winifred Martin Scholarship which was awarded annually to the outstanding female journalism student in San Bernardino high schools.
Sources
Anon. "Personal". The San Bernardino County Sun, 9 Dec 1909, 5.
Robert L Harrison. 1961. Winifred Martin Taken by Death. San Bernardino Sun-Telegram, 23 June 1961, C12, C17.
Winifrid Martin. 1909. "Astray in Mexico: South Republic Exiles Give Thanks." The San Bernardino Sun, 4 Dec 1909, 5.
Comments, corrections or additional material related to any of the writers and artists featured in our series of mini-bios are welcome. Please use the comments feature at the bottom of individual posts, or email us.

Tony Burton's books include "Lake Chapala: A Postcard History" (2022), "Foreign Footprints in Ajijic" (2022), "If Walls Could Talk: Chapala's historic buildings and their former occupants" (2020), (available in translation as "Si Las Paredes Hablaran"), "Mexican Kaleidoscope" (2016), and "Lake Chapala Through the Ages" (2008).