Ernest Walter Knee was born in Montreal, Canada, on 15 May 1907 and died in Santa Fe, New Mexico on 7 October 1982.
He is most often associated with the Santa Fe art community, but also traveled widely on assignment. Knee was a talented photographer who first visited Santa Fe in 1931; he fell in love with the location, and eventually became part of the flourishing art community there.
Knee's friends included a wide circle of famous artists and photographers, including Edward Weston, Gustave Baumann, Ansel Adams, Georgia O'Keeffe and Laura Gilpin.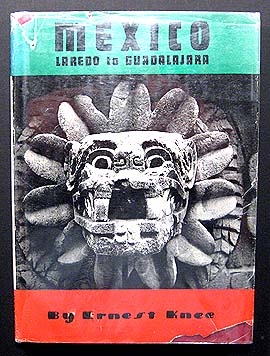 Over 100 of his powerful black and white photographs were the subject-matter for Ernest Knee in New Mexico: Photographs, 1930s-1940s, by his third son Dana Knee, published by the Museum of New Mexico Press in 2005. One of these photographs, dated 1941, depicts a lone sail boat on Lake Chapala, though it is unclear how much time he spent in Chapala. During his 1941 trip he took several other superb images of Lake Chapala.
One of these photographs is included in his Mexico: Laredo to Guadalajara (Hastings, New York, 1951). This book showcases more than 100 of his photographs, documenting a pictorial tour from Laredo to Monterrey, Linares, Villagran, Tamazunchale, Jacala, Venta de Carpio, Toluca, Morelia, Patzcuaro, Zamora, Chapala and Guadalajara.
Among Knee's many other claims to fame is that he was, for a time, Howard Hughes' personal photographer. He was also the first cameraman to record Angel Falls in Venezuela. His landscape and documentary photographs appeared in Life and National Geographic.
Institutions which have displayed Knee's work include The Snite Museum of Art, University of Notre Dame; George Eastman House, Rochester New York; Museum of Modern Art, New York; Center For Creative Photography, Tucson; Santa Barbara Museum of Art, Santa Barbara; Los Angeles County Museum of Art, Los Angeles; California Museum of Photography, Riverside; Princeton University of Art, Princeton; The Minneapolis Institute of Art, Minneapolis; Spencer Museum of Art, Lawrence Kansas; New Orleans Museum of Art New Orleans; Milwaukee Art Museum, Milwaukee; University of Oklahoma Museum of Art; University of New Mexico, Albuquerque; New Mexico State University, Las Cruces; Museum of New Mexico, Santa Fe; The Harwood Foundation, Taos.
Sombrero Books welcomes comments, corrections or additional material related to any of the writers and artists featured in our series of mini-bios. Please email us or use the comments feature at the bottom of individual posts.

Tony Burton's books include "Lake Chapala: A Postcard History" (2022), "Foreign Footprints in Ajijic" (2022), "If Walls Could Talk: Chapala's historic buildings and their former occupants" (2020), (available in translation as "Si Las Paredes Hablaran"), "Mexican Kaleidoscope" (2016), and "Lake Chapala Through the Ages" (2008).