Charles Kaufman, who went on to become an Academy Award-nominated screenwriter, lived for several months in Ajijic in 1929. A decade later, he dedicated his first and only novel — Fiesta in Manhattan — "To the good people of Ajijic." We look at this novel in a separate post, but this was not his only important link to Ajijic.
Kaufman's trip to Mexico was to celebrate selling an article to the New York Herald for $75. Accompanied by his girlfriend, Edith Huntsman, Kaufman took off for Mexico in 1929. Among other adventures, they visited Acapulco, took a boat from there to Puerto Angel (on the Oaxaca coast) and rode mules for 10 days over the mountains to Oaxaca City, as well as spending several months in Ajijic.
In 1933, Kaufman spent five months traveling in Spain with a businessman friend, Louis E. Stephens. During this trip, Kaufman was apparently so enthusiastic about Mexico in general, and Ajijic in particular, that he persuaded Stephens that he should stop off in Mexico before returning to New York.
Stephens liked Mexico so much, he settled in Mexico City, started a family and acquired holiday property in Ajijic in 1937. Stephens and his wife, Annette Margolis (later Nancarrow), offered the use of this property to their friend Helen Beth Kirtland when she sought a suitable place to take her young children after splitting up (not for the first time) from her husband Read Goodridge, a Mexico City rare books dealer.
Kirtland took her three young children to Ajijic and never looked back. She founded Telares Ajijic, employed weavers and, through enterprise, good fortune and hard work, built up a highly successful business. Her children grew up in the village. After attending college in California, her daughter, Katie Goodridge Ingram, returned to Ajijic and ran an art gallery there for many years. Ingram's absorbing and beautifully written memoir of her childhood in Mexico City and Ajijic—According to Soledad, memories of a Mexican childhood—was published in 2020 to rave reviews.
Had it not been for Kaufman's powers of persuasion, none of this might have happened.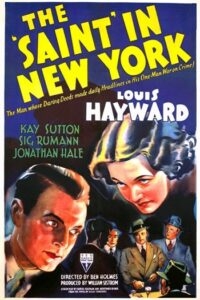 Kaufman meanwhile had stories published in the New Yorker and Esquire and was well on his way to becoming a successful screenwriter. He moved to Los Angeles in 1936 and already had several screenplays to his credit by the time his novel, Fiesta in Manhattan, was published in 1939. Sections of the novel were subsequently published (beginning in June 1940) in Mexican Life.
His screenplay credits include: Saturday's Heroes (1937), Breakfast for Two (1937), The Saint in New York (1938), When Tomorrow Comes (1939), Model Wife (1941), Paris Calling (1941), Let There Be Light (1946), Cynthia (1947), Return to Paradise (1953), The Racers (1955), The Story of Esther Costello (1957), South Seas Adventure (1958), Bridge to the Sun (1961) and Freud (1962).
Return to Paradise was based on the Michener work and starred Gary Cooper. Kaufman's screenplay for The Story of Esther Costello was nominated for a BAFTA Award for Best British Screenplay. In 1962, the screenplay of Freud, directed and produced by John Huston, won an Academy Award nomination for Best Original Screenplay for Kaufman and his co-writer Wolfgang Reinhart. In 2010, Let There Be Light, written by Kaufman and John Huston, was chosen for inclusion in the United States National Film Registry by the Library of Congress as being "culturally, historically, or aesthetically significant."
Kaufman, who was born 20 October 1904 in Paterson, New Jersey, died of pneumonia in Los Angeles on 2 May 1991, at the age of 86.
Acknowledgment
My sincere thanks to Katie Goodridge Ingram for bringing Charles Kaufman's connections to Ajijic to my attention.
Lake Chapala Artists & Authors is reader-supported. Purchases made via links on our site may, at no cost to you, earn us an affiliate commission.
Learn more.
Several chapters of Foreign Footprints in Ajijic: Decades of Change in a Mexican Village offer more details about the history of the literary and artistic community in Ajijic.
Sources
Mike Barnes. 2010. "'Empire Strikes Back,' 'Airplane!' Among 25 Movies Named to National Film Registry". The Hollywood Reporter, 28 December 2010.
Los Angeles Times. 1991. "Charles A. Kaufman; Screenwriter Honored for Freud Biography" (obituary). Los Angeles Times, 9 May 1991, page 32.
Charles J. Stephens. 1999. Louis E. Stephens: His Life in Letters. New York: Jay Street Publishers.
Comments, corrections or additional material related to any of the writers and artists featured in our series of mini-bios are welcomed. Please use the comments feature at the bottom of individual posts, or email us.

Tony Burton's books include "Lake Chapala: A Postcard History" (2022), "Foreign Footprints in Ajijic" (2022), "If Walls Could Talk: Chapala's historic buildings and their former occupants" (2020), (available in translation as "Si Las Paredes Hablaran"), "Mexican Kaleidoscope" (2016), and "Lake Chapala Through the Ages" (2008).