American sculptor and art historian Mary Fuller (McChesney) and her husband Robert Pearson McChesney, also an artist, spent 1951-1952 in Mexico, living in Ajijic and San Miguel de Allende. Shortly afterwards, Mary Fuller wrote three detective novels, one of which was set in the Guadalajara art scene, using the pseudonym "Joe Rayter".
She also wrote many short stories, poems, and articles, published in various prominent arts magazines including Art Digest, Artforum, Art in America, Craft Horizons, and American Craft. She was, at one time or another, a staff writer at Currant, a researcher for the Archives of American Art, a Ford Foundation Fellow and the recipient of the 1975 National Endowment for the Arts (NEA) Art Critic's Grant. Another of her books, A Period of Exploration (Oakland Museum 1973), was written to accompany an exhibition of ab-ex (abstract expressionism) works from the San Francisco art scene from 1945-50.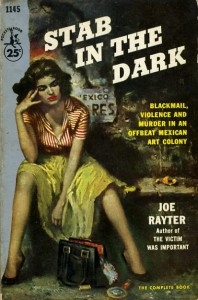 In the 1950s, McChesney wrote several detective novels, three of which were published, using the pseudonym "Joe Rayter".
These included The Victim Was Important (Charles Scribner's Sons, 1954) and Asking for Trouble (M. S. Mill / William Morrow, 1955), both of which featured Private Investigator Johnny Powers, and Stab in the Dark (M. S. Mill / William Morrow, 1955), a murder mystery set in Guadalajara, Mexico.
Stab in the Dark is about murder, infidelity, and dope-peddling among a group of oddball expatriate artists in Guadalajara. The Kirkus Review of the book describes how "An excess of loose libido-tossing, alcohol, sex and art accompanies the death of Mike Cowper, about to become a cocaine pusher, in  Guadalajara. The Mexican Inspector is not slow; young Madelene has to track down her  husband and escape attack; Payne, a painter, and his wife get free of their little daughter's death; and Madelene looses the marriage bonds for another heart interest. An AWFUL lot of running around."
While Stab in the Dark is hardly a masterpiece, it is a fun read even today. The characters seem two-dimensional and their actions are somewhat predictable, but the book describes several expatriate artists working in Guadalajara at the time, and makes various mentions of the 1950s art scene in Guadalajara, including the "Galeria Moderna", as well as the famed restaurant La Copa de Leche. The book also has a few scenes set in the coastal resort of "Puerto Ortega".
McChesney also wrote several erotic books using Melissa Franklin as her nom de plume, including Courier of Desire and Murder In Her Thighs, both published by Greenleaf Books of San Diego in 1969. Coincidentally, Earl Kemp who ran Greenleaf Books at the time was then living in Ajijic, having been forced to leave the US for his activities. For more details, see chapter 29 of Foreign Footprints in Ajijic: Decades of Change in a Mexican Village
Lake Chapala Artists & Authors is reader-supported. Purchases made via links on our site may, at no cost to you, earn us an affiliate commission.
Learn more.
Comments, corrections or additional material related to any of the writers and artists featured in our series of mini-bios are welcomed. Please use the comments feature at the bottom of individual posts, or email us.

Tony Burton's books include "Lake Chapala: A Postcard History" (2022), "Foreign Footprints in Ajijic" (2022), "If Walls Could Talk: Chapala's historic buildings and their former occupants" (2020), (available in translation as "Si Las Paredes Hablaran"), "Mexican Kaleidoscope" (2016), and "Lake Chapala Through the Ages" (2008).