Lysander Kemp (1920-1992) was a writer, poet, professor and translator. He was head editor of the University of Texas Press from 1966 to 1975, during which time he collaborated with numerous great Mexican and Latin American writers to publish superb translations of their work.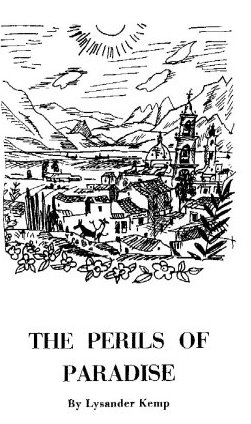 Kemp lived for several years in Jocotepec, at the western end of Lake Chapala, from about 1953, and published a travel piece in House and Garden (1957) that described his life in the lakeside town, and from which these extracts are taken:
"I sit here in paradise in the shade of the verandah, gazing out into the brilliant noonday of Mexico. On my left hand, beyond the tile roofs of the village, the steep rough flank of El Moreno. the nearest mountain, is ochre and russet in the sunlight. On my right land, beyond the wide fields, the smooth flank of Las Majadas and the gashed cone of García are the smoke-blue of distance"
"Before me, beyond the fields and the guamúchil trees (I hope you like scenery), the great lake of Chalala shines between its borders of blue mountains. In a few minutes I will drink a small glass of tequila, the liquor distilled from the big blue-green sword-bladed magueyes which I can see in tilted rows on the lower slope of El Moreno. A little later Lola will serve me my dinner. After dinner, of course, I will take a siesta."
"The house is brick and tile, six rooms in a line behind the long verandah, and the rent is 100 pesos a month, or exactly $8 in US currency. The Aguilar family — Cornelia, Lola and their three small daughters — lives in the two north rooms. I pay Lola 10 pesos, or 80 cents, a day, for which she keeps the house immaculate and serves me my three meals. By "serves" I mean that she buys all the food out of that 80c, as well as cooking it and bringing it to the table. I have other expenses, of course: my electricity bill is over a dollar a month, American-style cigarettes cost me almost a nickel a pack, and my weekly laundry bill with Chabela Flores has run as high as 40 cents."
"The population of Jocotepec (pronounced Ho-ko-teh-PEH) is about 8,000, but there are only six automobiles in the village. Four are taxis, usually sound asleep in the shade of the plaza trees. There are also perhaps a dozen trucks and half a dozen buses. The life of the village moves in slow, ancient rhythms, marked out by the seasons — the time to plough, to sow, to harvest — and the calendar of fiestas. During three years in Jocotepec I remember only one day when the sun failed to shine for at least a few hours, and that was when a typhoon hit the Pacific coast, a hundred miles away, and it rained here for twenty-four hours. Otherwise the days are sun drenched all year round, but at this altitude, 5,000 feet, never sweltering. Modern life is hurry and worry, I hear, but in Jocotepec hurry means doing it tomorrow, or next week, or the hell with it, while worry means — well, I suppose it must mean something."
Of course, not everything is perfect…
"I am not a gourmet, but I agree with Dr. Johnson that "he who does not mind his belly will hardly mind anything else." Take even such a familiar and simple pleasure as ice-cream, In the States you take it for granted, but in Jocotepec I would take it only with terramycin, because the local milk is not pasteurized. To think of a hot fudge sundae is to drool. And then take all the other dishes not available here: roast leg of lamb, or fresh spinach, or country sausages, or broiled swordfish, or . . ."
And, life in Jocotepec in the mid 1950s was not all plain-sailing…
"A few nights ago I was drinking a beer in the plaza, at Ména Durán's refreshment stand, when Gollo Bizarro came by to show off his new pistol. He handed it to Ména, and she said "I am Pancho Villa" and pointed it at my head, at a range of about a foot and a half. I ducked as she pulled the trigger, the pistol clicked, and Ména laughed gaily at my fright. Gollo took the pistol from her and inspected it with a frown. "Strange," he said. "It misfired."
"Misfired?" I asked. "You mean it was loaded?"
"Yes." He still scowled. "A new pistol ought not to misfire."
I could only nod. Perhaps I was agreeing. Perhaps I was practicing ducking."
Extracts are taken from Lysander Kemp, 1957: "The Perils of Paradise." House and Garden vol. 111 (April 1957) pp 172-4, 177.
Related posts:
Sombrero Books welcomes comments, corrections or additional material related to any of the writers and artists featured in our series of mini-bios. Please use the comments feature at the bottom of individual posts, or email us.

Tony Burton's books include "Lake Chapala: A Postcard History" (2022), "Foreign Footprints in Ajijic" (2022), "If Walls Could Talk: Chapala's historic buildings and their former occupants" (2020), (available in translation as "Si Las Paredes Hablaran"), "Mexican Kaleidoscope" (2016), and "Lake Chapala Through the Ages" (2008).